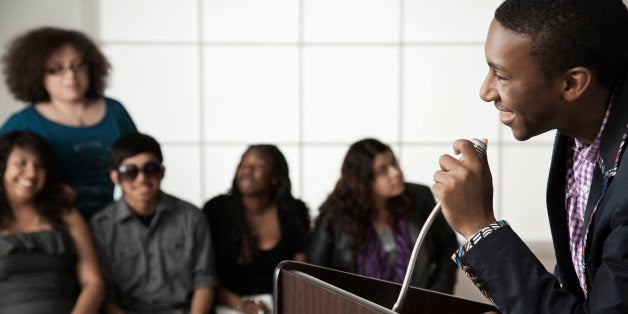 On Monday, August 26, President Barack Obama met in the Oval Office with eight of the top high school debaters in the country that participate in "urban debate leagues." Urban debate leagues, or UDLs, are nonprofit organizations that support scholastic debate programs and organize tournaments in urban districts. This nonprofit movement started in Atlanta under Melissa Maxcy Wade at Emory University in the mid-1980s, and there are now around 20 urban leagues in the country, from Los Angeles to Boston.
However, despite a robust D.C. Urban Debate League founded in 2002, whose programs involve many of the charter schools in the District of Columbia, there is currently not enough debate within DC Public Schools (DCPS) for its students to have had this opportunity to meet the President in their own city. This is a great shame, especially given the growing list of studies that establish the benefits of debate for academic achievement and graduation rates. There are some immediate things that DCPS and city government can do to foster more debate in the District.
First, DCPS should work to ensure that coaches of competitive academic activities (why not call them sports?) receive the same stipends as athletic coaches of basketball or swimming. While many D.C. teachers have sacrificed tremendously, in time and money, over the years to participate in the urban debate league, frequent teacher turnover creates a tremendous problem in refilling coach slots without reasonable incentives. For example, McKinley Technology Education Campus had the strongest high school debate team in the city for many years, but once its previous coach Mark Roberts moved on, its team nearly disintegrated without an immediate replacement. While any DCPS rule change that would increase costs can be hard to advance in a time of tight budgets, this unfairness deters teachers from supporting academic sports and restricts academic achievement in DCPS.
Second, DCPS schools, alongside enterprising charter schools, should explore public-private partnerships that cooperatively facilitate more advanced debate opportunities, especially involving travel to regional and national tournaments. Many D.C. private schools are enthusiastic about debate and have supported tournaments that schools with fewer resources can freely participate in. For example, Sidwell Friends School, under advisor Burt Nadler, has an extremely successful debate team, and the school and its parents have helped tremendously in facilitating the D.C. Urban Debate League and its tournaments. Private and public schools can cooperate in supporting joint instruction, sponsoring tournament costs, and travelling together to regional tournaments.
Charter schools like Cesar Chavez and Washington Latin (whose high school is maturing as the Grade 5-12 school moves into a new building this year) have worked creatively to establish and fund their own debate programs. DCPS debate teams, just as with the proliferating robotics teams in the city, should be encouraged and freed to participate in outside partnerships if these will ensure more tournament participation, summer camp attendance, and basic instruction at a minimum.
Third, DCPS should encourage and facilitate creative projects to provide debate opportunities across the District. Under innovative and ambitious Principal Stephen Jackson, Paul Laurence Dunbar Senior High School has installed debate as part of its revamped curriculum to establish excellence consistent with its powerful history and legacy. Its new "Eleanor Holmes Norton Business, Law and Public Policy Academy" deploys debate at its core, and lead teacher Julian Dotson has plans, described at the ceremony with Bill Cosby for the school's new building on August 21, to make Dunbar a central "debate incubator" for other DCPS schools. Students in schools that don't provide funding or coaching for debate, especially in the elite "policy debate" format that is favored by many lawyers and by the National Association of Urban Debate Leagues, will be able to receive instruction and travel to tournaments through Dunbar.
Under Principal Jackson's vision, this project will demonstrate, for the entire city, how Dunbar shall attract top students, pay dividends for all of the District in supporting achievement, and produce a nationally-recognized D.C. "city debate team." At the opening ceremony, many of the visiting alumni recalled how Dunbar (America's first black public high school chronicled in a new book by Alison Stewart) historically had a strong and competitive debate team, and, alongside overall enthusiasm for the school in its new building, they were pleased that this tradition had been reestablished.
Numerous studies collected by the National Association of Urban Debate Leagues have shown how participation in urban debate leagues dramatically improves literacy, attendance, dropout, and college matriculation rates. Some call debate the "secret sauce" for urban education to generate critical thinking skills in an information age with complex public policy problems that affect young people. It is a shame that the nation's capital, with so many former debaters active in politics, media, and law, has few debate opportunities in its public schools. With President Obama endorsing urban debate and with Dunbar's new academy, DCPS should seize the moment to ensure that every student in the city has some kind of opportunity to participate.
Todd Fine is the President of the D.C. Urban Debate League and has coached debate at Washington Latin Public Charter School and Bronx High School of Science in New York City. An information session for new coaches and schools interested in the League will take place at 5PM on Friday, September 13 at UDC Community College (801 North Capitol Street NE), Room 116. For more information, call 857-234-0920 or email toddfine@dcudl.org.
Related
Popular in the Community