 Really want to celebrate a holiday? Then come to D.C. where you'll be able to drink in bars and restaurants until 4 a.m. and fill yourself with patriotic pride and alcohol on select national and D.C. holidays -- 19 in all, which every four years includes "Inaugural Week."
Under the Inaugural and Holiday Extension of Hours Act of 2012, a provision of D.C.'s Budget Support Act of 2013, extended holiday drinking hours are part of the city's attempt to bring in more revenue, although the estimated $2 million gain is a tiny portion of the $9.4 billion budget. But like most every other city and locality in the country, D.C. is strapped and the anticipated $2 million infusion also makes many bars, restaurants, and club owners happy. They predict higher profits during an extra hour of bar service, accompanied by potential additional food service.

However, the D.C. Council was not unanimous in its support for extending drinking hours. The opposition was led by Councilmember Jim Graham who vociferously challenged the proposal when it was first introduced as a weekend measure, heralded by Mayor Vincent Gray as a $5.3 million windfall. Nor did Graham back down when that measure was scaled down to a 4 a.m. last call on holidays.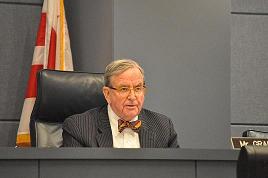 "We shouldn't be balancing the budget with this kind of revenue," says Graham, who offered a proposal to tax drinks by six cents more per beverage as an alternative to the late drinking time. But in a close 6-7 vote, the tax was defeated, although it had the potential of raising the same amount of revenue.
Graham, who chairs the Human Services Committee, represents Ward 1 and knows about the confluence of noise and crime and local commerce, topics of debate among residents and business owners there for decades. This is especially striking in Ward 1's Adams Morgan, a community of restaurants, bars, clubs and shops, enveloped in heavily populated residential neighborhoods. Ward 1 also includes the communities of Mt. Pleasant and Columbia Heights, both filled with popular restaurants and bars, as well as houses and apartment buildings.
Hence, Graham's vigilance. So, while the council approved a 4 a.m. closing time on some holidays, it also passed Graham's amendment requiring establishments that want to stay open the extra hour to submit written notification and a security plan to the Alcohol Beverage Control Board and Metropolitan Police Department (MPD). This includes a $200 registration fee; $250 a day during "Inaugural Week."
In my neighborhood, where we regularly hear inebriated nonsense shouted by people stumbling to their cars after closing time, this money-raiser just doesn't appeal. However, Mayor Gray and others have claimed it will put Washington in the same league as other "international" cities like Miami and New York, where 4 a.m. closing hours are the norm -- a peculiar way to elevate a city's status.
But whether every weekend or on holidays, extending drinking hours in public establishments in D.C. is unwise for three reasons: drunken driving, crime, and exacerbation of the loud, trashy behavior of people who already had too much at earlier hours stumbling through residential side streets.
Should we worry how people who drove into D.C. or from another part of the city get home? Is it a valid policymaking concern that people who have had too many drinks might jump in their vehicles and get behind the wheel? In case it's not clear to most people by now, impaired driving is dangerous for everyone on the road in addition to the driver and passengers in a vehicle. For starters, it causes one death every 51 minutes, according to the National Highway Traffic Safety Administration.
Unfortunately public transportation will be shut down long before bars and restaurants have last call. And, if they haven't finished their beverages, patrons can stay until they drain their drinks, because establishments with the temporary license to serve the extra hour don't have to lock their doors. Then again, if patrons stay long enough, the buses and Metro will be running again sometime during holiday hours in the morning.
Regarding crime, while alcohol is not the main cause, drunkenness can be a factor by which victims are chosen to be robbed or assaulted. This danger is in addition to the basic drunken disturbance that rudely awakens people in their homes, causing concerns about the safety of the people in the street at the same time.
However, with all these negatives, fortunately the Inaugural and Holiday Extension of Hours Act of 2012 requires the mayor to provide a report to the council after the first year that includes assessments of the effects on local communities, an assessment from the MPD, and an estimate from D.C. Chief Financial Officer on revenue results.
The real question is: who will be drinking more during "Inaugural Week" in 2013? Obama or Romney voters?
Calling all HuffPost superfans!
Sign up for membership to become a founding member and help shape HuffPost's next chapter