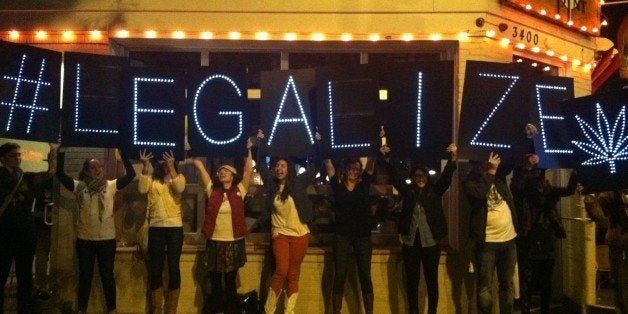 WASHINGTON -- They knew they were about to get clobbered, but there they sat in front of the TV cameras, all smiles, exuding optimism that something -- come on, anything -- might go their way later Tuesday night.
"They have done 41 million voter contacts," Rep. Steve Israel (D-N.Y.), chairman of the Democratic Congressional Campaign Committee, said of the group's volunteers. "Eighty thousand newly registered voters."
"Our real VIPS are 'Volunteers In Politics,'" chimed in House Minority Leader Nancy Pelosi (D-Calif.), who sat next to Israel at a small table in a cramped room at Democrats' headquarters. "By all measures, we do very well among registered voters."
The event was completely staged. The Democratic leaders looked only at each other as they spoke, reciting numbers they both already knew. Moments later, reporters were led into a phone bank, where a couple dozen volunteers were cramming in calls to voters before the polls closed. Pizza boxes and plastic-wrapped sandwiches sat on tables. The walls, mostly barren, displayed a couple of marker-drawn signs to keep volunteers energized, even amused: "#Turnout For What."
It was a depressing place to be on election night.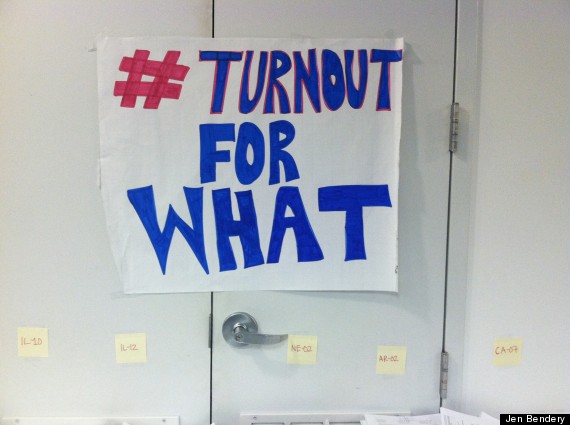 A sign, perhaps aimed at motivating Democratic aides to jump up and start dancing wildly while calling voters.

But in a town where election watch parties abound every two years -- HuffPost selectively crashed three of them on Tuesday night-- for a devoted Democratic supporter, it was the place to be.
"What's the alternative? Like, yeah, it was a bad year, we're going to cede this to Republicans?" said one Democratic operative involved in House races. "We are a team. Nobody has let anybody down, thrown their hands in the air like, 'Fuck this, I do not give a shit.'"
The best way to prepare for a slaughter at the polls -- House Republicans picked up 13 to 19 seats on Tuesday -- isn't to drink yourself senseless, according to this Democrat. It's to remember why you got into politics in the first place.
"I know some of these candidates would walk on fire for the things I believe in," said the operative. "I'm not drinking tonight. I've never successfully used marijuana. I'll probably do more jump squats."
Across town, D.C. Del. Eleanor Holmes Norton (D) is in a far happier place. She's drinking wine, settled into a comfy couch at Busboys and Poets, an artsy, politically themed café frequented by D.C. hipsters.
"This congresswoman doesn't go to a fancy hotel to celebrate. She comes to Busboys and Poets. Where the real people are," Norton declared, waving a glass of white wine. "This is a hangout."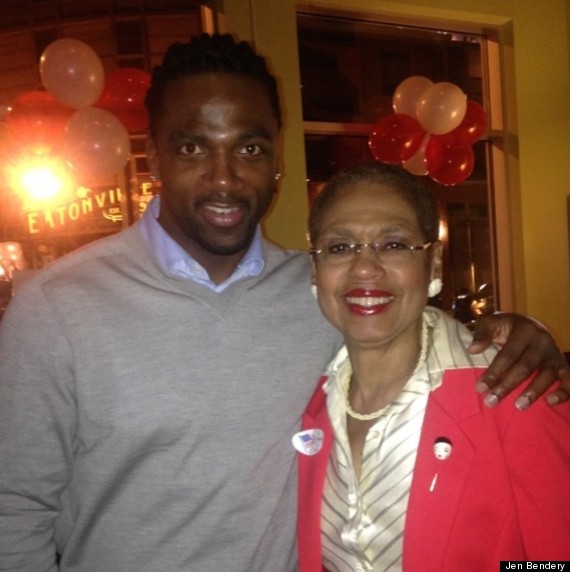 Norton with HuffPost fellow and former player for Washington's football team, Donte Stallworth.
Norton easily won her re-election to Congress, and she got sustained cheers when someone announced over the speakers that she won with 85 percent of the vote. She smiled at the room from her perch on the couch, where she stayed for hours, posing for photos and musing on D.C. issues people asked her about. It was clear how she felt on one issue close to residents' hearts: Whether to rename Washington's football team because the term is offensive to Native Americans.
"I am a third-generation Washingtonian. I've used it all my life -- Gwen, get me another white wine -- and, given what [team owner] Dan Snyder is, he's an ass -- excuse me -- there's another word that goes with this," Norton said, her voice getting louder. "Why would you plant your stake in that ground!"
And then, the room erupted in cheers as someone announced that D.C. had just passed marijuana legalization. Dozens of people howled with delight and banged on their tables. One waitress let out a long, extended "woohooooo!" only to realize she was the only one still cheering, at which point she ducked into the crowd.
"Y'all don't see me," she laughed. "I don't work here."
Jerome Gonzalez, who came to the café for the watch party, sat at the bar with friends taking it all in. He said he couldn't get enough of political gatherings.
"Here in Washington, election returns parties or presidential debates or even the State of the Union is like our Super Bowl," said Gonzalez, who sported a handlebar mustache that he said took a year-and-a-half to perfect. "This is our entertainment."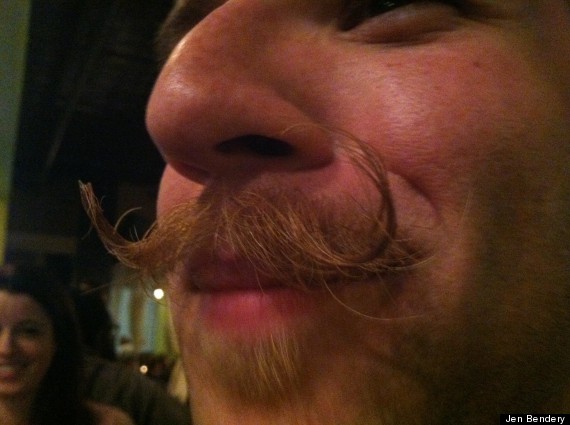 Gonzalez and his handlebar mustache.
Norton said she was glad that D.C. passed marijuana legalization, but said she didn't plan to celebrate in true form.
"I'm not going to smoke," Norton said flatly.
Medea Benjamin, who was standing nearby, said she'd just come from the D.C. Cannabis Campaign watch party.
"They're feeling high. They are definitely feeling high," Benjamin said. "They've got the young crowd, the music going. There were DJs when we were there and dancing."
Benjamin, co-founder of the anti-war group Code Pink, said she planned to hit eight parties by the end of the night, including competing parties for D.C. mayoral candidates Muriel Bowser and David Catania. She didn't think that was awkward.
"I mean, nobody cares where I go," Benjamin said. "I like to check out the vibes and see who's there."
HuffPost couldn't pass up dancing at a pro-cannabis watch party. People were filing out of the Columbia Heights bar holding signs with lit-up letters on them by the time HuffPost arrived. They were trying to arrange themselves in a line to spell out the word LEGALIZE for a photo.
It took a bit to get the letters in order.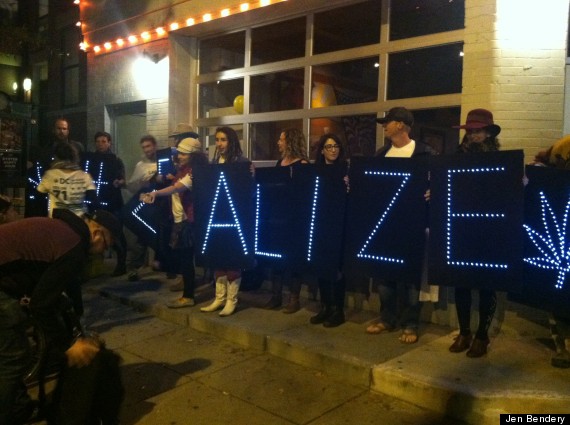 LEGALIZE

In the minutes that passed, someone announced they were "getting the munchies" just watching the letters come together. Another woman asked repeatedly, "Does someone smell cookies? I smell cookies. No seriously, does someone smell cookies?"
Mateo Monk, a musician from Virginia who had just performed in the bar, was in charge of holding a sign with a lit-up marijuana leaf on it.
"Ganja has been a part of my life for about 25 years," Monk explained. "I base my career, you can say, on the ritual of marijuana music. In a live sense, where there's lots of improvisation, the spirit of it. It's sort of like, let the consciousness of pot speak to the music, in a sense."
With marijuana smoke hanging in the air from an unclear source, Monk said it was finally starting to hit him that something "very historic" was happening. He lamented that marijuana isn't legal in Virginia, but said that doesn't stop him from buying it on the black market and making his own coconut oil cannabis capsules.
"They kind of give you this window for four hours of just like, a good, soothing high," Monk said, describing a process involving a crock pot and digestible chemicals in marijuana. "So I wake up, brush my teeth, and be like, 'Let's have a window of inspiration time.'"
As the cloud of smoke grew outside, DJs played music inside for about a half-dozen people swaying together in darkness, where the only light near them appeared to come from flickering marijuana leaf signs. Pro-marijuana stickers were scattered on a table, and behind everyone, a giant banner hung on the wall: "Medical Marijuana on Capitol Hill."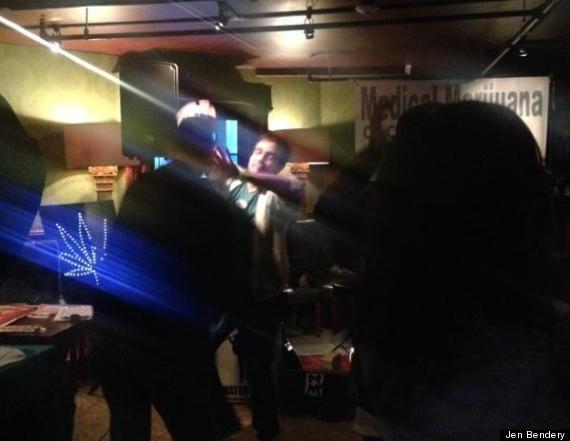 D.C. supporters of marijuana legalization, celebrating their victory by dancing to the light of neon weed signs.

One woman, Poncho Popcorn -- "It's my name, yes. I'm a hippie" -- was slipping out the door around midnight as others were lingering on the dance floor. Popcorn was one of the people responsible for getting the marijuana initiative on the D.C. ballot. She said she was going home to celebrate on her own. By going to bed.
"I've been up since 5 a.m.," Popcorn said, hauling signs and other pro-marijuana materials with her. "Plus, you can't smoke under this until January."
A friend standing with her erupted into hysterical laughter at her response. "I'll say yes. I have no problem saying it," said her unnamed friend, who could barely talk through his laughter as they walked away.
"I'm a patient and a recreational user," he shouted back at HuffPost. "You guys have my name!"
Before You Go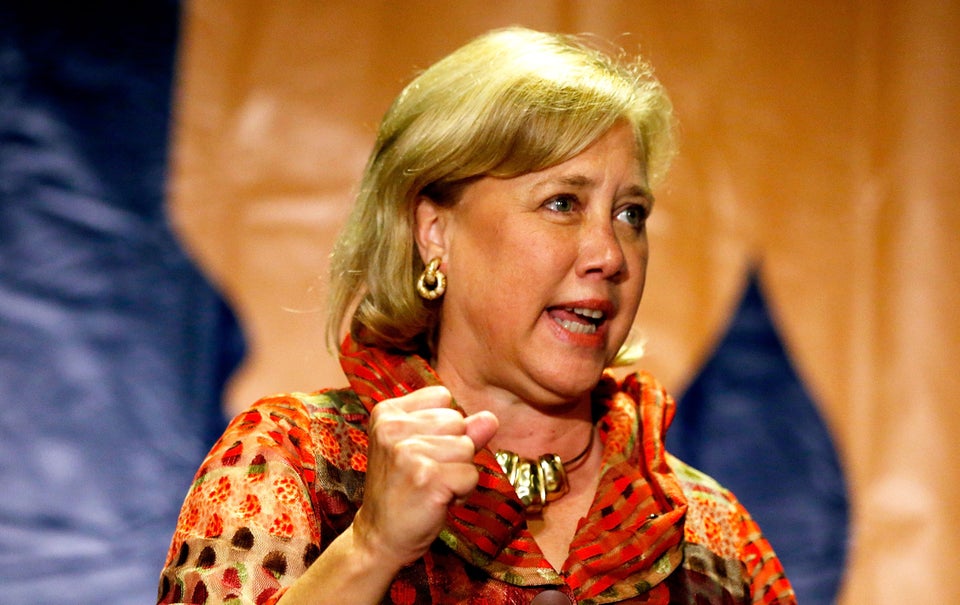 2014 Election Results: Winners & Losers
Popular in the Community