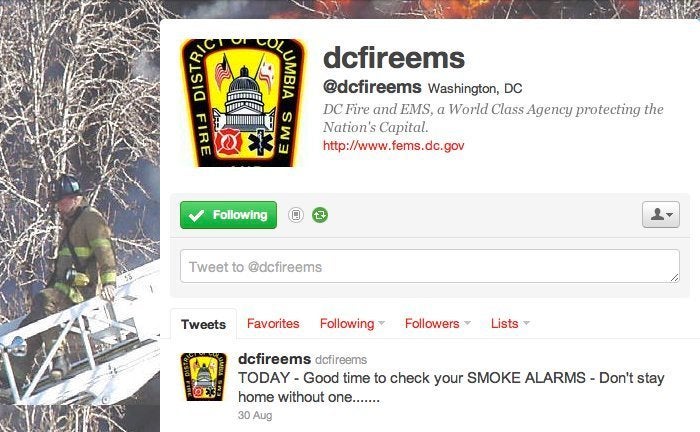 WASHINGTON -- Members of the District of Columbia local media "mounted a full rebellion" during Mayor Vincent Gray's Wednesday morning press conference over encrypted police and fire radios and the Twitter feed of the Department of Fire and Emergency Services.
That feed, @dcfireems, has been down for a retooling, but according to dispatches from the Wilson Building, an agency spokesman said that it will be back next week, but with one catch: The feed will be filtered.
The Twitter portal for @dcfireems, which launched in April 2009, has been an important tool for journalists and the general public to receive real-time information about unfolding emergency situations, like fires. The Washington Post's Tim Craig noted late last week that changes were coming to the Twitter feed. Now, agency brass say the feed has published sensitive operational information and will be filtered.
Information from the Twitter feed has been used to map reported incidents of struck pedestrians and cyclists. Last week, StruckDC asked Mayor Gray, via Twitter naturally, if he could "suggest a resource for tracking pedestrians and cyclists struck by motorists in DC now that @dcfireems is defunct?" That tweet wasn't answered -- the mayor's official Twitter feed normally doesn't respond directly to such inquiries -- but it raised a good question about the quality of real-time information coming from the department's Twitter feed and the city in general.
As Patrick Madden at WAMU-FM reported late last month, the Metropolitan Police Department has encrypted its police radio transmissions, which have "long provided the background music in many local newsrooms, as well as countless hours of chatter for hobbyists known as scanner junkies."
As MPD Chief Cathy Lanier said at the time: "We've recovered numerous mobile phones that people committing crimes have set so they can listen to police radio, even on search warrants and gun cases."
Now, there is radio silence from the city.
Popular in the Community