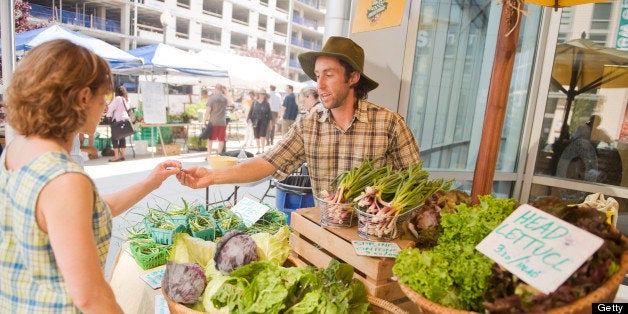 Mark Furstenberg's recent piece in the Washington Post Magazine, titled "
href="http://www.washingtonpost.com/lifestyle/magazine/whats-missing-from-dcs-food-scene-a-lot/2013/07/10/21dce7fe-c7ba-11e2-9245-773c0123c027_story.html"
target="_blank"
>
What's Missing From D.C.'s Food Scene. A lot.," seems like it would have been a better commentary on the city if it had been published a decade ago.
I don't mean to quibble with Furstenberg's general premise that we can do better -- in some cases a lot better -- when it comes to food in Washington. However, I
do believe the piece offered an extremely narrow view of the city's food culture and contemporary vibrancy.
One line in particular shows that Furstenberg may be out of touch with the scene:

Great food cities are ones with a discernible tradition, ones that have good grocery stores and markets; many small stores run by people with
single-minded devotion to food craft -- to charcuterie, coffee, bread, cheese and ice cream -- and relatively easy access to really good produce and
other ingredients.

We'll get to the "discernible tradition" question in a moment, but on the issue of grocery stores and markets, one bad trip to Whole Foods and unhappiness
about the price of ramps at Dupont Farmer's Market does not a bad situation make. Nearly every neighborhood in Washington now has one or more farmers
markets where people can get fresh produce from fabulous Mid-Atlantic farms. By the Washington Post's count, there are nearly 160 in and around the city.
And independent, local grocery options are becoming more and more evident, including Seasonal Pantry, Glen's Garden Market, Smucker Farms, Hana Japanese Market, and others that are planning to open soon.

None of these are places to do bargain shopping, and they shouldn't be. The owners, farmers and artisans have devoted their lives to work that is
labor-intensive with high risks and small margins, so they have earned the right to ask for a fair price in return.
In addition, some of the people behind the markets have tried to broaden access to high quality products by making it possible for Supplemental Nutrition
Assistance Program (SNAP) participants to use their benefits to buy food. Finally, Furstenberg is right that we don't have the "green market" hub that many
other cities do, but we do have The Fresh Link and other local farm consortiums and CSAs that
make wonderful produce available to D.C. restaurants and consumers.
Furstenberg also ignores a vibrant community of local organizations, like DC Greens, Common Good City Farm and City Blossoms (on whose board I serve), that are working to enliven people's interest in
gardens, educate them about how to grow their own vegetables on apartment sills and in backyards, and provide access to healthy vegetables all across the
city.
Going beyond markets, I have to admit to being offended on behalf of many friends and others by Furstenberg's assertion that D.C. is lacking "small stores
run by people with single-minded devotion to food craft." I can think of only one way to answer this charge:
The list goes on and I'm sure I've missed more than a few.
There are other areas of Furstenberg's piece that merit scrutiny. For example, his criticism of "mixologists." Washington is a city with a long history of
good drinking. President George Washington was one of early America's biggest whiskey distillers at Mount Vernon and the Rickey was invented here. More
than a few momentous political compromises were no doubt hashed out over beers from the old Heurich Brewery. Now, we have nationally-renowned spirits
experts, like Derek Brown and Bill Thomas, and a new crop of distilleries (DC Distillers, Catoctin Creek, Don Ciccio & Figli, Copper Fox, A. Smith Bowman, etc.) and
incredible bars that are carrying on that tradition.
It's easy to point out the highest price point drinks, but why not focus instead on the fact that D.C.'s booze scene is bringing positive attention to the
city and high quality spirits to our lips. I like to think I can make a decent cocktail in my own home because Brown, Thomas, Jeff Faile, Chantal Tseng,
Gina Cherservani, Todd Thrasher, Jamie MacBain, Adam Bernbach and many, many others have not just served me good drinks, but have also taken the time to answer my questions and pushed me to explore. Furstenberg doesn't even mention D.C.'s beer and
brewing scene, highlighted by DC Brau, 3 Stars, Chocolate City, the
upcoming Bluejacket Brewery and a barrel-full of great brewpubs. As former D.C. beer writer Dan Fromson also recently pointed out, DC
Brau is the fifth fastest growing craft brewery in the country. Overall, D.C. is becoming a serious suds destination, as Fritz Hahn noted in a
href="http://www.washingtonpost.com/lifestyle/magazine/brewed-awakening-dcs-beer-scene-is-close-to-greatness/2013/07/10/8cd7264e-d9d7-11e2-a9f2-42ee3912ae0e_story.html"
target="_blank"
>
great analysis

published at the same time as Furstenberg's piece.
On the subject of restaurants, I think Central Michel Richard, CityZen, Palena, Obelisk and Vidalia are great places to eat, but Furstenberg again looks
rooted in 2003 by not mentioning places like Komi, Little Serow, Bourbon Steak, Fiola, Range, Ashby Inn, The Source and Mintwood Place. There are other
forces at play as well. It means something when John Shields, formerly of the renowned Town House restaurant in Chilhowie, Va., decides to open a restaurant
in D.C. when he could have chosen almost any other city, including Philadelphia. When a chef like Aaron Silverman, who was rising through the kitchens of
David Chang and Sean Brock, decides to make D.C. home to his first solo restaurant, that's a sign. Daniel Boulud is going to build a place here. And as far
as ethnic dynamism goes, the broader D.C. area offers an unbelievable wealth of options, as Tim Carman regularly reminds us in his Washington Post column The
$20 Diner. The embassy kitchens alone, and events like Passport DC, give us access to foods that most other cities never get to taste.
Furstenberg's knock on companies like NRG and Black Restaurant Group is rooted in no argument I can discern beyond nostalgia for a world that no longer
exists. Why then doesn't he offer the same criticism of Etto, B Too, Daikaya, Del Campo, Taco Bambo and Toki Underground, which are or will soon be part of
restaurant groups? And then there are Jamie Leeds of Hank's Oyster Bar and others who have spent two decades building small restaurant companies that serve
mainly neighborhood clienteles. I can't understand why Furstenberg criticizes such things.
His complaint that D.C. doesn't have more "discerning customers" seems wildly off-base. Our local food writers win James Beard awards. Our bloggers are first
rate. Some of the best cookbook authors in the country live around here. The simple fact that it's possible to have a lively discussion about D.C. food at
all, whether online, at a dinner party or elsewhere, is a testament to how far things have come. Lately, there has been an endless supply of topics on
which to love, hate and ruminate.
Which brings us to Furstenberg's deepest criticism: that Washington has not food history of which to speak. Because I'm not qualified to rebut that charge,
I'll have to leave it to local culinary historian Mike Twitty, who no doubt will be sounding off more on this point soon:
Washington's most unique and enduring cultural theme that cuts through its history is that there are multiple simultaneous Washingtons. It is a federal
city, a political city, a chocolate city, national city, international city, Mid Atlantic city, Southern city, diaspora city... and more. A half smoke
drowned in chili is not the beginning and end to Washington's food culture. In fact, from the very beginning the foodways of the Potomac valley and
Tidewater gave birth to some of the earliest forms of proto-American cuisine. We can own that distinction because we were located in the center of
early America, not its periphery.



Jefferson's Washington had rich markets sustained by some of the country's first efforts at scientific farming, selling over 40 types of produce. This
is a city where black caterers like Edward Savoy flourished in the midst of unimaginable oppression, and influences from around the Atlantic world would find their way into the city's kitchens. Its
civil rights era establishments helped birth a movement and its black community became a place of culinary fusion from the Deep South to West Africa to
Ethiopia to the West Indies. And while we lack a courtly cuisine, no one can doubt the prestige and influence of the Presidential table or the
willingness of chefs to use our city as a place to display the breadth of American food and culinary democracy.

Ten years ago, it would have been nearly impossible to have a good dialogue about whether D.C. is a good food city or not. It simply wasn't back then,
although it is ironic that I used to feel pretty great when I was able to take my meager post-college earnings to Breadline, the downtown restaurant Mark
Furstenberg founded, for a great lunch. We didn't have interesting places like that when I was growing up in Kansas City. I credit Mark for acknowledging
my hometown's grand barbecue tradition and I think he deserves credit for another thing: with his Washington Post Magazine piece, he forced us to stand up
for our food scene. We can do that now, even though we have a long way to go.
Related
Popular in the Community