WASHINGTON -- House Republicans are making another attempt to meddle in the District of Columbia's affairs, this time in a way that immigration advocates and officials say could threaten public safety by ending the city's sanctuary policies for its estimated 25,000 undocumented immigrants.
Washington, like a number of other U.S. cities, is facing ire from Republicans for refusing to cooperate fully with Immigration and Customs Enforcement agents to detain and deport undocumented immigrants. GOP lawmakers have introduced multiple pieces of legislation this month after Francisco Sanchez, an undocumented immigrant, was charged with the murder of 32-year-old San Francisco resident Kathryn Steinle, months after Sanchez had been released from jail.
There are more than 300 jurisdictions that could be affected if various anti-sanctuary city bills become law. But D.C. is in a unique situation, because Congress has the power to interfere with the decisions of local voters and elected officials.
Rep. Louie Gohmert (R-Texas) specifically targets D.C. in a new bill, requiring local authorities to work with immigration enforcement or face fines of up to $10,000 for every case they do not cooperate with. Gohmert, who represents a district nearly 1,300 miles away from D.C., said in a July 23 press release that he drafted the Safer D.C. Act because "Congress must use our explicit Constitutional power to ensure that at least the District of Columbia is not a sanctuary city."
District of Columbia officials disagree. For over 20 years, the city's Metropolitan Police Department has had an informal policy of not asking the legal status of people with whom it comes into contact. That policy was made public in 2007 after then-Chief Charles H. Ramsey released an internal memo that stated, "MPD is not in the business of inquiring about the residency status of the people we serve and it is not in the business of enforcing civil immigration laws."
In 2011, then-Mayor Vincent Gray took the MPD memo even further by signing an executive order that prohibited D.C. public safety officials from asking about the immigration status of anyone they arrested or questioned. The following year, the city council passed a law saying that D.C. authorities would only detain undocumented immigrants if the federal government paid for it.
Supporters of the policies argue that involving police in immigration enforcement could discourage undocumented immigrants from calling the authorities when they have an emergency. According to a survey by the National Latin@ Network and the National Domestic Violence Hotline, of the 330 or so women who called the hotline during a six-week period in 2013 and who identified as a) foreign-born and b) Hispanic or Latina, 45 percent said they were afraid to call or seek help from the police or courts.
Current Metro PD policy allows officials to comply with federal immigration authorities at their own discretion. Most instances of cooperation involve cases where there is a violent offender.
"Women know that for survivors of domestic violence to get help, police cannot be working with immigration," said Sameera Hafiz, an activist with the We Belong Together Campaign, at a press conference Thursday. "Women know that to protect women who are being raped by their bosses, the police cannot be deporters."
Hafiz and others at the press conference criticized politicians for, in her words, using Steinle's death "for political gains."
In the wake of the Steinle murder earlier this month, Rep. Duncan Hunter (R-Calif.) introduced the Enforce the Law for Sanctuary Cities Act, which would force local law enforcement in communities like D.C. to change their immigration policies or else lose funding. The bill passed the House in a 241-179 vote on July 24, but President Barack Obama has already said he will veto the legislation if it reaches his desk.
For bills that target D.C. directly, there is not much officials can do without statehood, city Councilmember-At-Large David Grosso (I) told The Huffington Post after the press conference.
Now that bills like Hunter's are starting to affect other municipalities, there could be a nationwide push to address what Grosso described as the encroaching legislation.
"Somebody that is having an interaction with the police -- whether it's because of an act that they did themselves, or because of somebody else that they're associated with, as with domestic violence cases -- they have to have the trust that the police aren't going to then turn around and have them deported out of the country," he said.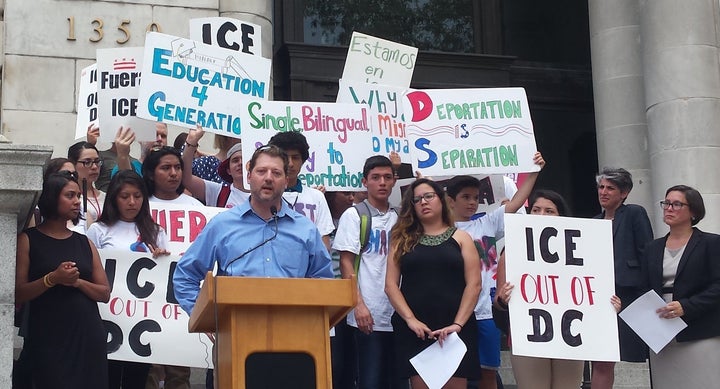 Immigration advocates oppose laws like Gohmert's and Hunter's for reasons beyond safety. Mario Godoy, 18, an organizer with the Student Multiethnic Action Research Team (SMART), said that blurring the lines between policing and immigration enforcement could hurt people like him.
"I'm just a person with a dream of a better life and an education," said Godoy, who came to D.C. four years ago from Guatemala. "If any of these laws pass, every person that is detained, their dreams and safety will be lost."
Grosso said he just wants the District to be able to assert local control.
"In the long run, we have to stop these knuckleheads on the Hill from doing what they're doing -- tell them to butt out of our business, and leave the local municipalities alone and let us deal with our communities like we have been," he said.
Popular in the Community