 WASHINGTON -- Chalk it up as a dubious distinction. A new analysis has found that the District of Columbia leads the states in arrests for marijuana possession. D.C. police made 846 such arrests per 100,000 residents in 2010. Nationally that number was 256 per 100,000.
More disturbing, blacks nationally were 3.73 times more likely to be arrested for marijuana possession than whites, even though blacks use marijuana at a comparable rate to whites, according to the Substance Abuse and Mental Health Services Administration.
The new report, compiled by the American Civil Liberties Union using data from the FBI's Uniform Crime Reporting Program and the U.S. Census, found racial disparities across virtually all parts of the country. "In over 96 percent of counties with more than 30,000 people in which at least 2 percent of the residents are black, blacks are arrested at higher rates than whites for marijuana possession," it concluded. The report looked at data from 2001 to 2010.
The racial split was far worse in D.C., where blacks were 8.05 times more likely than whites to be arrested for pot possession.
Nearby Maryland had the fourth highest rate of arrests for marijuana possession -- with 409 per 100,000 residents -- behind D.C., New York and Nebraska. In Maryland, blacks are 2.86 times more likely to be arrested than whites for possessing pot.
"Marijuana prohibition is taking a toll on the entire country, but Washington, D.C., and Maryland are among the states paying the biggest price," said Mason Tvert, director of communications for the Marijuana Policy Project, in a statement referencing the ACLU's report. "Law enforcement resources would be better spent addressing serious crimes instead of arresting adults for using a substance objectively less harmful than alcohol."
Tvert told HuffPost that it's hard to know why the results are so skewed in the District. It may not be that law enforcement officials are targeting the black population when it comes to marijuana possession, he argued, but rather a result of how policing is taking place in the city more broadly.
D.C. Police Chief Cathy Lanier said that her office was still reviewing the report but that the years reviewed in the study are not an accurate picture of what's going on today. "This department has not prioritized marijuana arrests," she told HuffPost Wednesday. "Since day one, my priority has been combating violent crime, and the District is safer as a result."
Lanier also noted that the number of arrests is not a good measure of police performance or public safety. "Isn't it better for a community if arrests drop because there are fewer crimes?" she asked.
Meanwhile, the District struggles to get its nascent medical marijuana program off the ground. The first shops were expected to open in early spring, but the date was pushed back by the D.C. Department of Health, which is still in the process of approving doctors to prescribe pot for their patients, according to The Examiner. A department spokeswoman told the newspaper that medical marijuana dispensaries could probably open in mid-June.
Before You Go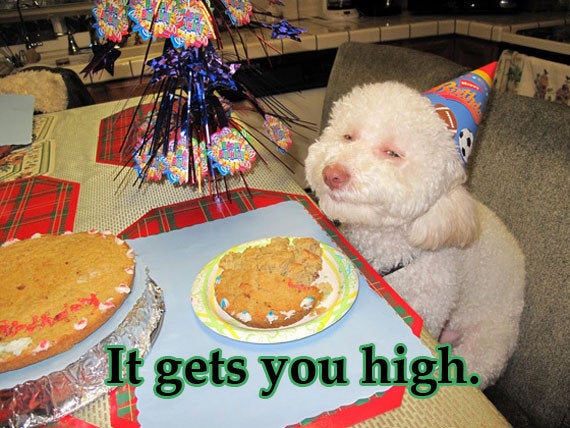 High Dogs Give Marijuana Facts
Popular in the Community