 Finally, everything has been hashed out.
Our friends at the BrightestYoungThings sat down with Scott Morgan, the Communications Director for Capital City Care, and asked him a few questions about the business and what patients can expect.
Here are the most interesting tidbits:
If you were hoping to get away with becoming a medical marijuana patient and don't suffer from a serious illness, you're out of luck.
"It's not like faking a tummy ache to get out of school," says Morgan, who added that the list of ailments and illnesses that qualify someone to get a medical marijuana card is really quite short. "HIV/AIDS, cancer, glaucoma, or severe muscle spasms are the only qualifying conditions," along with people who are "undergoing medical treatments like chemotherapy, radiology, or protease inhibitors."
Capital City Care can go alone.
The dispensary is the only in the city that is able to grow their own marijuana and also buy it from cultivation centers. Morgan believes this will give his shop a leg up on competition. "I expect we'll have the most inventory and variety as a result, which is important when supply is limited overall," he says.
Because Capital City Care has its own cultivation license, it is also the only dispensary that will be able to bake their own goods, and they plan to. They will also sell pipes and bongs but will be pushing vaporizers as the means for patients to consume the marijuana. However, the dispensary will also be open to requests, added Morgan: "Patients are welcome to visit us on Facebook or at CapitalCityCare.com and let us know what you'd like to see in the store."
Politics are not necessarily in the future of the dispensary.
While it's hard to argue that the ability for patients to acquire medical marijuana in the nation's capital is political if only because the city hosts the nation's most powerful lawmakers and because Capital City Care is a mere mile from Capitol Hill, the dispensary has little interest in getting involved in politics. "We're a lot more interested in supporting charities than getting into politics," says Morgan, adding that "the example we set could shape how national leaders approach this issue in the years to come."
Safety is everyone's concern.

Capital City Care will be doing a lot to ensure that the dispensary is safe from everything that the dispensary can avoid. Morgan wanted to make sure that every possible patient would feel safe buying medical marijuana from his store:
I can't spell it out, but we're doing a lot to make the place safe. The law requires certain things, and we've got a lot of our own plans in place as well. The notion of dispensaries as crime magnets is pretty trumped up to begin with, but we'll be ready just in case. Our patients need to feel safe, so that's a very big part of the job.
Congress could shut the whole thing down.

Even if Capital City Care doesn't want to get political, they don't have much choice if Congress decides to intervene. Under D.C. home rule law, Congress has 30 days to dispute a city law after it passes, but Congress did not get involved. However, Morgan says that, "Congress could just shut us down – they could do that," which made it difficult to find investors.
But, Morgan says, that won't deter the dispensary. "We're not a decision-making body, we're a service provider. We just want to set a good example and show that D.C. is a good place for a program like this."
For patients only.

No one working at the dispensary will be using any of the marijuana if they are not a patient. Not for staff. Not for owners. Nobody. Not even Morgan.
"I'm not suffering from any of the qualifying conditions, so I can touch it all day, but I can't take it home. No staff discount, no leftovers, no nothing."
Capital City Care took a great effort into making sure the inside of the dispensary would be clean and friendly.
Most patients would say that it looks pretty "dope."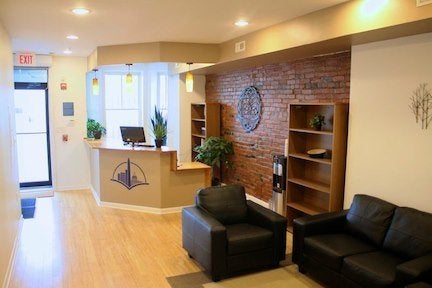 Capital City Care Dispensary