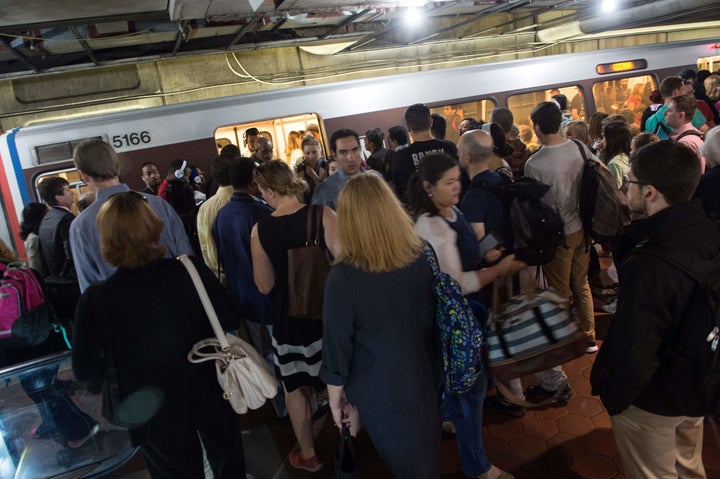 The decision comes after the transit union issued an angry statement saying that members would not staff "unprecedented special accommodations for a hate group."
Jack Evans, chairman of the Washington Metropolitan Area Transit Authority, had said that operating dedicated cars was among the options being considered for the rally next Sunday, The Washington Post reported. He said that officials had simply been exploring every idea with police to keep the peace between the white nationalists and expected counterprotesters.
But a decision has been made that "Metro will not be having a separate train, or a separate car, or anything separate for anybody at this event," Evans told NBC News 4 on Saturday.
"Unite the Right" demonstrators have said they plan to use the Metro rail system from the Vienna, Virginia, station to the Foggy Bottom stop in downtown Washington.
After learning that officials were considering dedicating Metrorail cars to the white nationalists, the transit system's Amalgamated Transit Union Local 689 issued its statement fiercely opposing the idea.
"Local 689 is proud to provide transit to everyone for the many events we have in D.C. including the March of Life, the Women's March and Black Lives Matters" rallies, ATU Local 689 president Jackie Jeter said in the statement.
"We draw the line at giving special accommodation to hate groups and hate speech," Jeter said. "We find it hypocritical... to make these unprecedented special accommodations for a hate group."
The union said that people of color make up "more than 80 percent of Local 689's membership... the very people that the Ku Klux Klan and other white nationalist groups have killed, harassed and violated. The union has declared that it will not play a role in their special accommodation."
The "Unite the Right" event is being organized by the group behind the rally in Charlottesville, Virginia, last summer that led to violent clashes and the death of a counter-protester who was run down by a car. The Washington gathering has been promoted as a "white civil rights" rally "protesting civil rights abuse in Charlottesville."
The transit union is advising its members to do what they feel is best to stay safe the day of the rally.
Related
Popular in the Community