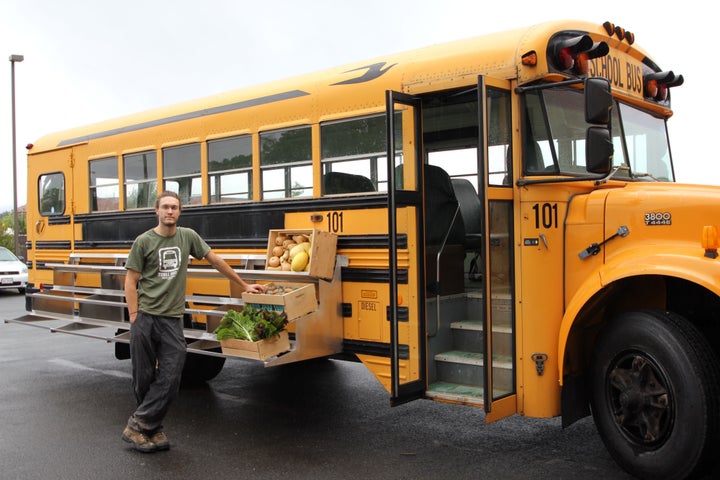 WASHINGTON -- With awareness growing about "food desert" communities locally, one area restaurant consortium is launching a new program aiming to bring quality produce to Washington neighborhoods that lack easy access to full-service grocery stores. By late October, the non-profit Arcadia Center for Sustainable Food and Agriculture plans to launch a Mobile Market, a decommissioned school bus retrofitted as a farmers market on wheels that can accept federal food assistance benefits, commonly known as food stamps.
Arcadia provides produce to the Neighborhood Restaurant Group, produce that's grown on a two-acre plot at the historic Woodlawn estate near Mount Vernon in Fairfax County, Va.
The appeal of the new market to would-be patrons, many of whom are living at or below the poverty line, is fresh produce sold at prices below average farmers market rates.
"As a nonprofit farm and sourcing directly from it, we have that luxury and we want to also provide food as affordably as possible," Mobile Market manager Benjamin Bartley, a Culinary Institute of America graduate, said.
When Arcadia staff members began throwing around the idea of a farmers market truck, NRG president Michael Babin, who founded Arcadia, worried the initiative wouldn't stand out among the proliferation of food trucks locally. His go-big-or-go-home solution: A 28-foot school bus bought from a used-car lot in Maryland.
The bus's transformation, still underway, will be a sight to see when completed. At the push of a button, customized shelves will pop out of the vehicle's side. A retractable awning can shade crates of organic produce. All in all, it's a pop-up farmers market.
Inside, most of the seats have been ripped out to free up space for refrigerators, freezers and more shelving. The engine has escaped major change, except for its filters, which were cleaned to accommodate biodiesel. The environmentally friendly fuel, a blend of traditional diesel and vegetable oil, will be provided by local startup DC Biofuels.
The final touch will be a paint-by-numbers mural to replace the bus's traditional yellow siding, to be filled in by children attending schools within the DC Farm to School Network, which aims to get more healthy, locally-grown foods into DC-area school cafeterias. Farm to School will play an even larger role in the bus's off-season between November and March, when the bus will serve as an educational tool spreading a message of nutrition, sustainable food and the role of farmers markets in local communities.
Bartley, who eschewed the life of an executive chef for a one working the soil, will quite literally be the driving force behind the bus, and recently procured a commercial driver's license. He'll also meet with neighborhood leaders to assess areas of the District in need, including Deanwood in Ward 7, and Barry Farm and Congress Heights in Ward 8, where unemployment and poverty levels are high.
Bartley said that the outreach will focus on District neighborhoods for its first year, with the intent to later expand into similarly underserved areas in Maryland and Virginia.
"The whole idea for this bus is to work myself out of a job," Bartley said. "I want to come into these neighborhoods, cultivate the demand where there isn't access to the food, and then hopefully corner stores or grocery stores can take that baton and continue supplying that demand and I can take the bus elsewhere."
WATCH:
CORRECTION: This post has been updated to reflect the correct last name of Benjamin Bartley and to clarify the relationship between Arcadia, Neighborhood Restaurant Group and the Mobile Market.
Related
Popular in the Community