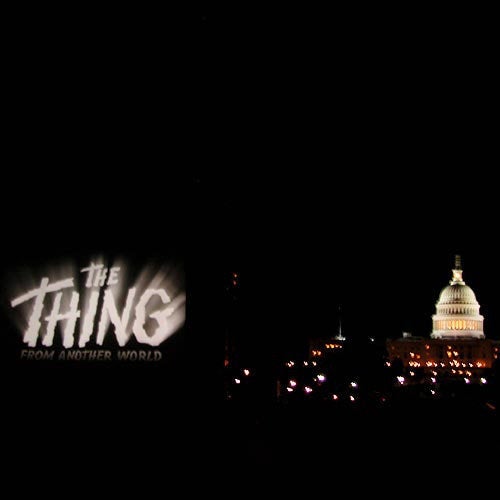 WASHINGTON -- The summer tradition of sitting in a public park, drinking wine like you're underaged and getting perturbed at people around you for talking about god knows what over the best part of the film begins anew this week.
The outdoor summer movies season started this week with the NoMa Summer Screen, Capital Riverfront Outdoor Movies and National Harbor Movies on the Potomac. Many of these series will stretch well into August and others into September. Most weeks have three screenings, most appropriate for all ages.
Some of the finer fests have yet to release their schedule, we're looking at you Screen on the Green, but there are more than enough lineups to start planning date night.
All of the screenings are free and begin at sundown.
The NoMa series theme for 2012 is 2012, at least the end of the world 2012 stuff. Disaster flicks, both serious and tried-really-hard-to-be-serious-but-ended-up-a-comedy and actual comedies make up this well curated list. Multiple films could be considered must-sees ("Shaun of the Dead," "Ghostbusters," "Wall-E") but there's something unique and wonderful about watching Kubrick's dark comedy "Dr. Strangelove" (May 30) with a crowd of fellow D.C. residents. To make this already free event even better, each week will feature different food truck offerings.
The Coen Brothers underrated (yes, it's possible) Great Depression-era tale loosely based on Homer's "Odyssey" may be George Clooney's most likable role. "O Brother, Where Art Thou?" (July 12) made people realize bluegrass is great, turned many a male into a Dapper Dan Man and it's how we like to envision the actor/activist/President's B.F.F.
The National Harbor double dips with the summer movies, with date night on Friday and family-friendly fare on Sunday. The date-night theme appears to be any relatively well known PG-13 and lighter fare. Action, comedy, rom-com, drama, whatever is fine for ladies and gentlemen. We recommend "Mr. Smith Goes to Washington" (June 22) if you've already seen it (never go to an free outdoor movie and expect to hear everything) and "National Lampoon's European Vacation" if you want to remember Chevy Chase in better times. The obvious pick for the family day is "The Muppets" (June 10). No other film features a sing-along in a park.
A Monday night romantic comedy series? Perfect. None of the films are particularly great and none are particularly awful, like most every romantic comedy. The "Pretty Woman" screening (Aug. 13) provides a good opportunity for the public to become inspired and hopeful that they too can one day become a prostitute and marry a john.
Another movie series about the political world, the theme for Rosslyn's lineup is 'election night.' "Election" (June 8) opens the series and is the strongest contender for your vote (sorry about that).
The Nats have a good shot at making the playoffs for the first time. Really. That might not be the case in August. "Moneyball" (Aug. 22) might be the shot in the arm a baseball fan needs heading into September.
Bethesda wants their movies in rapid fire order, going with five consecutive nights rather than once a week for a few months. All the films are good but it's hard to top "Vertigo" (July 25) by Alfred Hitchcock.
Each Saturday night family affair will be just that, a family affair. Keep the wine at home and do not get upset if kids are screaming and running around. That's what this is for. Thought the kids may not sit for the duration, "Hugo" (Aug. 18) should be mandatory viewing for any kid and adult that needs to be re-inspired to appreciate cinema. Scorsese's most recent output is full of hope and awe. The opening sequence alone is worth multiple viewings.
The following fests have yet to announce their schedule. Once they do we'll update with our picks.
Columbia Heights Outdoor Movies: Wednesdays, Dates To Be Announced