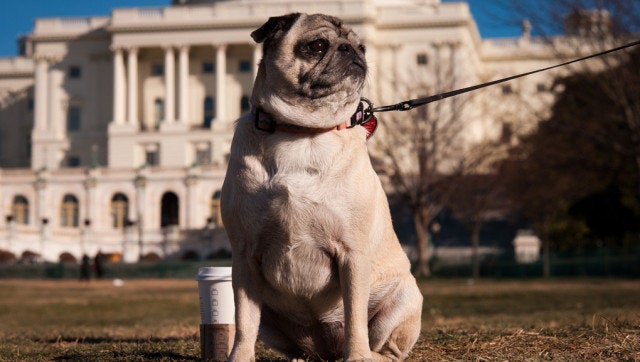 Only 21.9 percent of District of Columbia households own a pet, according to a new survey put out by the American Veterinary Medical Association. That's the smallest percentage of households with pets of all the states -- D.C. is counted as a state for this survey -- and it's far below the state that has the second-lowest percentage of pet ownership, Massachusetts, with a rate of 50.4 percent.
According to the 2012 U.S. Pet Ownership & Demographics Sourcebook, the top pet-owning state is Vermont, in which 70.8 percent of households have pets. After that comes New Mexico (67.6 percent), South Dakota (65.6 percent), Oregon (63.6 percent), Maine (62.9 percent), Washington (62.7 percent), Arkansas (62.4 percent), West Virginia (62.1 percent), Idaho (62 percent) and Wyoming (61.8 percent).
The states in which pet-owning is comparatively rare include Rhode Island and Minnesota -- 53 percent of households in those states have pets. Then comes California (52.9 percent), Maryland (52.3 percent), Illinois (51.8 percent), Nebraska (51.3 percent), Utah (51.2 percent), New Jersey (50.7 percent), New York (50.6 percent) and Massachusetts (50.4 percent) rounding out the bottom of the list, just above D.C.
D.C.'s at least bucking that trend. In 2006, the survey found just 20.2 percent of D.C. households owning a pet.
Certainly there are reasons why pet ownerships in cities might be lower than in states. But even still, D.C. seems to have unusually low rates of pet ownership. For comparison, New York City's economic development group finds that about one in three New York households have pets, a number that comports with what you might expect in a densely populated, expensive city, where many apartment buildings don't allow pets.
But, given these similar factors, why would D.C. have significantly lower pet ownership rates than even New York? We've reached out to the AVMA for their thoughts as to what that is -- we'd love to hear your thoughts in the comments.
And if you'd like to help raise the percentage of D.C. households with pets, here's some who are looking for homes:
Calling all HuffPost superfans!
Sign up for membership to become a founding member and help shape HuffPost's next chapter
BEFORE YOU GO