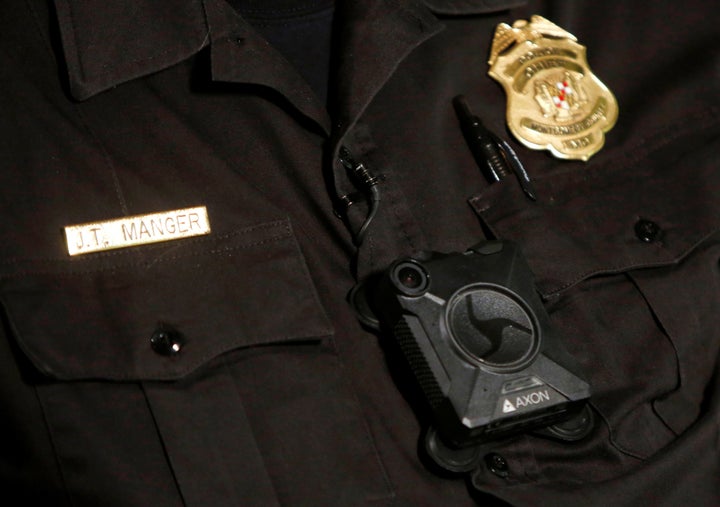 A new study suggests police body cameras have had no measurable effect in Washington, D.C., when it comes to civilian complaints, use of force incidents, policing activity or judicial outcomes involving the city's Metropolitan Police Department.
The report, touted as the most comprehensive of its kind, has fueled renewed skepticism about whether body cameras are fostering accountability and transparency in law enforcement. Although the research isn't an exhaustive appraisal of the full potential benefits of body cameras, some experts say it shows that police and vendors must do more to prove the equipment is worth the cost.
The Lab @ DC, an organization affiliated with the city government, examined the behavior of more than 2,200 MPD officers, split nearly evenly between those equipped with body cameras and those without. Researchers looked at data between June 2015 and March 2017 and concluded that the devices made no difference across any of the metrics analyzed.
With the city already spending more than $5 million to equip all of its uniformed patrol officers with body cameras, some critics say the study calls the value of that investment into question.
"What is the public actually getting for its money?" asked Harlan Yu, a principal at Upturn, a firm that works on technology policy issues. "Are body cameras actually worth it, or are we just going by our speculation and intuition that they're actually going to change the way policing is done in America?" 
Over the past few years, law enforcement officials and police reform advocates have championed body cameras as a tool to help keep cops and civilians honest. The argument holds that people behave better if they know they're being recorded, and the entire department runs more smoothly as a result.
Smaller studies of police departments in California, Florida and elsewhere have found body cameras to be correlated with substantial reductions in use of force incidents and civilian complaints. And that basic association started to become conventional wisdom as departments around the country moved to develop pilot programs or outfit larger segments of their forces with body cameras.
But the data out of the nation's capital undermines a basic assumption about the effectiveness of body cameras.
"You really would expect to see some effect if it were really influencing officer behavior," said Alex Vitale, a professor of sociology at Brooklyn College who's written on challenges surrounding policing in the 21st century.
Other police departments that are in the earlier stages of implementing body camera programs might want to "pump the brakes," said Yu.
What is the public actually getting for its money? Are body cameras actually worth it?

Harlan Yu, Upturn
The conversation around adopting body cameras has always been complicated. Civil rights organizations have regularly expressed concern about police using them as an advanced method of surveillance, which could allow departments to vacuum up massive amounts of data on civilians without much transparency about how they're using it.
Institutional resistance and ineffective policies have beset early body camera programs, making it harder for the devices to bring about any sort of meaningful change. Police in many cities have severely limited public access to video, releasing it only when they see fit. In some cases, officers have failed to record critical footage, or footage has mysteriously gone missing. Departments have made few promises to discipline officers for violating body camera policy.
Body cameras haven't done much so far to increase accountability for controversial police shootings. Many of the incidents making national headlines have involved bystander cell phone footage, not body cameras. 
But body camera video has begun to play a greater role as more departments adopt the equipment, even though the successful prosecution of officers remains incredibly rare.
"There have been three cases this year where an unarmed black person was killed by police and police were charged with a crime, and two of those cases involved body camera video," said Samuel Sinyangwe, co-founder of the racial justice group Campaign Zero. "Having video of these incidents is a necessary precondition to be able to charge an officer."
There are also more specific examples of body cameras being used to hold officers accountable. Last year, for example, D.C. prosecutors dropped charges against a woman police had arrested for an open container after body camera footage showed that the alcohol in question was nowhere near her.
Law enforcement officials said they were surprised by the results of the study, but didn't plan to back away from body cameras in light of the new data.
"I am a little concerned that people might misconstrue the information and suggest that the body-worn cameras have no value. I don't think that this study suggests that at all," said MPD Police Chief Peter Newsham. 
There have been three cases this year where an unarmed black person was killed by police and police were charged with a crime, and two of those cases involved body camera video.

Samuel Sinyangwe, Campaign Zero
Body cameras could also influence more mundane, yet still problematic behavior, such as discourteousness or an officer's use of profanity. Some studies have already examined a few of those nuances. In June, Stanford University researchers published a study of body camera footage in Oakland, California, showing that officers consistently used less respectful language with black community members than with whites during traffic stops.
But it's harder to know how the presence of body cameras might influence such behavior, if at all, because these incidents may not result in official complaints.
"To me, the measures of improvement should be reduced force, reduced abuse of authority ― in other words, making illegal arrests or treating people badly because the police are angry at them, or trying to solve problems in non-lawful ways," said Brooklyn College's Vitale.
The D.C. study lays out a few possible explanations for its findings, including officers' and civilians' "desensitization" to the presence of body cameras, their awareness of non-police cameras like surveillance or cell phone cameras, and a "spillover" effect on the behavior of officers not wearing cameras, in which the proliferation of body cameras may have changed the way all officers act due to the knowledge that a colleague could be recording. It also notes that MPD faces heightened scrutiny as the capital city police force, and suggests that previous reform efforts may have already helped address the problematic behaviors body cameras might be expected to prevent.
But if other methods of reform in Washington were so effective that they made body cameras largely useless, the study could suggest that cities would be better off focusing on tactical issues, like improving de-escalation training, revamping mental health responses or empowering civilian oversight groups. 
"My fear is that this attention on body-worn cameras has sucked all of the oxygen away, and real money and real resources away, from more meaningful remedies that we know already work," said Yu. 
Still, some activists say it's too early to write off body cameras based on a single study.
"This is just the beginning of the technology. Can the body camera be used to automatically turn on when it detects an officer's voice or tone raising? Can a body camera be used to call an ambulance or first aid after a use of force?" asked Sinyangwe. "There's a lot of potential there that has not yet been implemented, so for that reason, it doesn't make sense to completely discount body cameras, but it certainly does dismantle this sort of belief that they're gonna be a one-size-fits-all solution to this problem."
For others, support for body cameras depends on a cost-benefit analysis that evolves with new evidence and additional information about how police are using the devices. With that in mind, the D.C. study certainly doesn't help.
"I would never make a blanket statement that I'm against body cameras, because there's balancing to do," said Vitale. "But the ledger is looking less and less appealing the more we look into this."
Calling all HuffPost superfans!
Sign up for membership to become a founding member and help shape HuffPost's next chapter