WASHINGTON ― Residents of Swann Street NW in the nation's capital opened their homes to protesters who were trapped by law enforcement officers during a demonstration against police violence on Monday.
Not long after President Donald Trump vowed to crack down on riots and had federal law enforcement officials fire tear gas at peaceful crowds so he could hold a Bible during a photo op in front of a church, police kettled demonstrators on a D.C. street a few blocks south of 14th and U Street NW. This area was the center of the 1968 riots following the death of Rev. Martin Luther King, Jr.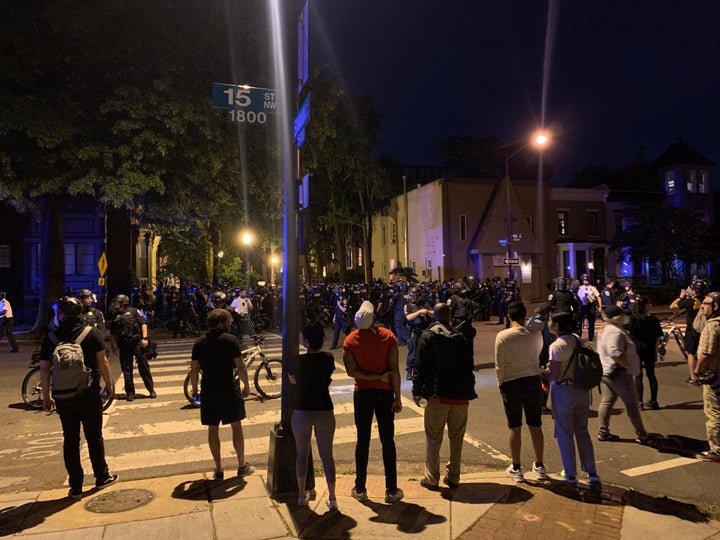 Although there has been extensive looting and rioting in D.C. over the past few days, there was no evidence that any of the demonstrators who police swept up in a mass arrest Monday were involved.
HuffPost spoke with one protester who was caught in the kettle. She agreed to be named, but HuffPost has chosen to withhold her identity to avoid aiding police in her arrest or a potential case against her. The 22-year-old said that the protesters were peaceful before they walked into the trap.
"There weren't even water bottles being thrown. It was all just chants," she said. "The moment we made that right onto the street, they kind of started charging us."
"You turn to the left, there's another alley, cops are there. Then you turn to the right, there's another alley, cops are there," she said.
"So people just start knocking on doors," she said. "We were fortunate enough to recognize some people, and we didn't even know they lived on this block, and we were able to stay... Thank God, it was honestly fate."
The protester said other demonstrators were "frantic" and "didn't know what to do" when police trapped them.
At least two reporters were caught in the chaos. One said they were unjustifiably pepper-sprayed and later released when they identified themselves as a journalist; the other said they were able to escape through a backdoor after being let into someone's home.
A reporter with The Washington Post identified one homeowner who aided protesters as Rahul Dubey, a 44-year-old Indian American and the owner of a healthcare innovations company.
The arrests took place after the 7 p.m. curfew set by D.C. Mayor Muriel Bowser (D). Prosecutions in the nation's capital aren't handled by a locally elected district attorney but by the Trump-controlled U.S. Attorney's Office for the District of Columbia.
The Justice Department is already preparing for a major crackdown on rioting. Federal prosecutors in D.C. have previously charged more than 200 Trump inauguration protesters who were caught in a police kettle with felony charges that exposed them to decades in prison.
The Metropolitan Police Department did not immediately respond to a request for comment. Here are some tweets from the scene:
Support HuffPost
The Stakes Have Never Been Higher
Popular in the Community