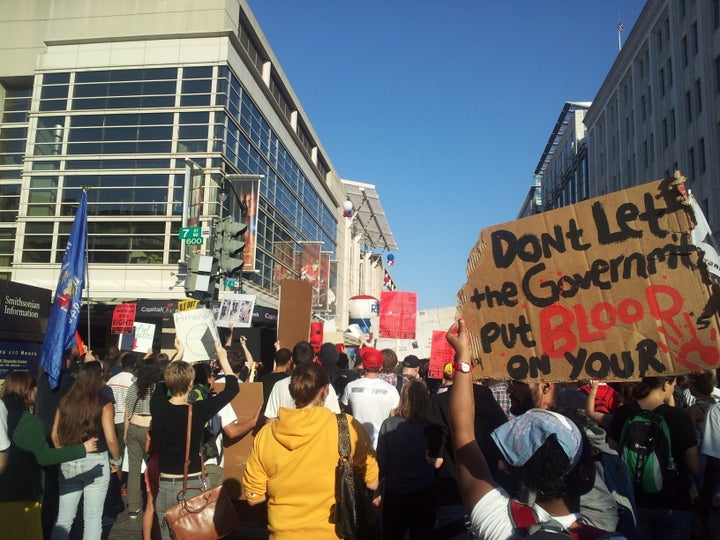 According to an Associated Press report via WTOP:
When a security guard tried to stop the group from entering, saying they could not come in with the signs, he was apparently held by demonstrators, [Smithsonian spokesman John] Gibbons said. A second guard who arrived used pepper spray on at least one person and the crowd dispersed.
Around 150 protesters made their way north on 7th Street NW toward Gallery Place, where Washington Capitals hockey fans were assembling for Saturday night's game against the Carolina Hurricanes at the Verizon Center. Around 4:50 p.m., they paused for a few minutes at F Street NW in front of the National Portrait Gallery where they shouted chants before moving on elsewhere in downtown.
There were three sets of entrance doors. I was among the first to open the third set of doors. A guard shook a can of pepper spray in front of me and demanded that we back out. But a dozen feet away at the second set of doors, people were staggering out and collapsing in pain, having been pepper sprayed in the face. I started to go toward them, but began coughing and vomiting. A lot of people were effected, directly or -- like me -- indirectly by the pepper spray.

It is not true that we assaulted the police. Nobody was accused of or charged with that. I didn't hear about it until later from the media. A young woman named Thi Le was told she'd be charged with assaulting a police officer after she was pepper sprayed and handcuffed, but they switched the charge to disorderly conduct and released her a few hours later.

It is not true that they only pepper sprayed one person. Many people were pepper sprayed.
UPDATE, 9:36 p.m.: According to a press statement from "Stop the Machine" organizers:
Nearly 1,000 peaceful protesters marched to the Smithsonian Air and Space Museum today to stage a nonviolent die-in under the drone exhibit which represents the glorification of robotic warfare and the mass killing of innocent civilians.
Upon entering the doors to the free public institution, demonstrators were denied entry, physically beaten back by Smithsonian Protection Service security officers and at least a dozen were pepper sprayed. The cloud of pepper spray was so thick that it hit nearby tourists and a female security officer. See two videos:
Protesters pepper-sprayed at the National Air & Space Museum
Protesters pepper-sprayed at the National Air & Space Museum II
The police closed the museum and have been falsely telling the public that the building was closed due to a bomb threat.
But as far as anyone knew I was part of this cause -- a cause that I had infiltrated the day before in order to mock and undermine in the pages of The American Spectator -- and I wasn't giving up before I had my story. Under a cloud of pepper spray I forced myself into the doors and sprinted blindly across the floor of the Air and Space Museum, drawing the attention of hundreds of stunned khaki-clad tourists (some of whom began snapping off disposable-camera portraits of me). I strained to glance behind me at the dozens of protesters I was sure were backing me up, and then I got hit again, this time with a cold realization: I was the only one who had made it through the doors. As two guards pointed at me and started running, I dodged a circle of gawking old housewives and bolted upstairs.
Charlie Grapski, writing at FiredogLake, labels the Spectator assistant editor, Patrick Howley, an "agent provocateur."
He maintains that his involvement was for "journalistic purposes," though the move seems more reminiscent of provocateur James O'Keefe than the conservative coverage of Occupy Wall Street so far.
WATCH: Protest At The Air And Space Museum
REAL LIFE. REAL NEWS. REAL VOICES.
Help us tell more of the stories that matter from voices that too often remain unheard.