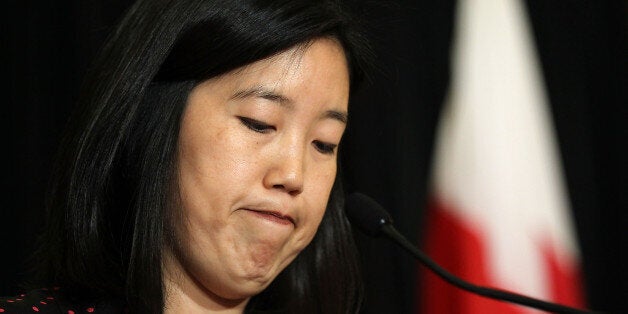 This blog post was co-authored by Danyoung Kim, a rising senior at Cornell University who interned this summer for the Economic Policy Institute.
Unfortunately, 2014 scores fail to address either issue: transparency is still elusive, and the small gains in math and minuscule ones in reading continue to accrue heavily to advantaged students. Again, the district released only "cut scores" -- the proportion of students it deems "proficient" -- and not the scale or raw scores on which they are based. Cut scores are not meaningful measures of student knowledge and growth, and are inconsistent from year to year; school districts can shift cut-off lines so as to make a target proportion of students appear "successful," making it impossible for parents, teachers, and students to understand actual learning and growth.
This year, 54.4% of the district's students were deemed proficient in math, a 1.4% increase from last year, and 49.9% students were proficient in reading, an increase of just 0.4%. However, only 43.8% of Black students were proficient in reading, basically flat since last year. Among English Language Learners, a 2.3 percent decrease since last year left just 37.3% reading "proficiently."
Superintendent Kaya Henderson celebrates these scores as signs of progress, asserting that "we're continuing on an upward trajectory." The data suggest otherwise. As Valerie Strauss documents in a recent column for her Washington Post Answer Sheet blog, "The latest results of the DC-CAS ... show that the percentage of public school students judged 'proficient' or better in reading has declined over the past five years in every significant subcategory except "white." English Language Learners lost the most -- over ten points since 2009.
Indeed, the only way for Chancellor Henderson to back her assertion of continued gains was to use substantial increases in proficiency between 2007 and 2009, before Chancellor Michelle Rhee's reforms were enacted, to mask real losses for disadvantaged students in the five years since.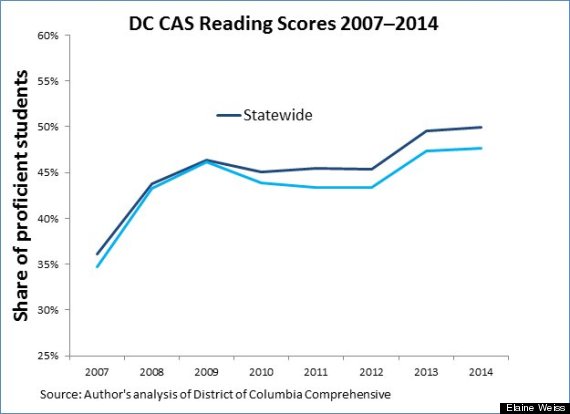 Fifty years of evidence make clear why these reforms have failed so miserably. In 1966, James Coleman reported, to his own surprise, that most of the black-white achievement gap was driven by factors outside of school walls. Specifically, he found student and community poverty, and segregation, to account for up to two-thirds of that gap.
In other words, even if reforms like those in DCPS, which rely heavily on student test scores to hold schools "accountable," were working, they could close only a slice of the achievement gap "pie." But they have not been working. Rather, using test scores for unintended purposes -- to evaluate teachers, principals, and entire schools, rather than to assess student knowledge and inform instruction -- creates perverse incentives. Good teachers avoid or leave schools with needy students. Test preparation replaces the teaching of valuable life skills and cuts into time for science, art, music, and even recess.
Increases in the proportion of students who are immigrants, English Language Learners, and growing up in poverty -- virtually half are eligible for subsidized school meals -- make these realities more critical. School reform strategies that fail to address student poverty will render our goals of "college and career readiness," and of a thriving democracy, impossible.
Ironically, given NCLB's goal of illuminating race- and income-based gaps, districts like DCPS feel pushed to create the appearance that reforms have worked by hiding growing disparities. Next year's new tests offer the opportunity to ensure data are presented in a valid, transparent manner. More important, the upcoming election offers the new mayor the chance to take a critical look at how badly recent years' strategies have failed the very students they were supposed to help. Transparency, paired with comprehensive, whole-child strategies that can help produce meaningful gains for all students, would represent the real reform we have long sought.
Popular in the Community