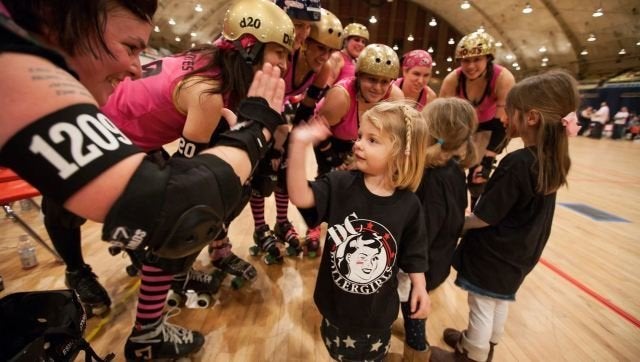 WASHINGTON -- Roller derby isn't going anywhere. The sport, popularized in the late 1950s, has seen a resurgence in the last ten years. There are now 1,300 leagues around the world.
The DC Rollergirls formed in 2006. The 78 women that make up the league will begin their seventh season this spring. Now they have a store that caters just to them.
Department of Skate opened last weekend. Adrienne Schreiber, aka Velocity Raptor, and Yvonne Dailey, aka Helena Handbag, have set up shop at 519 H St. NW. Open six days a week, the store is the only D.C.-area derby store.
We spoke with Schreiber about the opening, getting involved with the DC Rollergirls and the cost of the sport.
The Huffington Post: How was the grand opening?
Adrienne Schreiber: It was fantastic. We had a whole ton of people there, lots of friends and family and, even better, lots of people that we didn't know that [were] waiting for a shop like this to open.
PHOTO GALLERY
Department Of Skate
HuffPost: Why did you open the store?
Schreiber: I've play[ed] roller derby in the DC Rollergirls for Scare Force One and the All Star Team. Over the last four years there was really no place to get your stuff. Granted, the sport was just coming back and people were making do. We bought a lot of skateboard stuff, which isn't the best stuff for us.
We needed a store because it's not only what looks appropriate, it's having the gear that's safest for the sport. You really need to get stuff specific for what we're doing.
When you start getting into the sport you spend $300 to $800 just on equipment so you better make sure they fit right and you really love them.
When I started there were stores in Las Vegas and one in Texas and one in New York. That's really not enough.
The Huffington Post: Are you the only brick-and-mortar derby store in D.C.?
Schreiber: We're the only one specific store for roller derby in the area. The nearest one that's just roller derby is in Philadelphia.
It's great that other places, like Sports Authority and skateboard shops, are stocking our stuff, but we have a knowledge of the sport.
The Huffington Post: Do you still play?
Schreiber: Still in the league, I'm actually the league president. We're going up to Connecticut for games this weekend.
The Huffington Post: Is the store your full-time job?
Schreiber: I sure hope it will be. I work at Planned Parenthood so I really don't sleep a lot. Once the store starts taking off and paying rent, I'm hoping to make it my full-time job.
The Huffington Post: Have you had any derby injuries?
Schreiber: Nothing to write home about. Just bumps and bruises.
The Huffington Post: What do you tell people that are interested in participating in the sport?
Schreiber: Come watch it just once. It's really unlike anything else that's out there. There just isn't a contact sport like this. There's a camaraderie around the league unique to roller derby. We spend between 20 to 100 hours a week together.
The Huffington Post: How is that possible?
Schreiber: We practice about three nights a week, we run the business ourselves, everyone is required to participate in all levels, whether it be managing our special events, our social media, the administrative side. It's basically a whole separate job. It's a lot of work but it's totally worth it.
Department of Skate is open Tuesday through Sunday. Visit their site for hours and their Facebook page for updates. The store expects to be offering online sales soon.
Calling all HuffPost superfans!
Sign up for membership to become a founding member and help shape HuffPost's next chapter
BEFORE YOU GO