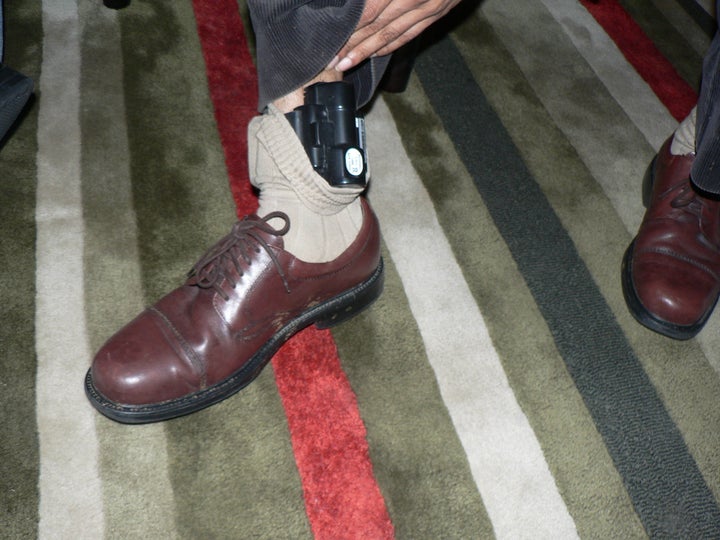 Similar versions of this "sanctuary" policy exist in some 70 jurisdictions around the country, but D.C., which ushered in the policy in 1984, was an early adopter. Gray, who strongly opposed local police's involvement in immigration enforcement during his mayoral campaign, said his order last year was simply designed to ensure that "our immigrant communities feel safe cooperating with those who are sworn to protect them."
Try telling that to Jai Shankar, a 20-year resident of the United States, whose story, advocates say, leaves other immigrants scared to call on their promised protectors.
A civil engineer from India, Shankar has while in America paid U.S. taxes, helped homeless people and welcomed a son into the world, although his son, Sanjay, now 10, has spent most of his life in Europe. More than a decade ago, Shankar was convicted of driving under the influence in Ohio. Since then, he's remained mostly under the radar, simply remaining in the United States after losing his appeal for asylum.
Now, because he called D.C. police three years ago to report a crime and the responding officer ran his name through a law enforcement database, he wears an ankle bracelet allowing authorities to track his every move as he awaits deportation.
The bracelet is on loan from the U.S. Immigration and Customs Enforcement agency, whose agents are keeping tabs on Shankar until Indian officials send a replacement for his expired passport. In the meantime, word of Shankar's predicament will have a chilling effect on the willingness of other immigrants to seek help -- even from nonprofits dedicated to their assistance, tenant advocates say.
"They're afraid to come to tenant meetings because they think we're all authorities," said Jim McGrath, chairman of the D.C. Tenants Advocacy Coalition. "When they see an Anglo, they see a badge."
McGrath's group has made Shankar a poster child for immigration reform. Quite literally: It has created a poster calling Shankar a model citizen and "Hero" who has "Given His Heart and Soul to D.C.!"
For their part, Gray's office and D.C.'s Metropolitan Police Department told The Huffington Post that Shankar's arrest is in keeping with city policy. The arresting officer was not checking Shankar's immigration status specifically, they said; rather he merely performed a general check for outstanding warrants. It just so happens that the warrant found detailed Shankar's immigration status; it was a U.S. Immigration and Customs Enforcement warrant, relating to Shankar's outstanding removal order.
"It has been standard police operating procedure to run the name of every person who reports a crime for a warrant check," mayoral spokeswoman Doxie McCoy wrote in an email. Metropolitan Police Department's spokeswoman Gwendolyn Crump confirmed McCoy's statement, adding, however, that such checks are not mandatory and police have some discretion.
But such an explanation is cold comfort to Shankar.
"I gave it all to America, and I don't want to go home under these conditions," Shankar said during a recent interview in the lobby of the Dupont Circle Hotel. "This is not the way I want to go back."
Shankar arrived in the United States on a tourist visa in 1992. The following year, he filed an asylum claim from Connecticut, writing that he was afraid to return to India because of a relationship he, a Hindu, had with a Muslim woman. The application was denied; Shankar blames his legal counsel.
He appealed the decision and was authorized to remain in the United States for a decade while authorities reviewed his case. During that time, he tended bar and worked in a museum, moving first to New York City, which he didn't like, and then to Dayton, Ohio, which he loved even after his DUI arrest there. In Dayton, he met a Lithuanian woman whom he followed to Washington, D.C., where they had Sanjay in 2001.
That August, the mother and child visited Lithuania. After the Sept. 11 attacks, she did not return to the United States and instead moved to London with Sanjay. Since Shankar's passport had expired, he chose to remain in D.C., waiting tables and tending bar while awaiting word on his appeal for asylum.
The next year, Shankar lost his appeal. The immigration judge agreed to allow him to depart voluntarily and avoid having a deportation on his record, but Shankar chose not to leave.
Shankar told HuffPost he stayed because he still would have had trouble in India all those years later because of his Muslim ex-girlfriend. And the United States had become his home, he said, adding that he feared not being able to return to America. "Going means going for good," he said. "Not coming back."
A few years later, Shankar met McGrath, the tenant advocate, in Dupont Circle, near the room Shankar was renting. The two men helped each other out: Shankar recruited area musicians to play at McGrath's tenant-rights benefits and helped hand out food, while McGrath's group pushed Shankar's landlord to fix elevators and exterminate the building's vermin. When Shankar had trouble paying his rent, McGrath helped him make ends meet.
On July 30, 2009, Shankar got into a fix that McGrath couldn't remedy. After a camera belonging to Shankar's new girlfriend went missing, Shankar blamed a homeless man that he had allowed to stay in his room. The camera had sentimental value; it had pictures on it that "we could not get back," Shankar said. So he reported the camera stolen.
The responding officer ran Shankar's name through a database and discovered a warrant relating to the outstanding deportation order. "There were conflicting reports from parties involved," Metropolitan Police Department spokeswoman Crump noted in an email. She did not respond to subsequent requests for comment about the nature of those reports or the criteria for conducting a database search.
Shankar didn't think reporting a crime to the D.C. police would expose him to federal immigration authorities, he said. He was wrong.
Shankar spent more than five months detained at the Hampton Roads Regional Jail in Portsmouth, Va., while federal immigration officials tried to figure out what to do with him.
Finally, in January 2010, ICE released Shankar on the condition that he check in weekly at the immigration facility in Virginia's Fairfax County to see if his new Indian passport had arrived so that he could be deported. Recently he learned that the passport might be arriving soon.
Shankar's defenders argue that D.C. police should not be running complainants' names through law enforcement databases as a matter of course.
"There's no legitimate law enforcement reason to run a database check on a crime victim or witness -- someone who hasn't been charged with any wrongdoing, and who, on the contrary, is coming forward to help the police fight crime and keep the community safe,"Kate Desormeau, an for the American Civil Liberties Union's Immigrants' Rights Project, wrote in an email. "If D.C. wants to keep the cooperation and trust of community members, it must end this policy."
If such database checks continue, immigrants like Shankar will have no protection should they need to report a crime, say Desormeau and others.
For immigrants in the D.C. area, Washington's official sanctuary policy will count for little when they learn of Shankar's case, said Jaime Farrant, executive director of Ayuda, a D.C.-based group that provides legal and social services to low-income immigrants. "The news of these stories get around," Farrant said. "A lot of people will just refuse to report crime."
Shankar made that point himself in an October 2010 letter to Gray, then the D.C. Council chairman and the district's presumptive mayor-elect. "The core inquiry remains: is this a city in which we, as residents, regardless of race, color, creed, legal status, or ethnicity, feel that we can be safe?" he wrote. "Do we all have the right to call the police for help and assistance if we are victims of a crime, or is that a right reserved only for those belonging to certain racial categories or with certain residency permits?"
Gray responded with a promise to find him a lawyer, according to Shankar. Through Gray, Shankar ended up working with the ACLU, which now cites his case to argue that local police should not get involved in immigration enforcement.
The ACLU praises D.C.'s government for trying to limit such involvement, but officials are looking to curb it further. McCoy, Mayor Gray's spokesperson, said the mayor and D.C. police support efforts to exclude noncriminal ICE warrants from criminal law enforcement databases.
"This will help to reassure the community that MPD will not be involved in any civil immigration matters and to ensure it is clear to officers on the street whether a person in contact with the police has a criminal arrest warrant," McCoy said.
That won't help Shankar, though. With that in mind, his current lawyer, Sandra Grossman, is asking the Obama administration to use its prosecutorial discretion to defer his deportation. Her argument includes evidence of all the good Shankar has done in America, the people he's helped and the fact that under federal policy, his deportation is a low priority compared to that of serious criminals, repeat violators and "recent border entrants."
"My case is also largely based on the fact that he was detained in violation of a DC policy not to inquire into people's immigration history," Grossman wrote in an email. "And that his deportation will having a chilling effect on D.C.'s undocumented residents' willingness to cooperate with law enforcement and report on criminal activity."
"He deserves to stay," Jim McGrath said. "He's been here 20 years, worked his buns off, paid every kind of tax. He does not want to go back to India empty-handed. That's a terrible way to have to go back."
McGrath says he has dreams for Shankar -- that he will land a permanent, legal job at a fancy Washington hotel and will move up the ranks. McGrath also hopes that the two continue working together.
Sipping his second cup of coffee, Shankar said he has his own dreams, too, "I want to go so many places," Shankar said. "New Mexico. Alaska, all over. My apple is ripe. I want to see how it tastes. I have plans. I have ideas. I can be somebody for TENAC," he added, referring to McGrath's group.
"If I go back to India?" he said. "No plans. No plans."
See a photo of Shankar's ankle bracelet below.
Related
Popular in the Community