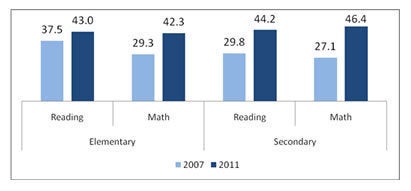 Amid an investigation into alleged cheating on Washington, DC standardized tests, the school district released figures today that show a relatively flat trend in progress over the last year.
Preliminary results from the 2011 District of Columbia Comprehensive Assessment System show that 46.4 percent of secondary students scored proficiently in math and 44.2 percent scored proficiently in reading -- up 2.7 and 1 percentage point from last year, respectively.
For elementary school students, 42.3 percent scored proficiently in math and 43 percent were proficient in reading -- down 0.8 and 1.1 percentage points from 2010, respectively.
When compared to 2007 scores, however, both secondary and elementary students have shown strong, steady improvements. Seventh and 8th graders, specifically, were the lowest performing grades four years ago -- now they're the highest performing grades.
"We will work hard as a school district in the next school year to build on the progress we have made. We have a long way to go in reaching our goals, but our seventh and eighth graders have proven we can make steady progress," DCPS Chancellor Kaya Henderson said in a statement Friday.
The DC CAS is administered to all public and public charter school students in the 3rd through 8th grade, and in the 10th grade.
Calling all HuffPost superfans!
Sign up for membership to become a founding member and help shape HuffPost's next chapter