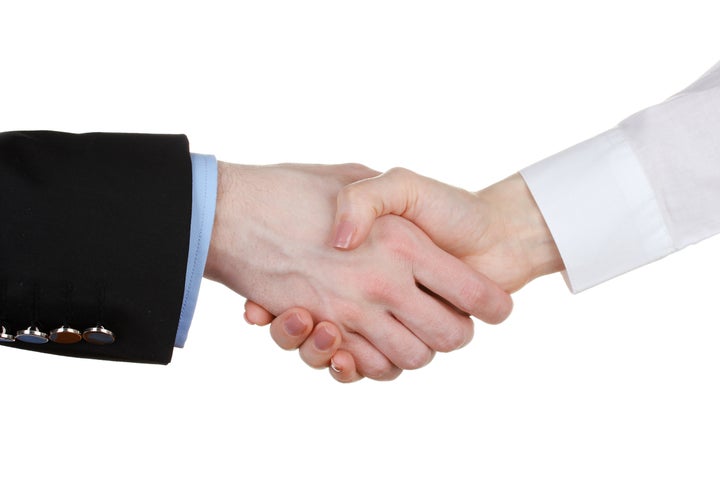 When I tell people from out of town that I am from Washington, D.C., they often ask me if I am a lawyer or if I work for the federal government. Sometimes people don't even ask; they just assume that I am a lawyer who does work for the government.
So when I tell them I work for a hot tech start-up, they are genuinely surprised. And then when I tell them that my daughter goes to an amazing D.C. Public School (Francis Scott Key School) they are even more surprised. And then there's the shocking closer. My husband and I live with our daughter in a single-family home with grass in the backyard, and it is in the heart of Washington, D.C.
While perception can sometimes be reality, my point is that the perception of Washington, D.C. is not the reality of D.C. We have green grass, and big trees, and several blue ribbon elementary schools and we are more than a one-or-two-industry-wonder, thanks to technology and a vibrant new start-up scene.
Yes, successful tech companies, and the start-ups that lead to those successes are no longer just somewhere out there near Washington Dulles Airport, which is of course in Virginia. Companies such as Blackboard, Everfi, LivingSocial, WeddingWire, Enlightened, New Signature and many others began and are proudly being built in Washington, D.C. Dozens of amazing new local companies growing locally like Lemur, Cont3nt, Speek, SocialTables, Votifi, Umba Box, Newsit, CADRE, ReelGenie... many being accelerated by our friends at Fortify.vc, Endeavor DC, Affinity Labs and more. We cross borders frequently into Maryland and Northern Virginia and leverage a regional approach easily when the whole is greater than the sum of its parts.
It's not just me being bullish on D.C. Others are noticing something is brewing here, too. Forbes just gave Washington, D.C. a ranking of #2 for tech jobs in the country, citing almost 2,000 start-ups here, along with plenty of grass and room to throw a Frisbee around, find a new girlfriend and walk a dog.
Last week I was thrilled to attend several events put on by my friend Peter Corbett of iStrategy and co-produced by Tech Cocktail for DC WEEK. Over 10,000 like-minded people came out to innovate and collaborate around the tech and start-up scene. There were pitch jam competitions, chats with investors, hackathons and plenty of old-fashioned networking conversations.
Evan Burfield -- who runs Startup DC as part of Startup America -- stood out and stood up at DC WEEK with some great insights. He made a bold prediction: Whether we fall off the fiscal cliff or build a bridge beyond it, there will be a downsizing of government contractors in D.C. While that poses its own set of challenges, it also creates opportunity. How? This disruption will unlock a talent pool of people who are brilliant, educated, and have key local and global relationships and areas of unique expertise. Put all of that together and you have people who just might be open to joining or building a start-up.
Similar to the financial crises in New York 11 and then four years ago, people who held cushy jobs and who then wouldn't have ever considered launching a company or joining a start-up team did exactly that. And, I am sure you have noticed that the New York start-up scene is now OLE! OLE!... HOT! HOT! HOT! and DC will follow suit with our own flare and likely less sizzling fashions.
It's also important to remember that Washington, D.C. is more than just a seat of the federal government. Local government officials also support a dynamic business community. For instance, the mayor's office recently announced new legislation to support the tech community more throughout the city with new incentives.
Of course, there is more to be done. The community is still working on lowering the capital gains taxes for D.C. investors (currently 8.7 percent) to be closer to the likes of Maryland (5.5 percent) and Virginia (0 percent) but there are still some incredible incentives in the District. Last Monday at the Broadband Community Summit during DCWEEK, I caught up with with David Zipper, Director of Business Development & Strategy from the Office of the Deputy Mayor for Planning & Economic Development. He shared: "In the Mayor's Office, we often hear that tech companies locate in Washington, D.C. because their employees want to be here. So many young professionals live in dynamic neighborhoods like Columbia Heights or H Street and then take Metro, bike, or walk to work. And new restaurants and bars are opening on a weekly basis. The suburbs just aren't as much fun!"
We launched our company, Barrel of Jobs, in October at DEMO 2012 in Silicon Valley. We were proud to represent Washington, D.C. as we shared our vision to put America back to work by crowdsourcing jobs. Every day we get calls from companies and individuals asking what we need, how they can help, how they can provide opportunities to pitch our business to influencers and how they can connect us to investors and national companies hiring. Things are flying fast and furious and goodwill is off the charts. We feel like professional athletes in a great competitive game with the city and greater community cheering us on and betting on their favorites.
I served in the non-profit sector for 20 years and worried that I was leaving much goodwill behind as I ventured into the private sector. However, our company is for profit and for purpose, with a unique double bottom line model. I am seeing people wanting to help start-ups and work for start-ups the same way they wanted to help and work for nonprofits a decade ago.
So next time someone from out of state asks. My answers are: "NO, I am not a lawyer. NO, I don't work for federal government" and "YES! I proudly work for a D.C.-based tech start-up."
REAL LIFE. REAL NEWS. REAL VOICES.
Help us tell more of the stories that matter from voices that too often remain unheard.