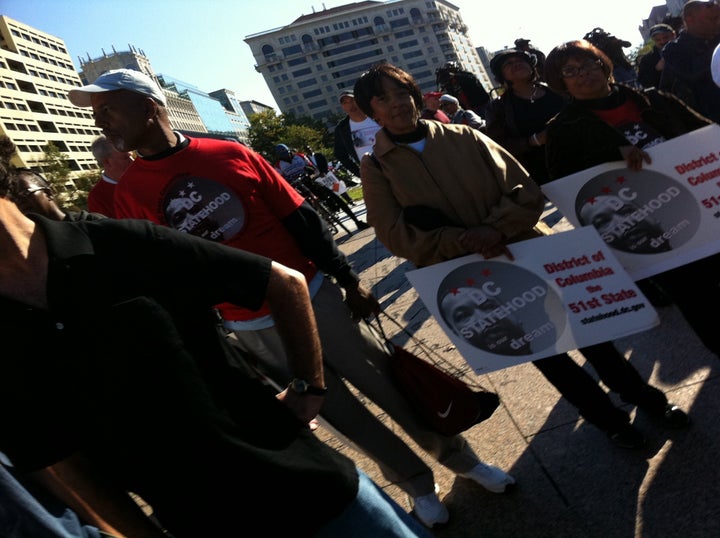 The rally, coming the day before the rescheduled dedication of the Martin Luther King Jr. National Memorial, brought hundreds out on a sunny fall morning to show their support for a clear set of goals: full voting rights for District of Columbia residents, full congressional representation and D.C. statehood.
The top ranks of District leadership spoke, including Mayor Vincent Gray, the city's nonvoting Congresswoman Eleanor Holmes Norton (D), Shadow Senator Paul Strauss (D), youth mayors Cecilia Thompson and Ryan Washington, D.C. Council Chairman Kwame Brown (D), and Councilmembers Mary Cheh (D-Ward 3), Harry Thomas Jr. (D-Ward 5), Tommy Wells (D-Ward 6), Yvette Alexander (D-Ward 7), Vincent Orange (D-At-Large) and Marion Barry (D-Ward 8). Also taking their turn were activist Ralph Nader, comedian and activist Dick Gregory, poet Alex Cena and National Urban League President Marc Morial.
Barry pointed to the irony that the United States is fighting for democracy in Iraq and Afghanistan "when we don't have democracy here in the nation's capital." (As the members of the city council spoke, a woman in the crowd had a rally of her own, holding up a sign that read "Restore Ethics To The DC Council.")
Mohammad Khraids, a Sudanese student at George Washington University, was collecting signatures on a D.C. voting rights petition. "Here I think they do need full voting rights," he said. "Whereas we do not have voting rights like you do in the United States back in Sudan."
Nader called for broad action, urging D.C. residents to go on strike and to put protest signs on the city boundaries, so visitors would know about the statehood issue. "If we don't up the ante, the rest of the country will be looking on us as if we don't really need voting power, don't really want voting power," he said. "Martin Luther King stands there as a rebuke to us if we don't push for something we should have had a long time ago."
And the protest did bring D.C. voting issues some new attention.
On the east side of Freedom Plaza, three members of the Stop the Machine protest -- the anti-war, anti-corporate demonstration that has been there since Oct. 6 -- were guarding their camp's tents, as the rest of the group was marching on banks in the District to protest foreclosures. (The march was to be followed by a dance party.) Lee Tatum, one of the guards, said she wasn't part of the D.C. statehood movement, but, she said, "This is a pro-democracy movement. That is a pro-democracy movement. So we're in solidarity."
Bill Minutti, sitting with Tatum by the tents, wore a pro-D.C. statehood T-shirt protesting "Taxation Without Representation" and a baseball cap with a Vietnam Veterans logo. "We're the 99 percent. I'm most interested in stopping the war. I'm also for Washington statehood," he said.
Guy Anthony, another Stop the Machine protester, hadn't been aware of the D.C. statehood issue until speaking that morning with Councilmember Wells. "I think they have a strong case," Anthony said. "I think they should get what they want."
The speakers wrapped up at 11:30 a.m. and a band started to play, as crowds gathered to make their not-quite-milelong march from Freedom Plaza to the Martin Luther King memorial, where the statehood group would join up with Rev. Al Sharpton's March on Washington for Jobs and Justice, an event intended to build support for President Barack Obama's jobs bill.
Shadow Senator Strauss, getting ready to head to the memorial, told The Huffington Post that he thought the voting rights rally had gone well. "This is really the way to honor Dr. King's legacy, by marching for the causes that he believed in," Strauss said. "The real way to celebrate him is to continue the struggle for his work."
Strauss added that he wasn't sure D.C. would be granted statehood in the immediate future. "But," he said, "as a people we will get to the promised land."

Popular in the Community