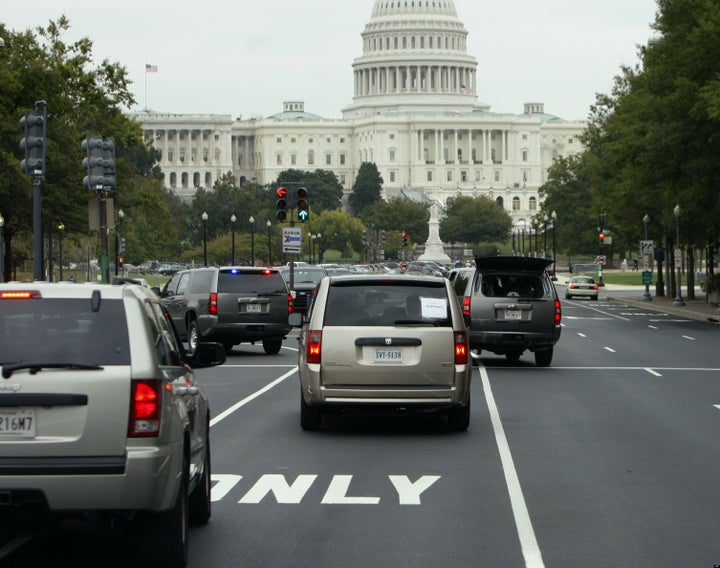 Come Jan. 5, 2011, 94 congressmen will be back in school, learning how to read bills, write laws and budget (or ban) earmarks as part of the 112th Congress' freshmen class.
Across town, another freshman has a similar agenda -- but add homework to his list.
American University student Deon Jones, 19, was recently elected as a write-in candidate to a D.C. Advisory Neighborhood Commission (ANC), one of 38 local governing bodies that oversee policies like street and traffic improvements, liquor licenses and zoning.
College students are nearly a seventh of Washington's population, according to Scott Stirrett, co-chair of D.C. Students Speak, a student-led organization that aims to unite students in the metropolitan area.
Nationwide, 9.3 million students were enrolled in four-year colleges and 6.9 million were at two-year schools in fall 2008, according to the Chronicle of Higher Education.
Despite these numbers, college students have very little direct representation in government.
Candidates must be at least 25 years old to run for a House of Representatives seat, 30 for the Senate and 35 to make a Presidential bid. State, county and municipality laws vary on age restrictions.
In Washington, D.C., ANC candidates must be at least 18 years old. Each member represents a district on one of the commissions.
American University is split between two districts.
Jones ran for a previously vacant seat where students make up over 90 percent of the district's population, according to his campaign team.
Jones' classmate Tyler Sadonis ran as a write-in to represent the other district, where students are about 60 percent of the residents. Sadonis was defeated by incumbent Tom Smith.
Jones won't be the only student to take an oath of office in January - Georgetown University sophomore Jake Sticka, 19, won a seat on another ANC this election. Other Georgetown students have held Sticka's seat in the past.
In order to elect Sticka and Jones, many students changed their voter registration from their home states to D.C. to cast their ballots.
This is the first time in District history where two universities have had ANC representation at the same time, according to Stirrett, and the election of two students to ANC seats at once hasn't happened in over a decade.
But that's not good enough for Sticka.
In addition to improving student safety, especially to decrease sexual assaults around Georgetown, and ANC transparency, he wants to "help remedy the under-representation that so plagues students in D.C.," he wrote in The Hoya.
For now, Jones' study skills will come in handy. He's brushing up on his D.C. zoning laws before he's sworn-in Jan. 2.
That's not good enough for him, either. After the ANC, he wants to take on other political positions, ultimately ending up in the Oval Office.
But he's still got a few years to go.
Other Students in Politics
-- In Maryland, Marcus Afzali was the first University of Maryland graduate student to be elected to College Park's city council in November 2009.
In October 2010, Afzali, now a UMD alumnus, tried to lower candidate age requirements from 21 to 18 so more undergraduates could run for council seats, according to The Diamondback.
But instead, the council nearly raised it to 25, citing inexperience and immaturity.
-- In North Carolina, NC State junior Jenna Wadsworth, 21, was recently sworn-in as Wake County's Soil and Water Conservation District Supervisor. Wadsworth now serves as the youngest woman ever elected in the state.
-- In Mexico, 20-year-old criminology student Marisol Valles García is now the police chief in Guadalupe -- a town near Juarez, which is considered the murder capital of the world.
Valles was the sole applicant for the job in a town where public officials are increasingly finding themselves the targets of assassinations. Guadalupe's former mayor was killed in June.
Related
Popular in the Community