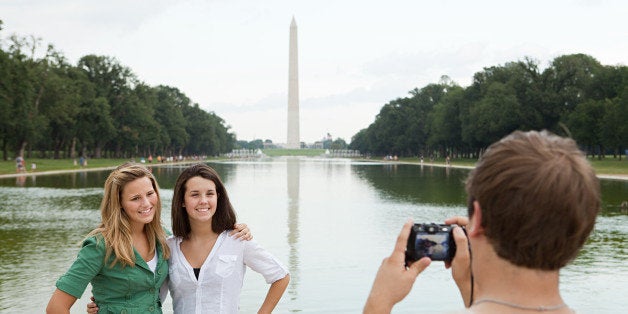 All politics aside, if Congress can't get along by tomorrow, we might be faced with another government shutdown. This has special implications for D.C. residents -- our trash doesn't get picked up regularly during a government shutdown! -- but also for visitors.
While some sites will be closed, you can still visit D.C. during government shutdown! WE'RE STILL OPEN! The city doesn't shut and in fact, some special things go on to accommodate all the visitors locked out of museums and federal workers forced to stay home from work!
Think of this as a way to see the lesser known side of D.C. and sites that are often, sadly, skipped over. Some of the best places in D.C. are the smaller, historic house museums.
In full disclosure, I run a walking tour company, DC By Foot, which will still be offering all of its walking tours! But if you don't like guided walking tours, or maybe DC By Foot tours don't fit into your schedule, Cultural Tourism DC has incredible self-guided tours around various neighborhoods, downloadable as both .pdfs but also audio tours.
The Library of Congress, Smithsonian museums, National Gallery of Art, Archives, Bureau of Engraving and Printing, the National Zoo, the Capitol Visitor Center. The United States Holocaust Memorial Museum may or may not be open as many of its workers are civil servants.
More importantly, WHAT WILL BE OPEN?
Every memorial will still be open to visitors, as it's awfully hard to close something that doesn't have walls or doors. The restrooms, ranger stations, gift shops and museums will be closed but you'll still be able to visit the sites as normal. In fact, if you take a walking tour, you might not ever realize they were technically "closed."
UPDATE: Despite previous reports and what happened last time the government shut down, the National Park Service says it will be barricading some of the Memorials. I say some because NPS staff have indicated there won't be enough barricades to completely block off every site. They are meant to discourage visitors. While you may not be able to enter the memorials, you'll still be able to see them from outside the barricades. The FDR Memorial is going to be hard to experience from the outside but even with a barricade from entering, you can still see most memorials. Unless later reports indicate they will be covering all Memorials with tarps, as well.
Calling all HuffPost superfans!
Sign up for membership to become a founding member and help shape HuffPost's next chapter