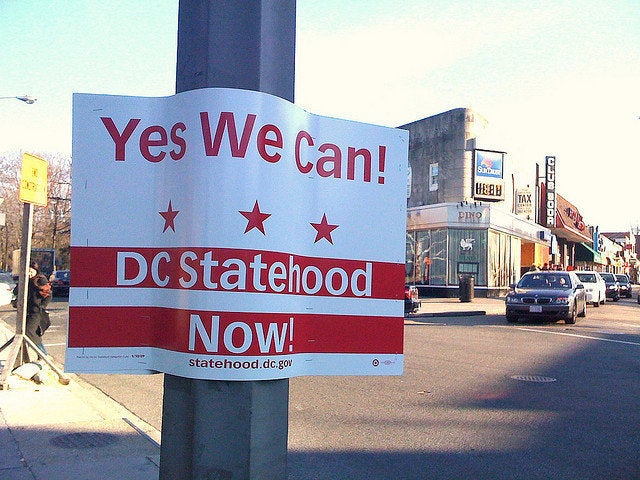 WASHINGTON -- Eight District of Columbia voting rights activists arrested at an April rally on Capitol Hill will go to trial in the D.C. Superior Court on Tuesday morning, where they will challenge the misdemeanor charges against them using a First Amendment defense.
The eight due in court on Tuesday are charged with failure to obey a lawful order, which is a misdemeanor. A second charge -- of blocking passage, another misdemeanor -- was added when the eight chose to go to trial, turning down a "post and forfeiture" option (they would have paid a fine and the charges would have been dropped). Fellow protesters, including the mayor and all of the D.C. Council members, accepted the post and forfeiture option. Penalties for the eight may total $2,000, with up to 90 days of jail time.
Ann Wilcox, one of the attorneys representing seven of the defendants -- Brannum is representing himself -- told The Huffington Post that the protesters will challenge the charges with a First Amendment defense.
"The police are really supposed to, if at all possible, allow people to protest. It also builds on the civil rights tradition of the D.C. voting rights and lack of say in how money is spent," Wilcox said. "This is an outgrowth of the civil rights movement also, and trying to make sure that D.C. -- which now is the last colony -- receives full political rights. This is a very important action. A very important struggle."
The Washington Post reports that D.C. officials, including Gray and Del. Eleanor Holmes Norton (D), have so far had a "cautious" response to Issa's bill, which has not yet been filed.
RELATED VIDEO: Protesters arrested during April 11, 2011, D.C. voting rights rally.
Calling all HuffPost superfans!
Sign up for membership to become a founding member and help shape HuffPost's next chapter