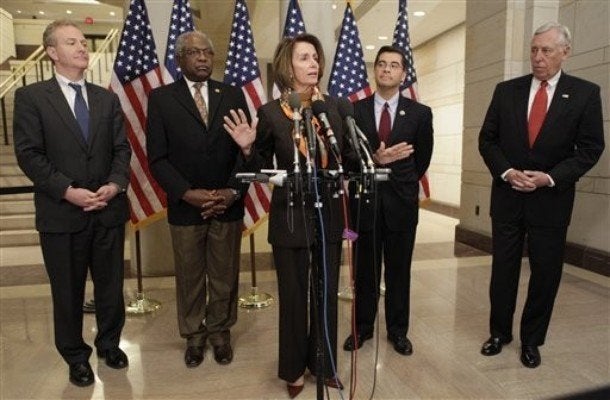 As the Democratic Congressional Campaign Committee (DCCC) battles to keep ahead of the National Republican Congressional Committee (NRCC), a handful of Democrats who are either in solidly safe seats or retiring have yet to pay their dues to the House fundraising arm -- funds that would go toward boosting the election chances of their vulnerable colleagues.
The Huffington Post obtained the dues sheets for several of these House members. In total, they owe $2,134,509 in unpaid dues to the DCCC. All members, except Rep. Bart Stupak (D-Mich.), have enough cash on hand to cover the balance. Individually, they owe anywhere between $45,000 and $250,000.
The majority of the members contacted by the Huffington Post did not return a request for comment. But Bob Decheine, a spokesman for Rep. Steven Rothman (D-N.J.), who owes $45,000, responded, "We've contributed a great deal to the DCCC already and will be making another significant contribution very soon. Rep. Rothman fully supports the efforts of the DCCC in this cycle as he has in every previous cycle!"
Ben Corey, press secretary for Stupak, who owes $215,000, pointed out that the congressman supports Democratic candidates through other means. "Congressman Stupak exceeds the DCCC dues amount through his support of Democratic state and federal candidates across the country," said Corey. "During this election cycle, Congressman Stupak has given $142,000 to state and federal candidates and has donated thousands of dollars to state and local Democratic Parties throughout Michigan." Typically, however, members are expected to pay their full dues goal independently of the amount they donate to candidates through other means.
Democratic pollster John Anzalone said that in such a tough election year, safe and retiring members should be donating all they can. "I think these individual members, for the good of the party, and what the party has done for them, should pony up and help the caucus. It's the right thing to do." Celinda Lake, another Democratic pollster, said she didn't know the particular reasons members are holding back, but speculated that it could be because of the tough business of fundraising. "They are worried they are going to be threatened; they think that building up their war chests discourages opponents. It's such an ugly, unpleasant business raising money that they don't want to do it twice," she said.
Occasionally there can be ideological disagreements as well. Rep. Raúl Grijalva (D-Ariz.) told the Huffington Post's Ryan Grim and Arthur Delaney earlier this year that strong progressives don't always get enough backing from the party committees. "When I give my dues to the DCCC, or when you contribute to it, you have no distinction as to where your money is going to go," he said. "And it goes to front-liners and usually Blue Dogs, and [they] usually vote against our issues. And that's a real frustration. And usually, if there's a progressive running, it's the last consideration in terms of support."
Politico reports that on a recent House Democratic Caucus conference call, DCCC Chairman Chris Van Hollen (D-Md.) also "emphasized the need to collect money from lawmakers who are sitting on healthy campaign treasuries despite facing nominal competition for their own seats." Van Hollen, House Speaker Nancy Pelosi (D-Calif.), and four other Democratic leaders then "wrote a letter to lawmakers beseeching them to either pony up their unpaid dues to the DCCC or commit to raising more money for the party from their own donors." Combined, all Democratic incumbents are sitting on an estimated $218 million.
As of July 31, the DCCC had $35.8 million on hand compared to the NRCC's $22.1 million. The Democratic Senatorial Campaign Committee had $22.4 million and the Democratic National Committee had $10.8 million. The National Republican Senatorial Committee had $21.2 million and the Republican National Committee had $5.3 million on hand.
*************************
What's happening in your district? The Huffington Post wants to know about all the campaign ads, debates, town halls, mailings, shenanigans, and other interesting campaign news happening by you. E-mail us any tips, videos, audio files, and photos to election@huffingtonpost.com.
Popular in the Community