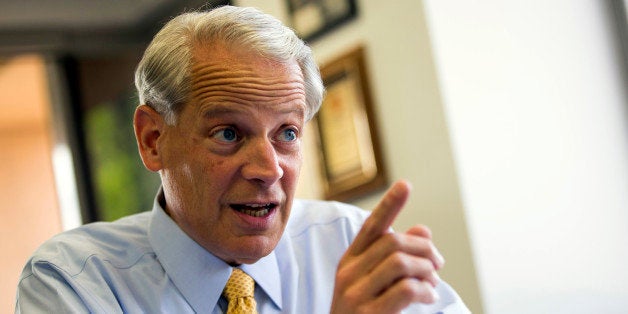 WASHINGTON -- The Democratic Congressional Campaign Committee, the party's arm charged with winning House elections, outraised its Republican counterpart in 2014 by a substantial margin, and completely dominated when it came to small-dollar donations.
Some progressive activists are panicking -- not because of the party's fundraising success, but because of how they went about it, with a relentless fusillade of emails that spawned a parody Tumblr blog skewering subject lines like "We've got nothing left" and "We. Will. Fail."

There is no question that the email program accomplished its immediate goal: to raise a fortune. The DCCC raked in over $70 million online in 2014, with almost all of those funds solicited by email. But progressive organizers worry that the DCCC, if it continues to blast away at its online activists, risks torching the very base progressives rely on.
"Everyone engaged in emailing with their members or supporters will need to figure out how to strike a balance between short-term results and maintaining this critical medium as a tool to allow ordinary people to exercise power in a vibrant democracy for years to come," said Ilya Sheyman, Moveon.org's executive director.
As email technology advances, and Gmail in particular becomes more adept at burying unwanted emails in rarely checked folders, the ability of activist groups to reach their bases is put in severe jeopardy. The advent of Google Inbox, which aims to elevate important emails and push down the rest, heightens the challenge and raises the cost of excessive emailing.
People are getting sick of it all. In 2014, all nonprofits saw an 11 percent drop in email fundraising response rates and a 25 percent drop in advocacy response rates, according to M+R Benchmarks. Yet those same groups raised 14 percent more online revenue, meaning that the same behavior that is turning people off is, at least in the short term, boosting revenue. The incentive to burn it all down couldn't be stronger.
"The entire email industry has seen an increase in volume, which naturally would lend itself to an overall increase in the number of donations, while decreasing the response rates per any one email and that has so far proved to be true in the political sphere," said Nate Thames, the technical services executive director at ActBlue, a nonprofit platform that channels donations to Democratic campaigns.
And yet, former DCCC chair Rep. Steve Israel (D-N.Y.) has rejected any suggestion that the committee's apocalyptic emails have played any role in hastening Democratic online donor fatigue. In a January interview, Sirius XM Radio's Ari Rabin-Havt asked Israel, who stepped down from the post in November after the election, about the contrast between the congressman's publicly upbeat rhetoric and the committee's frantic, depressing messages.
DCCC digital communications directors "understand that there are certain messages that motivate people more effectively than other messages," Israel said. "For us to do emails telling people about how we're going to win the majority back and there's nothing to worry about and people can just sit back in their couches and wait for victory, that's not going to provide the resources, the motivation we need to go out and win elections."
Israel said he doesn't see any contradiction between the organization's consistently alarmist fundraising emails and his "cheerleader" role for the party as former DCCC chair going into the election. Israel had previously said, in regard to the message he communicated to candidates prior to the election, that "You can't be going out there and telling people that the sky is falling," because "it tends to hurt recruiting and fundraising."
Though the DCCC outraised its GOP counterpart, the National Republican Congressional Committee, by more than $40 million and brought in more than triple what the NRCC did from donors giving less than $200, Republicans still managed to increase their domination of the House of Representatives, giving them their biggest majority since 1928.
"Yeah, I know, there's no question our emails can get pretty persistent but here's the thing: We don't have the Koch brothers, and we don't have these well-connected Washington groups that can spend unlimited amounts of money to advance their special-interest agenda," Israel said. "We have our grassroots."
Despite Israel's assurances, some corners of the progressive universe are concerned that doom-laden emails could have vote-suppressing effects. For instance, a progressive activist with a national grassroots group told The Huffington Post that he was worried such messaging tactics could become standard among grassroots organizations. The activist didn't want his name used so as not to alienate the Democratic establishment.
There are two major possible concerns with these tactics, he said: One, the sheer number of messages people are receiving, and, two, the chance of a steady stream of panicked emails turning people off.
"At every practice you have people who just want to burn the place down to get maximum immediate impact," the activist continued. "The danger is more in copycats, other people who say, 'Oh, this is a best practice.' And what the field needs to do is say there is another way to do it. Certainly [the DCCC] made a ton of money. The thing we don't know is if they had sent a more engaging string of emails, could they have raised even more?"
In a pushback to that criticism, a DCCC spokesman provided data showing that the committee's online list is composed of mostly habitual voters, to make the argument that the stream of emails didn't have vote-discouraging effects.
And yet some digital experts -- like Michael Conlow, Blue State Digital's technical director who was the deputy chief technology officer for President Barack Obama's re-election campaign -- think Democratic campaigns and committees need to start thinking of their supporters as messaging partners rather than just an "ATM machine" heading into the 2016 presidential election. At a June 10 event on campaign technology hosted by Politico, Conlow suggested that Democratic supporters wouldn't be willing to share a candidate's message with friends and family if they are only asked to contribute financially.
Betsy Hoover, a founding partner of the Democratic consulting group 270 Strategies who served as the director of digital organizing for the 2012 Obama for America campaign, added that "smart campaigns" will focusing on building relationships and trust with their supporters in the early stages of the 2016 election.
"We were joking about us giving you a break right now, but I do think ... if you're really running a digital strategy the right way, you're building a relationship with your list over time," Hoover said. "The moment that level of email is going to be effective is in moments of urgency, when people understand the consequence of giving right now, or taking action right now. You can't run at that pace from now until Election Day and no one is prepared to do that."
Interestingly enough, one of the defenders of the DCCC's email tactics at the event was Zac Moffatt, who served as former Republican presidential nominee Mitt Romney's digital director for the 2012 cycle. Moffatt said he imagined DCCC staffers were constantly monitoring the number of list unsubscribes versus the return rate of the fundraising emails.
"It's always this funny thing that everyone says, 'I want to know the data, I want to know how everything works.' If you don't think that they know they're making more money than the rate they're wearing through the list, why is it someone's gut on the outside who's a reporter telling you they're sending you too much, making that determination for them?" he asked.
"These groups would know the rate at which they're burning through their list, there are a lot of people looking at it the entire time. Sure, they are spammers to a degree as they go through the process, but you're seeing these returns," he added. "You will see it all ramp up next year because everyone's getting good at it now."
Moffatt said that while presidential campaigns were the ones historically "hoovering up" the small-dollar donations, congressional campaigns and committees were catching up.
"I think this is probably the first cycle where we'll see that scale, which might freak people out," he said.
Before You Go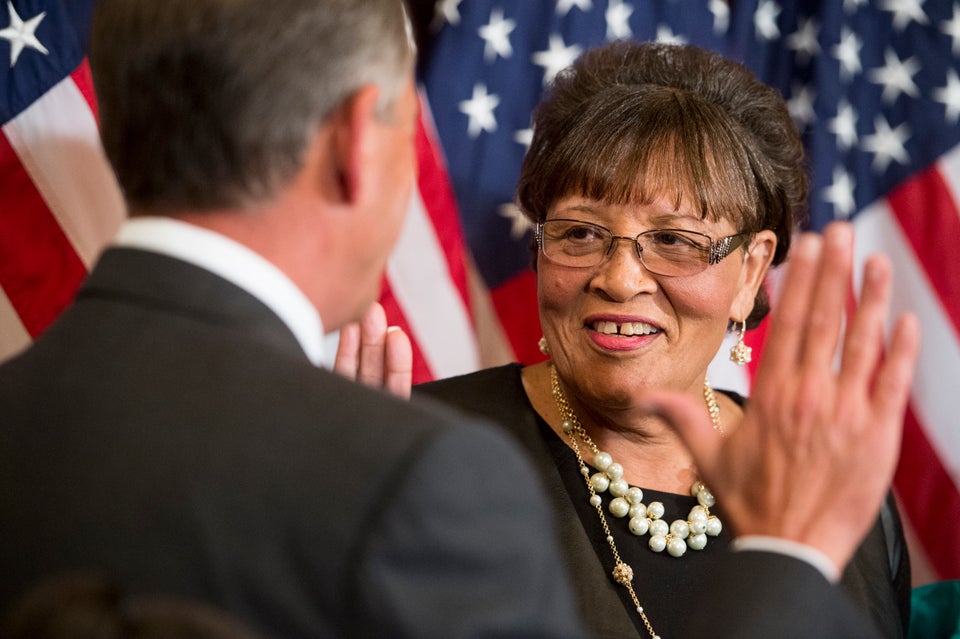 New Congress Members
Popular in the Community