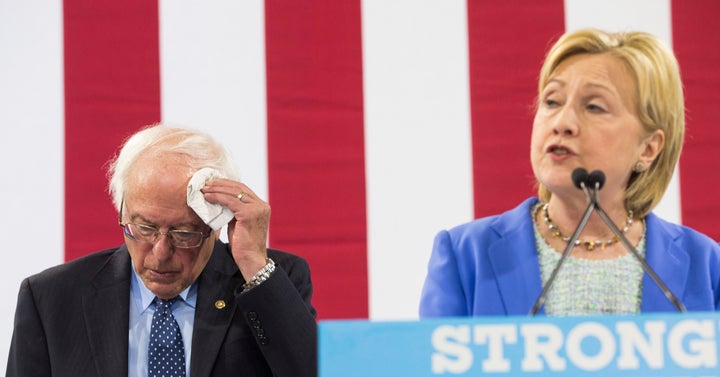 The first email showed up around 1:30 p.m. on Tuesday promising readers a "FREE anti-Trump sticker" to celebrate Bernie Sanders' endorsement of Hillary Clinton. Three hours later, the same account at the Democratic Congressional Campaign Committee sent another email more explicitly attempting to fundraise off of the endorsement.
"He pledged to do EVERYTHING he can to turn the House blue ― and he asked for your help," the email reads. "Will you answer Bernie's call and pitch in $1 to defeat Republicans?" For those feeling more generous, a few buttons allowed prospective donors to give up to $200.
Three and half hours later, the DCCC tried again. And then again. And again. And again. By Wednesday evening, the official fundraising arm of House Democrats had sent its supporters seven emails asking for money in light of the Sanders endorsement. But by midnight, the group's tone had changed from celebration to despair.
"Yikes," read an email from DCCC's Julia Ager. "When Bernie Sanders called for unity yesterday, we expected Democrats to ... well ... unify. But grassroots Democrats' support just isn't coming in."
The subject lines on Sanders endorsement emails grew increasingly desperate: "begging you," "DEVASTATING defeat," "losing hope." Inside, readers learned that "everything is falling apart," and that "we heard barely a peep from grassroots Democrats."
This inbox abuse, of course, was annoying for a lot of people. But it's also the unique kind of message that can both insult Bernie Sanders supporters and undercut the Hillary Clinton campaign at the same time. As Clinton and her surrogates were trumpeting Sanders' endorsement as a major event for party unification, an official Democratic Party organ was repeatedly blaring to everyone it could reach that the project was failing, maybe even hopeless ― because Bernie just didn't inspire anyone.
This is how the DCCC operates. For years, the organization has been building a reputation as one of the most consistently obnoxious digital fundraising operations in American politics. They even send fundraising requests disguised as debt collection notices. Plenty of other groups use underhanded tactics to get readers to open fundraising emails, but the DCCC's messages are so notorious that they spawned a parody Tumblr blog.
The DCCC was not immediately available to comment on its Sanders endorsement emails, but in the past has defended its cheaper tactics as a necessary counterbalance to big Republican donors.
The DCCC takes this reputational abuse because it get results. In the 2014 midterm elections, they raised $70 million online as the organization massively outraised its GOP counterpart, the National Republican Congressional Committee. Critics contend that a more respectful strategy would keep more readers on their lists and help them raise still more. And in the Democratic primary, Bernie Sanders' digital fundraising gurus saw tremendous success by rejecting the constant-barrage-of-despair approach in favor of a more targeted and respectful project.
Using lowest-common-denominator tactics to fundraise off the Sanders endorsement didn't sit well with the Bernie team or their colleagues at Revolution Messaging, a few of whom cried foul on Twitter.
By Thursday, DCCC informed its list that, previous emails to the contrary, all is actually well for party unity.
"WOW!!!!!!" their final email reads. "We were worried that Democrats wouldn't come together. But YOU proved us wrong!!! 80,179 grassroots Democrats showed everyone that our party is united like never before."
Clarification: This article has been updated to clarify that Mike Nellis works at Revolution Media but did not work on fundraising for Sanders.
Popular in the Community