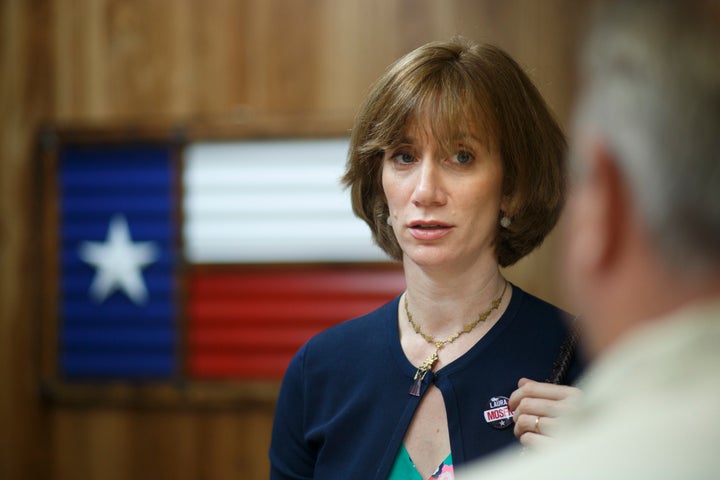 A Democratic candidate running for Congress has attracted the opposite of an endorsement from her own party: A full-throated denouncement declaring her unfit for office.
Laura Moser, a U.S. House candidate from Texas' 7th Congressional District, is one of seven Democrats running to unseat incumbent Rep. John Culberson (R). Her campaign has already garnered significant support, raising nearly $150,000 this year. But on Thursday, the Democratic Congressional Campaign Committee came out swinging against Moser's bid, posting links that resemble opposition research meant to undermine her campaign, which some have called too liberal for what's expected to be a contentious election.
"Voters in Houston have organized for over a year to hold Representative Culberson accountable and win this Clinton district," Meredith Kelly, communications director for the DCCC, said in a statement provided to HuffPost. "Unfortunately, Laura Moser's outright disgust for life in Texas disqualifies her as a general election candidate, and would rob voters of their opportunity to flip Texas' 7th in November."
Kelly then linked to a quote from a November 2014 article in which Moser said she'd rather have her "teeth pulled without anesthesia" than live in the town of Paris, Texas, where her grandparents once resided. The DCCC, did not, however, provide context to the quote or note that Paris doesn't fall in the congressional district that Moser would represent if elected.
An email to the DCCC about the lack of context was not immediately answered.
Moser appeared to address the DCCC's move on Twitter late Thursday with a simple post referencing former first lady Michelle Obama.
"These kind of tactics are why people hate politics," Moser told the news site. "The days where party bosses picked the candidates in their smoke filled rooms are over. DC needs to let Houston vote."
She spent several years living in Washington, D.C., before returning to Texas, a point the DCCC has leveraged to call the candidate a "Washington insider."
The 7th Congressional District includes parts of West Houston and was carried by Democratic presidential candidate Hillary Clinton in the 2016 election. But the area is a traditional stronghold for Republican voters, and the 2018 race is shaping up to be one of the most contentious in the next election.
Other groups have come out against the DCCC's statement, including Democracy for America, which has long supported Moser's bid.
"Laura Moser is a fifth-generation Houstonian building a genuine grassroots campaign in her home community and, while that might not get the Republican-lite cheerleaders at the DCCC their sweet consulting gigs after this cycle, it's exactly the kind of campaign we need to win this critical race and retake the House in November," Annie Weinberg, the electoral director for the group, said in a statement.
But the DCCC isn't alone in its opposition to Moser. EMILY's List, a political action committee that works to help elect female Democrats, declined to endorse the candidate and instead threw its support behind another woman, Lizzie Pannill Fletcher, in November.
Moser has been critical of the move, telling The Intercept that, "rather than lifting us both up, EMILY's List has pitted us against each other."
"I knew as a progressive, pro-choice woman running in Texas, I would face obstacles. I never dreamed EMILY's List would be one of them," she said.
Moser is set to host actress Alyssa Milano during a get-out-the-vote event this weekend.
Popular in the Community