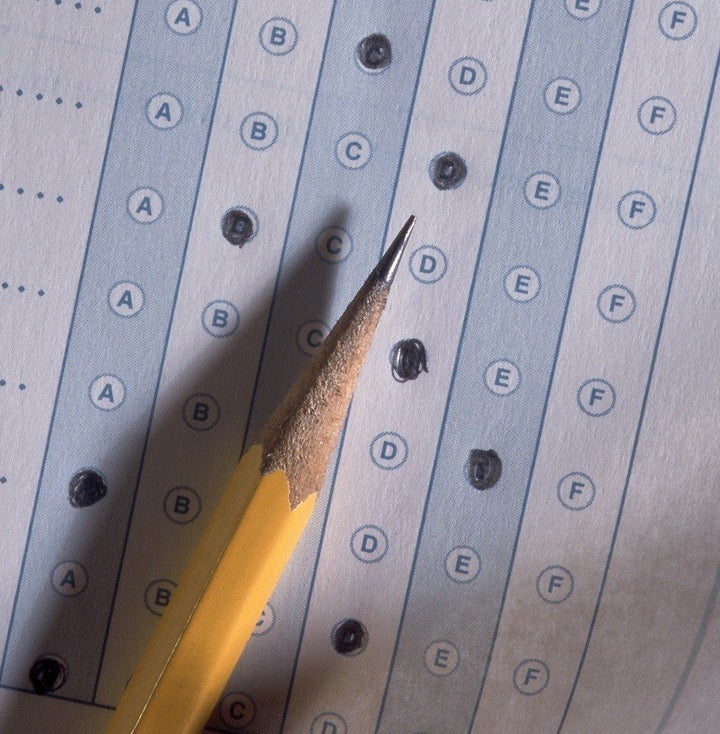 Since this story was first published, Michelle Rhee has acknowledged that some cheating may have occurred, the Washington Post reports. This comes after her comments Monday that USA Today was one of the "enemies of school reform" who didn't believe Washington, D.C. scores could improve without cheating. In backing away from these comments, Rhee told Jay Mathews of the Washington Post that some of her comments were "stupid" and that strong precautions should be taken in safeguarding tests from potential tampering.
"You have got to have really strong test-security protocols at the district level and at the state level," said Rhee, who contacted Mathews. "The vast majority of people will not cheat, but there will be exceptions here and there."
------------------------------------------------
In the last few years, Crosby S. Noyes Education Campus in D.C. has become the poster child for education reform, with its remarkable increase in standardized test scores. But Monday's investigation by USA Today about the possibility of cheating on the school's standardized tests may burst that bubble.
USA Today reports that from 2006 to 2008, the percentage of Noyes students who scored "proficient" or "advanced" on math standardized tests increased from 10 percent to 58 percent; reading scores followed the same trend. The dramatic improvements prompted a number of accolades: the U.S. Department of Education named the school a Blue Ribbon School; then-Chancellor of D.C. Schools Michelle Rhee rewarded Noyes' staff with bonuses for boosting scores and made the school a symbol of how her education reform strategies could transform schools; and last year, D.C. schools won an extra $75 million in federal monies in the U.S. government's Race to the Top competition, which factored in test scores.
However, in a detailed description of their investigation, USA Today reveals that for the past three school years, most of Noyes' classrooms had extraordinarily high numbers of erasures on standardized tests; wrong answers were erased and changed to right ones at a statistically improbable rate. It reports:
On the 2009 reading test, for example, seventh-graders in one Noyes classroom averaged 12.7 wrong-to-right erasures per student on answer sheets; the average for seventh-graders in all D.C. schools on that test was less than 1. The odds are better for winning the Powerball grand prize than having that many erasures by chance, according to statisticians consulted by USA Today.
In 2007-08, six classrooms out of the eight taking tests at Noyes were flagged by McGraw-Hill, D.C.'s testing company, because of high wrong-to-right erasure rates (measured by the same scanners used to score the tests). The pattern was repeated in the 2008-09 and 2009-10 school years, when 80 percent of Noyes' classrooms were again flagged by McGraw-Hill.
There are other explanations for multiple erasures besides cheating, such as educators advising their students to go back and check their work. But, as Thomas Haladyna, a professor emeritus at Arizona State University who has studied testing for 20 years, told USA Today, in cases like Noyes' -- when whole classes at schools with dramatic increases in test scores show statistically rare erasures -- there's a need for thorough investigation.
This is the latest in a multitude of standardized test investigations coming to light in the last several months. A USA Today investigation of the standardized tests of millions of students in six states -- Arizona, California, Colorado, Florida, Michigan and Ohio -- and the District of Columbia found a large number of irregularities:
The newspaper identified 1,610 examples of anomalies in which public school classes -- a school's entire fifth grade, for example -- boasted what analysts regard as statistically rare, perhaps suspect, gains on state tests.
According to the Atlanta Journal-Constitution, similar indications of potential cheating in Atlanta schools prompted an investigation by federal authorities into whether Atlanta Public Schools illicitly boosted scores on standardized tests. Since then, the district has been under fire for allegedly using intimidation to dissuade potential witnesses.
At Charles Seipelt Elementary School in Ohio, teacher Scott Mueller was accused of giving his fifth-graders the test questions prior to the test; investigators concluded that Mueller had looked at questions for fifth-grade math and science tests in advance -- a violation of testing rules -- and then used identical questions in his study guides.
Also, earlier this month, the Los Angeles Board of Education voted to revoke the charter of six schools that cheated on last year's state standardized tests, reported the Los Angeles Times.
The conditions that inspired cheating in these schools are similar to D.C. -- high praise and bonuses awarded for good scores; loss of hundreds of thousands in federal dollars and teachers and administrators jobs for failure to meet standards.
According to USA Today, while most school districts retain the power to hire and fire teachers, 10 states now require that student scores be the main criterion in teacher evaluations -- one of the many pressures on educators to get their students to score higher.
Some states and districts reward educators for raising scores; a teacher may earn a bonus of as much as $25,000 in Washington, D.C., if his or her students' scores climb. [No Child Left Behind] also puts principals' jobs on the line if students' scores don't improve. Most of the 130 Detroit public schools closed since 2005 were cited for having low test scores... By 2014, the law dictates, 100% of public school students must be 'proficient' in math and reading. If not, a school can face replacement of its entire staff.
Related
Popular in the Community