School's out for summer! We're lucky to live in an area that has so much to offer kids and families. But, some things are only around for a few months so catch them before they're gone for good.
Splash: Before I moved to DC I never would have imagined that there was a major city with a network of free spray parks for kids in just about every neighborhood to play in and use for cooling off. Be sure to put the free kid-friendly wading pool with mini-waterfall and fountains at Yards Park on your to-do list this summer or for a great kid-approved fountain head to downtown Silver Spring or Chevy Chase Park. Check out this free playground guide for parent written reviews of sprayparks in DC and beyond. .
Peter Pan 360: My kids literally ooohed-and-ahhhed when the tent erected for this summer showing of Peter Pan was transformed into Neverland complete with flying children and faries. Projections completely around this theatre-in-the-round make this show a complete-immersion experience that you may not have the opportunity to see again anytime soon.
The Beach: The National Building Museum's Summer Block Party is truly summer-themed this year with a 10,000 square foot indoor beach complete with an ocean comprised of about one million translucent balls. Kids will delight in "swimming" in the largest, deepest, whitest ocean ever and you don't need to worry about sunscreen or jellyfish. It's only around through Labor Day so be sure to put it on your family's summer bucket list.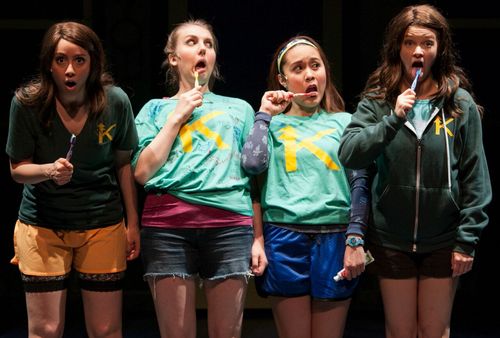 Double Trouble: That moment when a girl 'steals your face'. (L to R: Sarah Lasko, Emily Kester, Justine Moral, Lauren Williams) Photo: Margot Schulman
Double Trouble: The DC area has some amazing theater for children. This summer, Imagination Stage is showing a musical version of Double Trouble otherwise known as The Parent Trap. It's so entertaining my daughter reported to me that "Daddy is going to tell his friends to see it too."
Monster Fish and Indiana Jones: National Geographic's museum is often overlooked among the many we have in DC but this summer you can see two cool exhibits. Kids of all ages can enjoy Monster Fish, which is a highly interactive exhibition exploring the world's largest fish complete with a mock catch-and-release zone and other educational games. Older kids (and their parents) will enjoy an exhibit on Indiana Jones which visitors are guided through using headphones.
Garfield: The Musical with Cattiude: It's Garfield's birthday but all of his friends seem to have forgotten. Adventure Theatre MTC in Glen Echo's production has the look and feel of the comic strip so Garfield's fans won't be disappointed.
Outdoor Movies: If your kids can stay up past dark check out this list of outdoor movies playing in the area. National Harbor is showing all kid-friendly movies starting at 6:00 every Sunday and there are plenty of local parks showing kid-friendly movies as well.
Free Swim: No need to join a swim club in the DMV. DC has multiple outdoor kiddie (and regular pools) throughout the city. Pools are free for DC residents and there is only a nominal fee for residents of other states.
Want More?: Depending on the age and interests of your child you may want to check out one of the festivals held on the National Mall, an outdoor concert, or plan a special outing that you only have time to do over summer break. Our Kids is the most comprehensive guide to family activities in the DMV and has a summer seasonal events listing.
REAL LIFE. REAL NEWS. REAL VOICES.
Help us tell more of the stories that matter from voices that too often remain unheard.