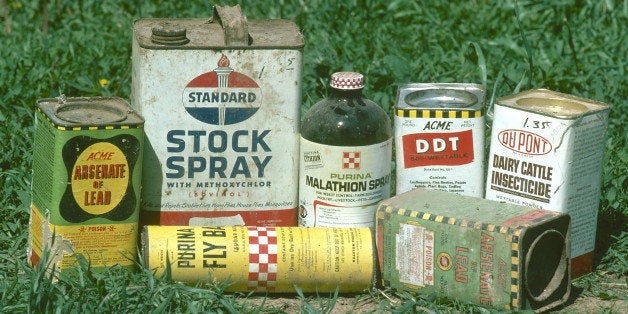 DDT, short for dichlorodiphenyltrichloroethane, was banned for use in the U.S. in 1972, but is still used in other countries. Researchers noted that people's blood may still contain DDT metabolites due to exposure to food imported from other countries that use the pesticide, and because the pesticide has a long half-life.
For the new study, researchers from the Rutgers Robert Wood Johnson Medical School, Emory University School of Medicine and the University of Texas Southwestern Medical Center examined blood levels of dichlorodiphenyldichloroethylene, or DDE, in 86 people with Alzheimer's disease and 79 people without Alzheimer's. DDE is a metabolite of DDT.
The researchers found that 80 percent of the people with Alzheimer's and 70 percent of people without Alzheimer's had DDE in their blood. However, the levels of DDE were much higher among those with Alzheimer's -- 3.8 times higher, on average.
In addition, researchers found that people with the highest DDE blood levels who had the Ɛ4 version of the APOE gene scored worse on a cognitive functioning test, compared with people who had a different version of that gene. (This Ɛ4 version of the gene has been strongly linked with Alzheimer's risk in past studies).
"Our findings support epidemiological studies reporting an association of AD [Alzheimer's disease] with occupational exposure to organochlorine pesticides and extend them by identifying DDT/DDE as a specific organochlorine pesticide linked to AD in a clinical population from the United States," the researchers wrote in the study.
In an accompanying editorial, Dr. Steven DeKosky, M.D., of the University of Virginia School of Medicine, and Dr. Sam Gandy, M.D., Ph.D., of the Mount Sinai Alzheimer's Disease Research Center, noted that other environmental factors have been gaining recognition as potential Alzheimer's risk factors, including secondhand smoke and air pollution from cars.
They also noted that while the differences in DDE levels between those with Alzheimer's and those without was statistically significant, the parts of the world with high DDE levels, including regions in India and Spain, don't necessarily have increased Alzheimer's prevalences.
"To be conservative, in our opinion, the Richardson et al report should be noted but, for now, these conclusions should be considered as preliminary until there is independent confirmation," they wrote.
But still, the study shows that more research needs to be done to look at potential environmental risks on Alzheimer's. "In this context, Richardson and colleagues have provided both a wake-up call to explore environmental influences and pointed us to a first area to assess -- pesticides, which have already been implicated in other human illnesses," the editorial said.
Indeed, prenatal exposure to DDT has also recently been linked with adult hypertension. That finding, published in the journal Environmental Health Perspectives last year, showed a tripled adult hypertension risk for women who were exposed to DDT while in the womb.