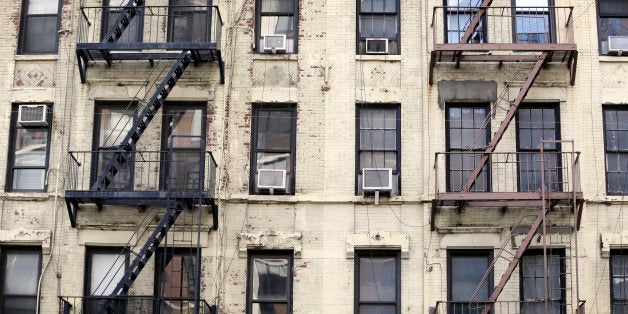 Mayor de Blasio often talks about A Tale of Two Cities. But, during his State of the City address, I was reminded of another title: The Strange Case of Dr. Jekyll and Mr. Hyde.
As Mayor de Blasio shared his vision for expanding New York City's affordable housing stock, many of us who have been involved in advocating for better housing conditions for the poor wondered, "affordable for whom?"
Approximately two thirds of the 300,000 families facing eviction in New York City are low-income and working families earning less than $25,000 a year. Ninety percent of these families have no choice but to navigate the harrowing process of eviction without the benefit of an attorney. Not surprisingly, the number one cause of homelessness is eviction.
So while we applaud the mayor's commitment to build and preserve affordable housing, the urgent needs of New York City's most economically vulnerable families must be prioritized. Unfortunately, the mayor's plan as presently contemplated does not provide much needed relief for these families.
Low income families making 30 percent or less of the area's median income (or less than $26,000 a year for a family of four in New York City) are a mere blip on the landscape of affordability. Most new affordable units available for families are in the range of 60 percent of the area's median income, approximately $50,000 a year for a family of four. Will Mayor de Blasio's affordable housing plan really be affordable to those most at risk of being homeless?
The mayor's vision is certainly not affordable for Ms. Basnight who is currently facing eviction proceedings initiated by NYCHA.
And that bring us to another Jekyll and Hyde approach to affordable housing: with one hand, de Blasio is seeking to give people more options; with the other, he's taking them away. That's what Ms. Basnight is experiencing.
Ms. Basnight grew up in Queensbridge Houses but left years ago to live in a place of her own and start her family. In 2012, Ms. Basnight's mother was diagnosed with cancer. She did what many of us would do. She moved back home with her young children to care for her terminally ill mother. She enrolled her children in the local school and afterschool programs, and in September of 2012 Ms. Basnight applied to be added on to her mother's lease. On October 12, 2012, Ms. Basnight and her children were approved as permanent NYCHA residents. Then, 23 days later, her elderly mother lost her battle with blood cancer and died.
Today, NYCHA seeks to evict Ms. Basnight and her children because of the bureaucratic and infamous "one-year rule". The rule requires that Ms. Basnight live in the unit for at least one year before she is qualified to inherit the unit. Mayor de Blasio can do away with this rule, but he hasn't.
In his State of the City, Mayor de Blasio proposed earmarking $36 million for legal services for tenants facing eviction from private landlords. If he will not change the ill-advised NYCHA policy, he should make that money available to all NYCHA residents also. Don't they have a right to counsel, too?
In the absence of "real affordability", the city needs to pledge resources to ensure NYCHA families like Ms. Basnight are not evicted from the only home they will be able to afford.
REAL LIFE. REAL NEWS. REAL VOICES.
Help us tell more of the stories that matter from voices that too often remain unheard.