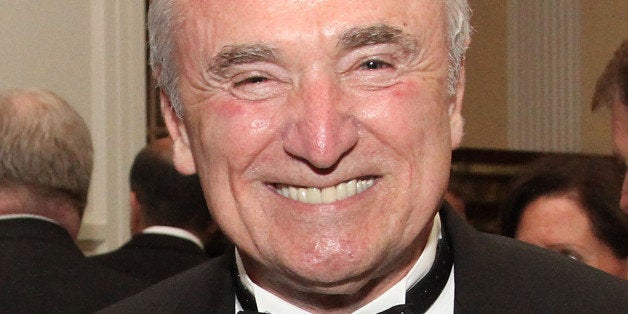 Bill de Blasio, the soon-to-be mayor of New York, surged to prominence over the summer while promising to reform the city's police department.
He said he would scale back the rampant use of stop and frisk, the controversial practice of stopping suspects and frisking them for guns and drugs, which led to hundreds of thousands of arrests of mostly black and Latino New Yorkers on minor marijuana charges. And he vowed to dismiss the current police commissioner, Raymond Kelly, who made stop and frisk a keystone of his tenure and vigorously defended it in the press and in court to those who say that the way he has used it infringes on the rights of minorities.
But now de Blasio is considering a replacement for Kelly who has arguably done more than anyone else in the United States -- including Kelly himself -- to popularize the use of stop and frisk and other aggressive tactics associated with racial profiling.
William Bratton, who led the Boston Police Department in 1993 and oversaw dramatic crime reductions while leading the New York City Police Department from 1994 to 1996 and the Los Angeles Police Department from 2002 to 2009, is a superstar cop and a hero to many. But some critics of the aggressive policing methods championed by Kelly say he's a poor choice to lead the department in a new direction.
"He would be terrible," said Harry Levine, a sociology professor at Queens College and the CUNY Graduate Center, who studies marijuana arrests. "Bratton is Kelly policing with charm, charisma, savoir-faire, and unbelievably brilliant PR skills."
Others are less critical. Adhyl Polanco, an NYPD officer who has testified against Kelly's policies in hearings and trials, said he would welcome Bratton back to the force. Stop and frisk isn't the problem with the NYPD today, Polanco said. "It's the abuse that's the problem."
Whether a potential Bratton appointment is a good or bad thing largely depends on the lens through which you view New York City. Is New York's transformation into one of the safest cities in the U.S. over the last 20 years an unalloyed success story? Or is it a "tale of two cities" in which the haves keep improving their lot, while the have-nots get stopped and frisked and often thrown in jail by those who see them as criminals in the making?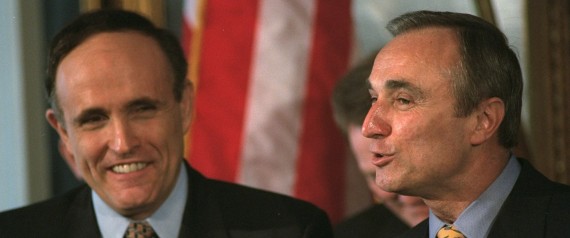 Bratton with former New York Mayor Rudy Giuliani.
De Blasio ran a very successful campaign arguing the latter, making it all the more surprising he could choose a police commissioner championed by people who see New York through the first lens.
As the head of the NYPD, Bratton was perhaps the first police commissioner in the country to embrace the "broken windows" theory of policing -- the idea that the police can discourage criminals from acting with impunity by using the full force of the law to crack down on vandalism and other petty displays of contempt for the authorities.
Bratton unleashed patrol officers to stop people for all sorts of minor and suspected violations, and to frisk them for drugs and guns. During his 27 months as New York's top cop, the city's arrest rate soared and reports of serious crimes decreased by 33 percent, an extraordinary decline. Supporters praised Bratton both for his hard-nosed style and his introduction of CompStat, a police-intelligence computer system that allows commanders to track crime and arrest data in real time and essentially encourages officers to make more arrests.
Kelly, who took over from Bratton's successor, Bernard Kerik, in 2002, embraced and expanded on Bratton's tactics in a way that many consider excessive and discriminatory against minorities. An analysis of the NYPD's stop-and-frisk practice by the New York Civil Liberties Union found that innocent black and Latino New Yorkers were stopped 400,000 times in 2012, far more often than whites. The report also found that police made more arrests for marijuana possession last year than for any other crime, despite support from both Kelly and Mayor Michael Bloomberg for a proposal to decriminalize open possession of small amounts of the drug.
In recent years, Bratton has at times seemed eager to distance himself from Kelly's approach to policing. At a 2012 business group meeting in New York, he compared stop and frisk to chemotherapy, calling it an "intrusive power," before adding, "applied in the right way, it can have the effect of reducing crime."
Some black and Latino leaders support Bratton's "right way" of using stop and frisk, largely because of his accomplishments as the police chief in Los Angeles between 2002 and 2009.
John Mack, a black civil rights veteran and the former director of the Los Angeles Urban League, offered a full-throated endorsement of Bratton. "He's sensitive to the importance of a police department not operating like an occupation force in communities of color," he said. "The broken windows theory, that's part of his philosophy, but that was not an issue here in Los Angeles."
Mack worked closely with Bratton in LA and says he has personally recommended him to de Blasio. Under Bratton's leadership, he said, "the police were not just going after every young black African American on the streets of South Los Angeles."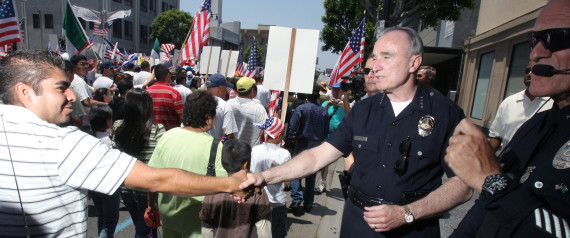 Bratton greets immigrant reform supporters as they march on Hollywood Boulevard on June 24, 2007 in Los Angeles, California.
When Bratton arrived in LA, violent crimes were on the rise. The city's police department faced corruption allegations and operated under federal oversight, and the historically strained relationship between the city's cops and black residents was as fraught as ever.
Soon after taking over the department, Bratton sat down with some of the LAPD's fiercest critics, including Mack and civil rights attorney Connie Rice, who had filed a number of lawsuits against the department, and asked for their support. He later tapped Rice to investigate allegations that gang officers from a troubled division had stolen drugs and framed suspects. Meanwhile, the officers who served under him were encouraged to build relationships with black and Latino community leaders, including former gang members, in a cooperative effort to reduce gang violence in the city.
By the end of his tenure, crime was down 54 percent from 2001, and race relations seemed to be improving. That year, 51 percent of residents said that the police in their communities treated members of all racial and ethnic groups fairly "almost all the time" or "most of the time," up from 44 percent in 2005, according to a Harvard University study.
In November, de Blasio met with Bratton and two other candidates for New York's top cop job: Philip Banks III and Rafael Pineiro, both of whom currently serve in high-ranking jobs under Kelly. Banks is black, and Pineiro is Latino, but as veterans of Kelly's department, neither candidate fully represents a break from the NYPD's recent past.
As the city's public advocate, de Blasio released a report showing that stopping whites was actually more likely to lead to the recovery of guns and drugs than stops of blacks and Latinos, despite the much higher frequency of the latter. He recommended appointing an inspector general to oversee the department's use of the strategy and passing a bill to protect against racial profiling.
Yet de Blasio has stopped short of calling for an end to stop and frisk altogether. His campaign website criticized the "overuse and abuse" of the tactic under Kelly, not the tactic itself.
Donna Lieberman, director of the New York Civil Liberties Union, said she's heard good things about Bratton from her ACLU colleagues in Southern California. "We have learned from them that his tenure in LA was characterized by a very different relationship with advocates like the Civil Liberties Union than what we have seen with Commissioner Kelly in New York," she said. "There were lines of communication which don't exist for us in New York now."
Still, she tempered her praise with words of caution. If Bratton is named commissioner, "we would be very eager to hear about the plans to rein in the excesses with regard to stop and frisk, 'broken windows,' and CompStat," she said. "It starts from the top."
Related
Popular in the Community