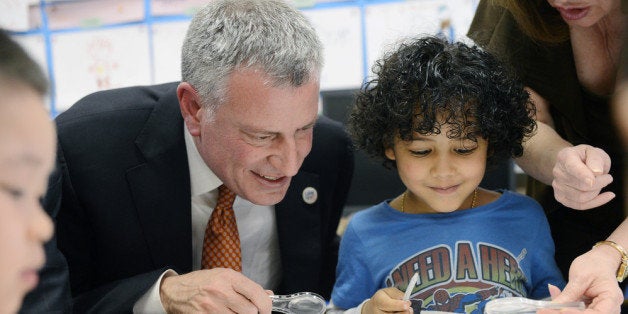 NEW YORK -- Last fall, New York City Mayor Bill de Blasio (D) waged his successful populist campaign in part on reversing his predecessor Michael Bloomberg's education policies -- particularly Bloomberg's dramatic expansion and preferential treatment of charter schools. In a move that pleased many voters, de Blasio threatened to start charging the charter schools rent.
But despite taking the rhetorical hatchet to those 183 schools, which are publicly funded but can be privately run, in the months since the election, de Blasio ultimately has helped charter schools -- even more than some Republicans, according to a new brief from Democrats for Education Reform, released on Monday.
"If you look at what [de Blasio] actually did as opposed to what he said, he did approve the opening of most of the charters," Charles Barone, DFER's policy director, told The Huffington Post. "He gave co-location space to most of the charters that wanted co-location space. We're not saying he had an ideological conversion, but regardless, he wound up doing a lot more on charters than one might have expected, given his campaign."
And after months of charter wars, Barone argued, the schools are now better off, at least in New York. "Now the situation for providing building space to charters is better than it was when he [de Blasio] started, as a result of negotiations with the governor [Andrew Cuomo]," Barone said.
DFER argues that while Republicans have been more outspoken on charters, de Blasio, who ran against them, ultimately has yielded more benefits for the schools. The group's brief points to a January speech House Majority Leader Rep. Eric Cantor (R-Va.) gave at the Brookings Institution, in which he chided de Blasio for his charter school rhetoric. Cantor threatened to hold hearings if de Blasio hurt charters in New York.
"Three months later, however, it turns out that de Blasio has arguably done more to help public charters in three months than Cantor has done the entire 13 years he's been in Congress," DFER wrote. Despite Cantor's sharp words on charter schools, he has not worked publicly or behind the scenes to increase federal spending on charter schools, DFER argues.
"As it turns out ... the folks advocating for more charter school money have not been able to get Republicans to commit to that," Barone said. "It's been Democrats."
A de Blasio representative declined to comment on the brief.
DFER, a national, New York-based political action committee founded in 2007 by hedge funders and politicos, said it released the brief so that other Democratic mayors can take heed. DFER promotes policies that have come to the fore in the so-called education reform movement, such as charter school growth and teacher evaluations that rely, in part, on student test scores.
Many of these policies have had Republican support, with Democrats generally relying on teachers unions to create education policies. DFER uses advocacy and campaign contributions to support Democratic candidates such as President Barack Obama and others whose education policies butt up against the unions. The group became an influential force as its policies took hold throughout the country over the past decade, particularly in New York City, with Bloomberg embracing them wholeheartedly.
The report on de Blasio's record so far comes as DFER tries to situate itself in a new policy environment where their prescriptions aren't followed by the current New York administration.
That changing of the tide was evident in the city's latest charter school battle: In late February, de Blasio announced he had reviewed Bloomberg-approved arrangements that allowed 49 charter schools to share space with other schools, and was approving 36 of those so-called "co-locations." Of the schools he rejected, though, four belonged to Success Academy, a charter chain managed by de Blasio opponent Eva Moskowitz. One of the four was not a new school, but rather an existing middle school.
Immediately, the well-funded charter school lobby rose up, launching a series of rallies, expensive attack advertisements and op-eds that painted de Blasio as waging a war on charter schools -- despite having approved most of the charters.
"I didn't measure up when it came to explaining those decisions to the people of this city," he said. "Those [charter school] children matter to me. If I failed to communicate that, that's my mistake. … The idea is to create a fullness, a totality, a completeness in which our charter schools help to uplift our traditional public schools."
And more recently, New York State passed a budget deal that funded de Blasio's major push to expand pre-kindergarten, but that also included the state subsidizing charter school facilities.
"The state is now committed to helping fund the space that charters need beyond the co-location issue," Barone said. "I'm not saying he's the world's biggest champion, but when you look at what he actually did, there's a lot. After suggesting charters would pay rent, he sat down with Cuomo and reversed that decision."

Before You Go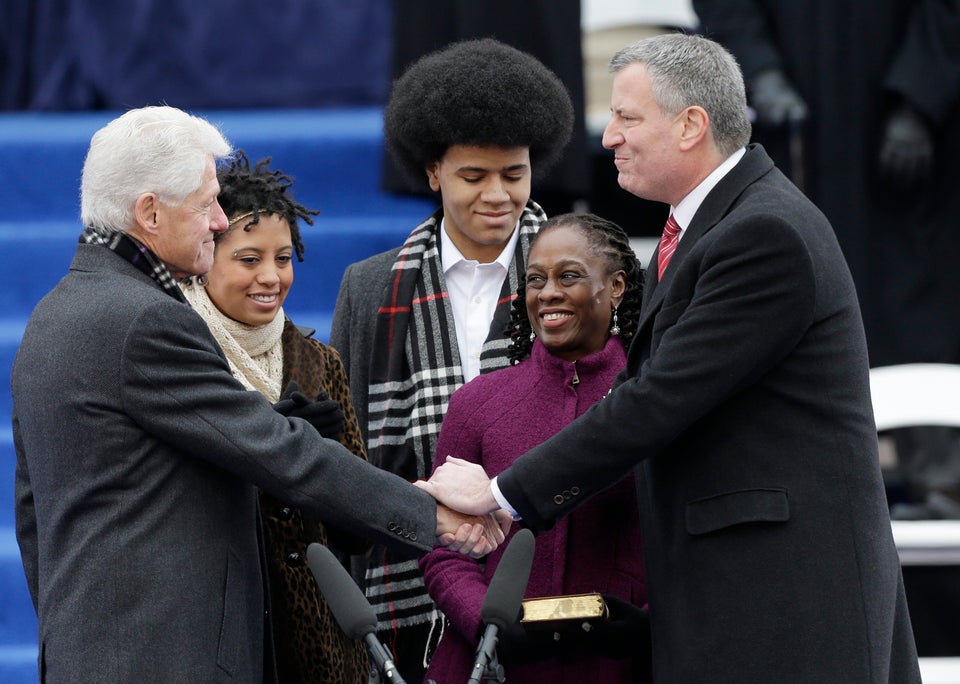 Bill De Blasio's Inauguration
Popular in the Community