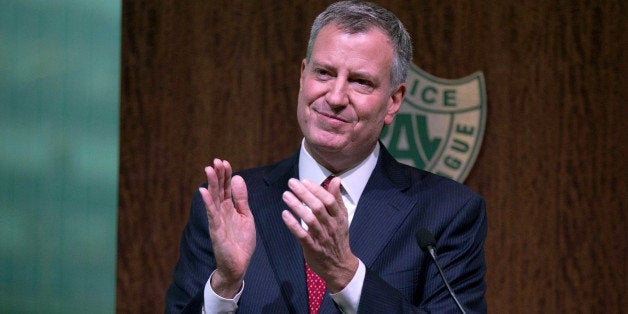 Hillary Clinton remains the best known and most enigmatic politician of our times. What is unknown includes what she really wants to do for the country, and more interestingly, her persona or soul or deeper motivations.
She's attracted to power and understands its usages. She's committed to elevating the status of women, and others. She has terrific political skills, and often a political tin ear. And she's the frontrunner.
Her campaign launch was smart and effective. The fundamental message was that "This campaign is about you, not me." That confronts the criticism of her aristocratic ascendancy, and the concern that it's all about power. A good beginning, but hurdles remain.
Comes now Bill de Blasio, New York's lefty mayor. He's an old Clinton hand, and the beneficiary of much Clinton largess over the years. While the rest of Clintonica was rushing and gushing, Mayor Bill held up his hand. No endorsement yet. We don't know enough about Hillary he sayeth.
"This is a different country we're living in right now, and I think we need to hear a vision that relates to this time, not eight years ago."
Sounds like a slap at her as old, out of touch and unfocused. But it isn't. It's a shrewd, necessary and helpful thing to say.
It's shrewd because it focuses on a real weakness, at the beginning of the campaign not in the middle. It's necessary because sooner or later she has to address it, voters will be asking the same sort of question. And it's helpful, but only if she's able to use it to move forward.
Note that Mayor Bill called her and told her what he was doing before he did it. I'm not suggesting this was scripted, but all things are possible. Note also that this was a smart thing for de Blasio to do for his own reputation and influence. He's become the avatar of income inequality as a defining issue in the election. He was on Meet the Press. He's going to Iowa.
There was a rush to condemn him by a variety of Clinton pipsqueaks and the New York Daily News ("Stabbed In The Back!!"). Relax fellas. Hillary has a set of real problems with voters and the best thing she can do is address them now, calmly and repeatedly. And Mayor Bill set the scene: "We're still beginning to hear what she stands for. It's normal to want to hear more. And I look forward to that."
I could be wrong but watch for Hillary to roll out ideas, and make political gestures that respond to the de Blasio invitation. And watch for the press to run to de Blasio each time and ask "How's she doing?" And watch for de Blasio to be highly impressed and encouraging. And watch for the eventual and inevitable endorsement benediction.
Politics has a theatrical component, and this is an example. Looking back from the 2017 coronation (I'm sorry, I meant inauguration) festivities, this kerfuffle will look more like the work of a smart friend and a smart campaign than disloyalty. The ways of the Clintons are mysterious, but no one is better at getting where they want to go.
Calling all HuffPost superfans!
Sign up for membership to become a founding member and help shape HuffPost's next chapter