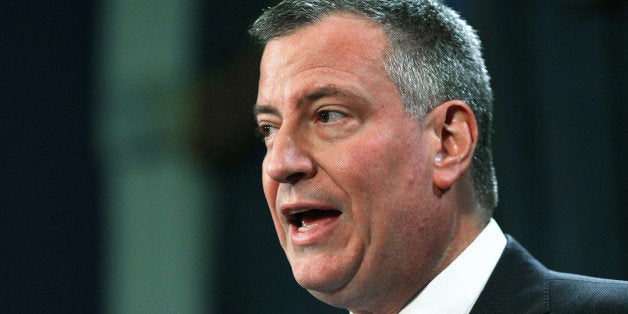 New York City's new mayor, Bill DeBlasio, has had enough of big corporations taking advantage of the city's welfare system by paying notoriously low wages.
"If we're subsidizing companies, we have every right to demand a living wage for the people they pay," DeBlasio told WNYC's Brian Lehrer on Monday.
In October, de Blasio stood with fast-food workers in New York City who were protesting for higher wages. "The bottom line is, this is an unsupportable situation where every day hard-working people can't make ends meet, and the companies involved certainly can do more," he said.
The mayor is expected to soon introduce legislation expanding living wage protections in New York. Under a proposal introduced during his campaign this past summer, de Blasio would raise the wage for employees at companies receiving city subsidies -- including some retail and fast-food restaurants -- to $11.75 an hour with benefits.
De Blasio said Monday that he'll fully unveil his plan to combat income inequality during his State of the City address next week.
The mayor has previously said that he thinks New York City should be able to set its own minimum wage, and that he'll lobby Albany to give the city that power. The New York state minimum wage was raised at the beginning of the year from $7.25 an hour to $8.00 an hour.
Support HuffPost
The Stakes Have Never Been Higher
Related
Popular in the Community