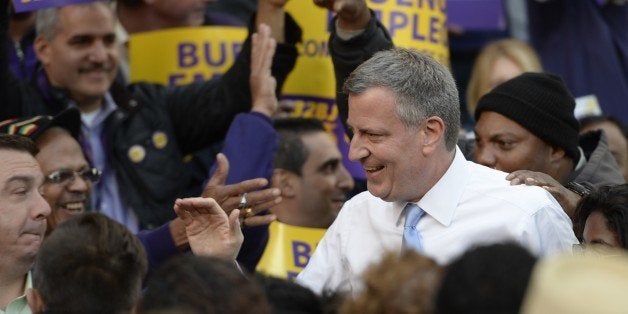 Joe Lhota wants everyone to know that Bill de Blasio is not a morning person.
De Blasio arrived an hour late to a campaign rally on the Upper West side of Manhattan Saturday because, as he explained, he had had a challenging night.
"I got a call at 5 in the morning that threw off my sleep cycle," de Blasio told press, according to Capital New York. "I am not a morning person."
Lhota is now claiming that de Blasio is not fit to be mayor because of his alleged penchant for the snooze button.
"Being mayor is a 24-hour-a-day job, and you need to be physically prepared for it," Lhota said, according to NY1. "The idea that he gets interrupted in the middle of the night at 5 o'clock in the morning, about the time that I get up every day, actually."
When asked about Lhota's comments after a campaign event in Harlem, de Blasio called the remarks "laughable."
Mayor Michael Bloomberg is a proud early riser and talked about his work ethic in a radio interview this summer. "I always tried to be the first one in in the morning and the last one to leave at night, take the fewest vacations and the least time away from the desk to go to the bathroom or have lunch," said Bloomberg. "You gotta be there."
Related
Popular in the Community