The New York Post thinks Mayor de Blasio "bungled" the city's response to the year's second big snowstorm, and the tabloid has a couple angry residents in one part of Manhattan to prove it.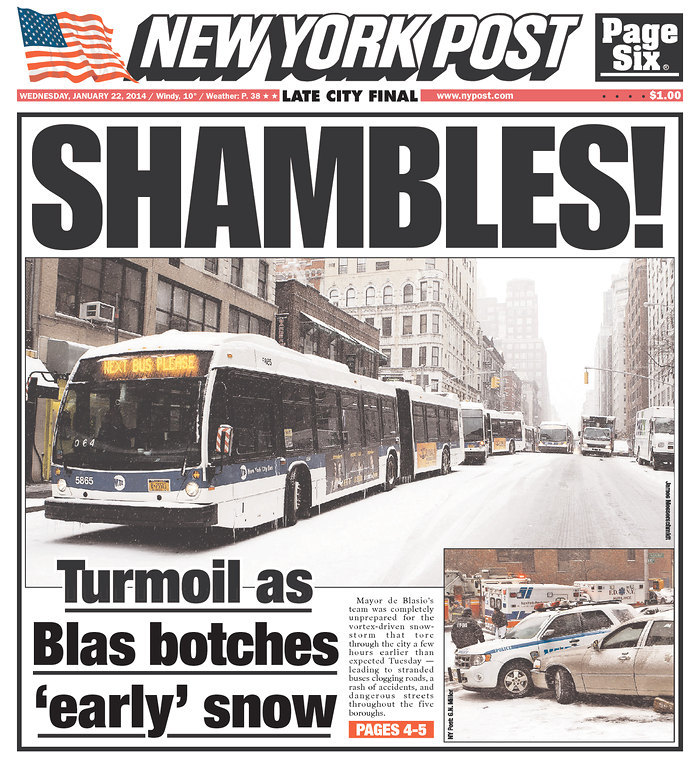 Particularly frustrated with de Blasio's performance, according to the paper, are Upper East Side residents who accused the progressive mayor of leaving the wealthy neighborhood buried under powdery snow as a kind of political retribution, à la Bridgegate.
"He is trying to get us back. He is very divisive and political," Molly Jong Fast told the paper, pointing to the fact that de Blasio didn't fare well in the Upper East Side during elections this past fall.
"He's crazy," another resident told The Post. "We need Mayor Bloomberg back!"
"It's almost impossible to keep up, they have to be plowing all of the time," Anastasia Christofiridis told The Daily News. "He's not ignoring the neighborhood. It was worse when [former Mayor] Bloomberg was here."
Although one map Tuesday night showed the Upper East Side streets had indeed not been as plowed as other neighborhoods, Sanitation Commissioner John Doherty explained that one salt-spreader's broken GPS system caused the PlowNYC map not to update on time.
What else spurred The Post to blame de Blasio for this apparent "turmoil?" A couple non-fatal car crashes and a few "not in service" buses.
Meanwhile Wednesday morning, Mayor de Blasio shoveled the snow off the sidewalk outside his family's Park Slope home. "I think the city handled it very well. There's always, look, there's always going to be isolated incidents and there's always going to be situations where the snow comes up rapidly, as it did for a few hours there, it really sped up and intensified, sadly right before the evening rush hour," he told NY1. "But the minute they had the streets clear–in other words there was not traffic in the way–sanitation did a remarkable job."
Winter Storm Janus dumped up to 12 inches of snow across the city. The wind chill in some neighborhoods Wednesday morning was below zero.
Schools remained open Wednesday morning, and most of mass transit was running on normal schedules.
Related
Popular in the Community