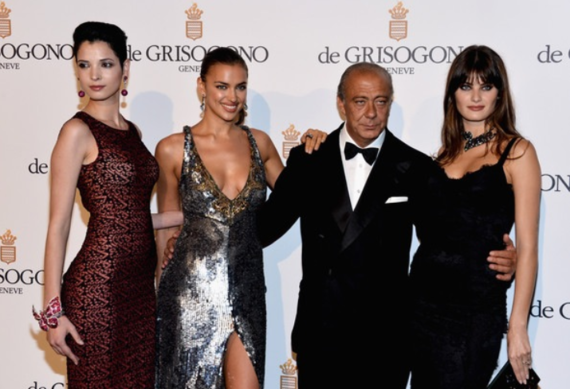 (Fawaz Gruosi and models at "Divine in Cannes" gala)
"La dolce vita" is personified by the maestro of de Grisogono, Fawaz Griosi. The Geneva based Jeweler-watchmaker has passionately created stunning designs for his collections for 22 years. His designs are joyfully creative with gemstones of pearls,sapphires,amethyst,rubies turquoise, emeralds and diamonds in white, gray ice and his signature black.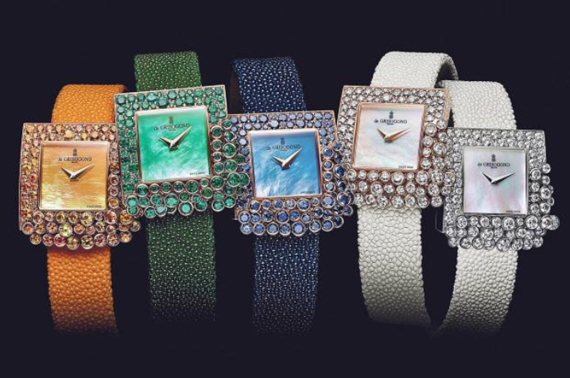 ( Watches from the Sugar collection)
Fawaz intimates ,"I enjoy Art but it's not the sole resource of my inspirations. It can be simply from the shape of a lampshade or the color of the sea. I am inspired by life and all that is around me. I do like art especially sculptures and paintings and I collect on instinct and just buy what I like. I also like to mix modern and old. I have been particularly interested in Chinese modern artists at the moment such as Jiang Yong and Luo Fahui."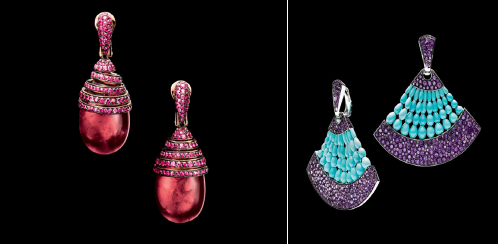 (Earrings from Melody of Colors collection)
Elegant and suave Fawaz was born in Lebanon to an Italian mother and Lebanese father. Growing up in Italy informed his taste in art, culture and style. He began his career humbly enough cleaning a Florence jewelry store. Quickly he worked his way up to store director in London. His ambitions were met with opportunity when he became the representative of Harry Winston and worked with Saudi Arabia's Alizera family. For the next 20 years Fawaz worked for the finest jewelry houses( Chopard, Bvlgari) in Europe. Using his vast experience in the art of jewelry design and manufacture in 1996 he opened his own house with two associates and de Grisogono was born. Inspired by a photograph of the famous 67.50-carat Black Orlav diamond for his first collection he daringly made flamboyant use of the under valued gemstone. Driven by the desire to be unique he designed his first signature de timepiece with a modem design, black diamonds and a blackened steel movement. Instrumento No Uno for men is one of his biggest sellers. He followed with the Instrumentino timepiece for women.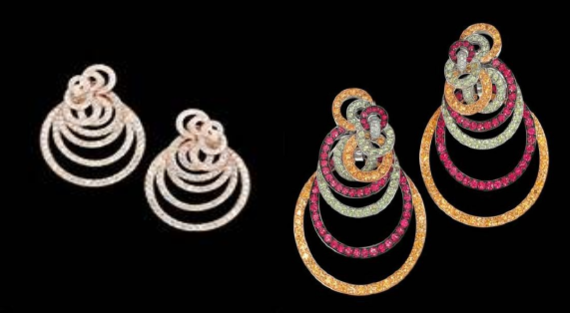 (Earrings from the Gypsy collection)
His bold use of unique elements in his watch-making and jewelry designs featured black diamonds, stingray (Galuchat) leather wrist strap, beveled diamond pavement, brown gold, and colored dials made his signature masterpieces a must have among the fabulous international set.
"I do not have a particular woman in mind when I design. I make the piece and the right woman will be drawn to it. My designs are unique in that I use gems not of the ordinary", he shares.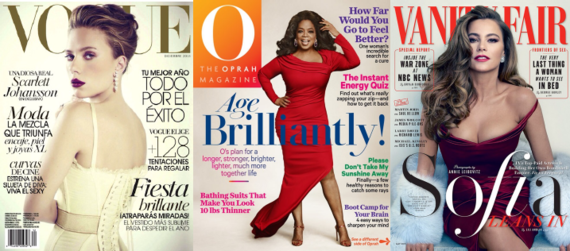 With the success of the de Grisogono brand he has boutiques in London, Geneva, New York, Gstaad, Rome, Paris, St. Mortiz, Kuwait, Moscow, Hong Kong the latest in Cannes. A shrewd entrepreneur Fawaz reigns as president, owner and founder owns the company alright having bought out his 49% partners Chopard his former wife Caroline Gruosi-Scheufele's family stake.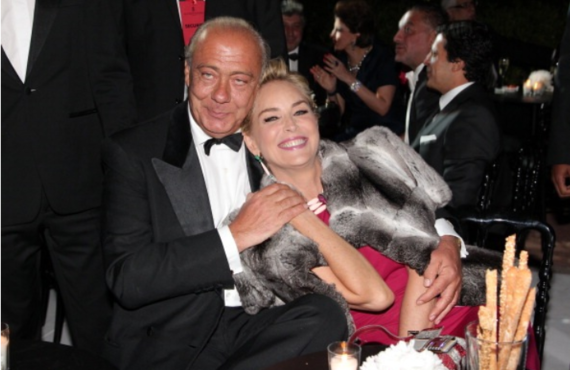 (Fawaz Gruosi and Sharon Stone at the De Grisogono party during the Cannes Film Festival in May 2013)
Beautiful women around the world satellite around Griosi. For the thirteenth year he has hosted his "Divine in Cannes" soirée at the Cannes Film Festival. The joyful fete at Hotel Du Cap-Eden Roc during the festival starts with a high end fashion show featuring his jewelry creations, a formal dinner and after party for 700 guests featuring a superstar performance. This year Oscar winner Natalie Portman was the Divine Star of the evening and guests who included Chanel Iman, Georgina Chapman, Harvey Weinstein, Starvos Niarchos , Karlie Kloss, Mary J. Blige, Antonio Banderas, Chris Tucker, Adrien Brody and Leonardo DiCaprio enjoyed a performance by Robin Thicke.
Every August he celebrates with a glamourous all white birthday party at Porto Cervo's Billionaire Club in Sardinia, for two hundred friends and family members. Last year the birthday revelers include Quincy Jones, Irina Shayk, Andrea Bocelli and Flavio Briatore and daughters Allegra and Violetta. A three day wedding in Apulia for his youngest daughter Violetta provided inspiration for a romantic collection of rings, watches and bracelets. Next for the house of de Grisogono are additions to his design empire, "I am currently designing a line of luxury leather handbags which will be exclusively available in my boutiques in the Fall 2015 season". Bellisima.
(Photos courtesy of de Grisogono)
Related