 The Tribeca Film Festival and the Qatar Museums Authority recently announced a ground-breaking agreement to launch the first annual Tribeca Film Festival Doha next November 10-14 in Doha, Qatar. "By listening to each other's stories, we will learn how much we have in common, and better understand our differences," said Oscar winner Robert De Niro.
De Niro founded the Tribeca Film Festival with producer Jane Rosenthal and real estate investor Craig Hatkoff in order to revitalize Lower Manhattan after the events of Sept. 11, 2001. I spoke with Craig Hatkoff about their expectations for the new film festival in Doha.
Have Middle Eastern filmmakers found it difficult to show their work in other parts of the world?
I'd flip that question around and ask, "How many people can name the last film they saw by a Middle Eastern director on an American movie screen?" It's a very short list. Festivals, because they are a primary distribution channel for these films, are incredibly important. That's why we're so excited about the new festival in Doha, and its potential to break down stereotypes.
It takes uncommonly good storytelling to push cultural boundaries.
I agree. Whether we're talking about books, music or film, it's all about storytelling. You get a powerful new way of connecting with people once you hear their stories.
What kinds of stories will audiences see in Doha?
I don't know what's in the pipeline right now, but I can offer a couple of examples of Middle Eastern films that were shown at the Tribeca Film Festival in New York. In Abadan, a lonely Iranian woman who is recently separated from her middle-class husband -- and still attached to him -- goes in search of her elderly father, who has run away. In Baghdad High, four high school seniors in Iraq are given digital cameras to record their lives for an entire year.
Will this festival showcase only Middle Eastern directors?
Tribeca Film Festival Doha will promote Middle Eastern themes and filmmakers, but not exclusively. Approximately 40 films will be presented at the new Museum of Islamic Art and in cinemas across Doha. Innovative work by established filmmakers will be shown alongside the debuts of newly discovered directing talents. Filmmakers can visit our website for more information.
One thing that distinguishes the Doha festival is that it was built from the ground up with input from the Qatar Museums Authority.
The Authority's guiding vision comes from Her Excellency Sheikha Al Mayassa bint Hamad bin Khalifa Al-Thani. Creative initiatives like the Museum of Islamic Art and Tribeca Film Festival Doha can bring cultures closer together, which is crucial now that we face world-wide political and environmental problems, not to mention a global financial meltdown. I sense a feeling of optimism, because a new approach is coming. Hopefully we're up to the challenge.
Abu Dhabi hosts the Middle East International Film Festival. There's also the Dubai International Film Festival. Does the Arabian Gulf really need another film competition?
The potential in this region is huge. Tribeca Film Festival Doha will be both an industry festival and an audience festival, not just an event for insiders. Community outreach will be a major part of what we're doing. We'll put filmmakers in touch with local, regional, and international audiences. And, across the entire program, there will be an educational component like The Doha Conversations -- a series of thought-provoking dialogues between icons of world culture.
Producers I work with were rebuffed from filming at Dubai's new production facility because their documentary was about terrorism. Are you putting similar restrictions on subject matter?
We don't have any hard and fast rules. Festivals tend to be provocative, but we want to be mindful of cultural sensitivities. Many wonderful stories have nothing to do with terrorism. How do you tell these stories? How do you tell them in a way that makes an impact? That's the challenge.
Will there be an opportunity for filmmakers to pitch for funding?
We don't have anything like that planned for year one, but it's a logical outgrowth. For now, winning filmmakers will receive a cash prize and various in-kind opportunities. We also know a number of funding groups who are interested in Middle Eastern films. The whole idea is to help people get their films made.
Are you hoping Doha turns into a film production center?
We'd like to see Doha become part of a larger hub -- a network that underscores the potential of the region. In today's world, media is incredibly important. And the ability to express different viewpoints is equally important.
In addition to your work in finance and film, you are the author of the popular Owen & Mzee children's books. Will Tribeca Film Festival Doha be family friendly?
Like the Tribeca Film Festival in New York, the Doha festival will have family-friendly films, animations, workshops, performers, dancers, a street fair, and more. Everyone's invited!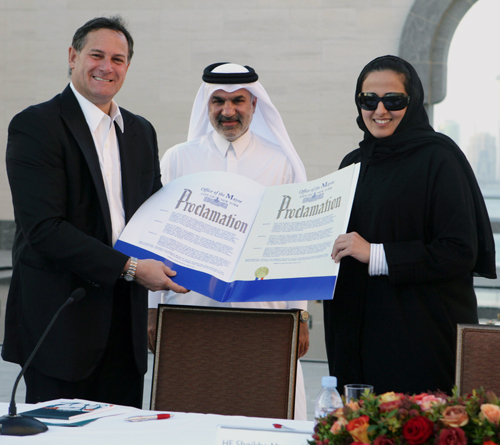 Craig Hatkoff of Tribeca Film Festival presents a proclamation from New York City Mayor Michael R. Bloomberg to Abdulla Al Najjar, CEO of Qatar Museums Authority, and Her Excellency Sheikha Al Mayassa bint Hamad bin Khalifa Al-Thani, Chairperson of the Qatar Museums Authority Board of Trustees, that celebrates the announcement of the creation of Tribeca Film Festival Doha.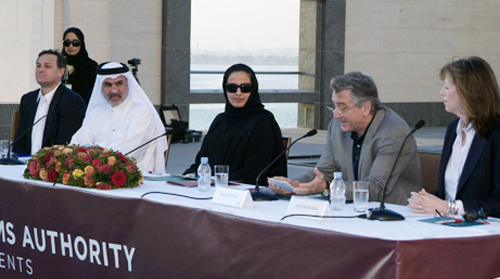 Tribeca Film Festival Doha founders at a press conference at the new Museum of Islamic Art in Doha, Qatar on November 23, 2008. Left to Right - Craig Hatkoff (Tribeca Film Festival), Abdulla Al Najjar (CEO of Qatar Museums Authority), Her Excellency Sheikha Al Mayassa bint Hamad bin Khalifa Al-Thani (Chairperson of the Qatar Museums Authority Board of Trustees), Robert De Niro (Tribeca Film Festival) and Jane Rosenthal (Tribeca Film Festival).
The Tribeca Film Festival is one of the most prominent film festivals in the world, having screened over 1,100 films from over 80 countries.
Qatar is a progressive presence in the Arab world. Women have the right to vote. The global television network Al Jazeera is located here. And Education City in Doha hosts a number of American university programs including Weill Cornell Medical College, Georgetown University School of Foreign Service, Northwestern University, Texas A&M, and Carnegie Mellon University. The forward headquarters of the United States central command, one of the largest U.S. military bases in the Gulf, is also located in Qatar.

Popular in the Community