A petition calling for President Barack Obama to fire acting Drug Enforcement Administration chief Chuck Rosenberg over his remarks on medical marijuana had gathered over 28,000 signatures, by Thursday afternoon.
Rosenberg, a former FBI official who was tapped to lead the DEA in May, has come under fire for denying that smoking marijuana can help some medical conditions.
"What really bothers me is the notion that marijuana is also medicinal -- because it's not," Rosenberg told reporters last week. "We can have an intellectually honest debate about whether we should legalize something that is bad and dangerous, but don't call it medicine -- that is a joke.
"There are pieces of marijuana -- extracts or constituents or component parts -- that have great promise," he continued. "But if you talk about smoking the leaf of marijuana, which is what people are talking about when they talk about medicinal marijuana, it has never been shown to be safe or effective as medicine."
"President Obama should fire Chuck Rosenberg and appoint a new DEA administrator who will respect science, medicine, patients and voters," the petition reads.
As of Thursday afternoon at 4 p.m. EST, 28,343 individuals had signed it, including musician and breast cancer survivor Melissa Etheridge.
"My mom uses medical marijuana to find some relief when the pain in her legs caused by multiple sclerosis becomes too much to bear. So this medicine is no joke to my family, or to the millions of other families who have seen the benefits of doctor-recommended cannabis for themselves," said Tom Angell, the chairman of Marijuana Majority. "And numerous scientific studies back up these experiences with data. It's unacceptable for the Obama administration's top drug official to be so ignorant of what science says about drugs."
In a Thursday statement, the DEA defended Rosenberg's remarks:
"To clarify, Acting Administrator Rosenberg indicated that marijuana should be subject to the same levels of approval and scrutiny as any other substance intended for use as a medicine. DEA supports efforts to research potential medical uses of marijuana. To this end, DEA has never denied a registration request from anyone conducting marijuana research using FDA approved protocols. Acting Administrator Rosenberg was also clear to point out there are a number of marijuana components and/or extracts which appear to show promise as medicines, but have not yet been approved as safe and effective. His comments reflected the fact that FDA has not approved any medicinal uses for smoked marijuana."
Rosenberg's remarks run contrary to studies that have shown smoked cannabis is safe and effective for medical use, including in treating chronic pain associated with HIV-related neuropathy and helping control spasticity in multiple sclerosis patients. Research has also shown that cannabidiol, a non-psychoactive compound extracted from marijuana plants, can help treat children suffering from severe epilepsy.
However, the comments do line up with the DEA's official stance on marijuana. The agency considers cannabis a Schedule I drug, the most dangerous of five substance categories in the Controlled Substances Act. Schedule I drugs, which also include heroin, LSD and ecstasy, have "no currently accepted medical use" according to federal classification.
Last week, Democratic presidential candidate Hillary Clinton called for marijuana to be reclassified as a less dangerous substance, which would allow federally-funded research on cannabis' medical properties.
Medical pot got another boost Wednesday when New York Gov. Andrew Cuomo signed two bills allowing patients with serious medical need to gain access to the drug before a statewide program goes into effect next year.
"I deeply sympathize with New Yorkers suffering from serious illness and I appreciate that medical marijuana may alleviate their chronic pain and debilitating symptoms," Cuomo said in a statement.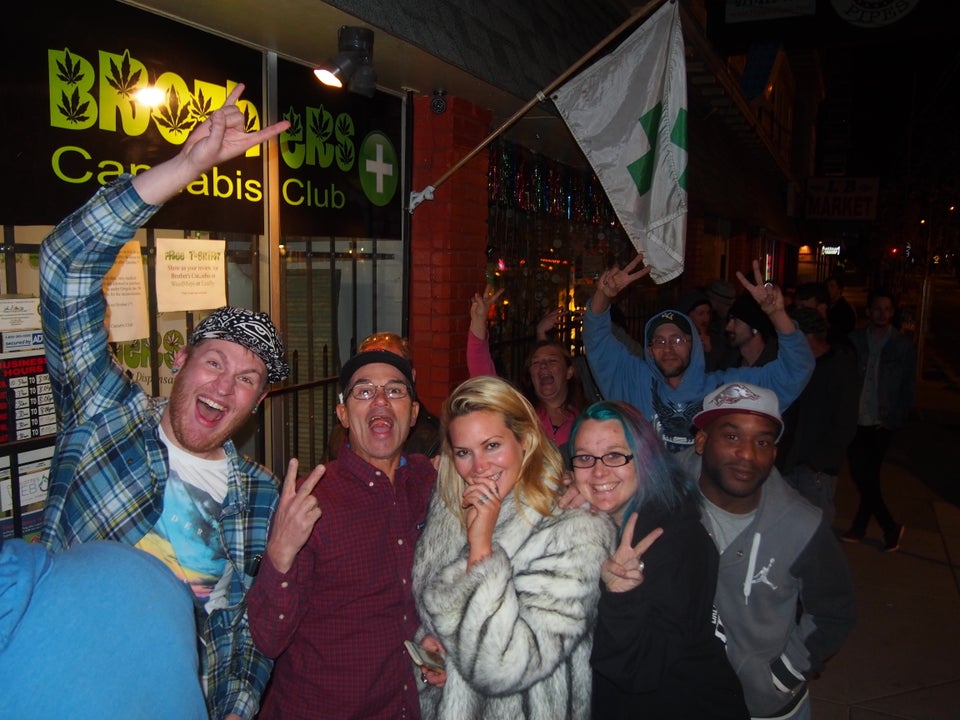 Recreational Marijuana Sales Legalized In Oregon
Support HuffPost
The Stakes Have Never Been Higher
Popular in the Community