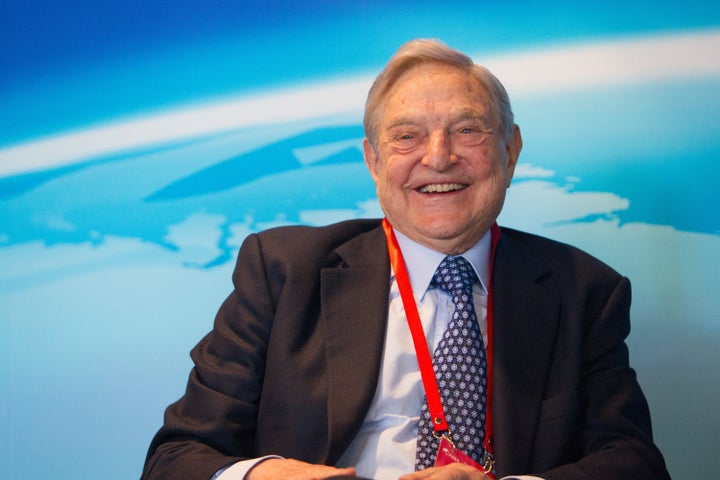 This isn't new, but I was intrigued to see the DEA, in an official January 2011 document outlining the agency's position on marijuana, engaging in some good old fashioned Soros-baiting. He's been a right-wing bête noire for several years now, but it turns out his boogeyman status also extends to the Obama administration. I've bolded his name in these excerpts:
"A few billionaires -- not broad grassroots support -- started and sustain the "medical" marijuana and drug legalization movements in the United States. Without their money and influence, the drug legalization movement would shrivel. According to National Families in Action, four individuals -- George Soros, Peter Lewis, George Zimmer, and John Sperling -- contributed $1,510,000 to the effort to pass a 'medical' marijuana law in California in 1996, a sum representing nearly 60 percent of the total contributions." (Page 7)
"In November 2010, Arizona became the 15th state to allow the use of marijuana for medicinal purposes. Proposition 203, the Arizona Medical Marijuana Act, sponsored by the Arizona Medical Marijuana Policy Project with financial support from George Soros, passed with 50.13 percent of the vote." (Page 9)
"In California, voters defeated Proposition 19 (The Regulate, Control and Tax Cannabis Act of 2010), which sought to legalize the possession and cultivation of limited amounts of marijuana for use by individuals 21 years of age and older. Had it passed, California would have been the first state to legalize marijuana for recreational purposes. The initiative garnered much debate. Fueled by financial support from legalization activists, including one million dollars each from Oakland cannabis entrepreneur Richard Lee and billionaire George Soros, proponents for the initiative used the media to attempt to sway public opinion. Nine former DEA Administrators called upon U.S. Attorney General Eric H. Holder Jr. to clarify the federal position and reiterate the law." (Page 10)
I'm all about a good money in politics story (for example, Soros giving a pro-Obama Super PAC $1.5 million), but I'm also a little bit surprised to see the DEA going all Sunlight Foundation on us.
Anyways, the document, which is titled "The DEA Position on Marijuana" and is still being promoted on the DEA's front page, is fascinating. The section titled "The Legalization Lobby" reads like a drug reform greatest hits list. It goes a long way toward undercutting the DEA's claim, already undermined by polling, that marijuana legalization isn't being driven by "broad grassroots support."
Support HuffPost
The Stakes Have Never Been Higher
Popular in the Community