 Kentucky on Wednesday sued the federal government for return of agricultural hemp seeds seized by the Drug Enforcement Administration after the agency told state officials they would have to apply for a permit to get them back.
The lawsuit, filed in U.S. District Court in Louisville, names the DEA, the Department of Justice, Customs and Border Protection and Attorney General Eric Holder, according to the complaint, obtained by HuffPost.
"The cultivation of industrial hemp… is lawful," a motion filed by the Kentucky Department of Agriculture reads. "The public interest is served by allowing the KDA and Kentucky research universities to investigate the use of industrial hemp as a cash crop in Kentucky. The public interest is not served by allowing unaccountable federal agencies to exercise arbitrary and capricious powers, not rationally related to carrying out any legitimate governmental purpose."
The suit asks for return of the 250-pound shipment of seeds from Italy that the state had planned to use for an industrial hemp-growing pilot project. Industrial hemp production was legalized for research in the recent farm bill, but the DEA contends importation remains illegal and on Tuesday demanded Kentucky apply for a permit.
"I hated to do that, but we've been misled and it's obviously a stall tactic," state Agriculture Commissioner James Comer told HuffPost. "We have farmers who wanna grow it. We have processors who wanna process it. We have researchers who wanna research it. We bought and paid for the seeds," Comer said. "Here in Kentucky there's a desperate need to find an alternative to tobacco."
Kentucky officials said earlier they believed the DEA had agreed to return the seeds. But then the DEA reversed the deal, said Holly Harris VonLuehrte, a senior official at the Kentucky agriculture office. The DEA told the Kentucky Department of Agriculture in a Tuesday night letter, obtained by HuffPost through an open records request, that the state has to apply for a permit to import Schedule I drugs before it can gain access to the seeds.
"We were told yesterday in multiple phone calls that we wouldn't have to do this Schedule I import permit," said VonLuehrte, adding that agreeing to the DEA demand would be an implicit admission that hemp remains illegal, classified by the U.S. government as a Schedule I drug. "Industrial hemp is not a Schedule I controlled substance. We're not going to execute a document that violates federal and state law."
The hemp plant is related to marijuana, also classified as a Schedule I drug, but doesn't contain the psychoactive ingredient that generates a high. Industrial hemp is used in products ranging from textiles to cosmetics.
Comer had announced earlier Tuesday that a deal had been struck and that the DEA would be releasing the seeds. "It looks like we've won this round," Comer said then. "The DEA completely reversed course from this morning. I think we just needed to get their attention."
Yet freedom for the seeds remains in question.
"The DEA has been and will continue to work with state officials to resolve outstanding issues related to the importation of hemp seeds. DEA has advised Kentucky it's necessary to apply for the appropriate permit, which the DEA has agreed to review on an expedited basis," said a spokeswoman for the Department of Justice.
A DOJ official who asked not to be named added that "the issue at hand has always been the importation of hemp seeds, which the law as written didn't explicitly authorize. We have been working with the state to make sure they comply with existing procedures."
The DEA letter, signed by Deputy Assistant Administrator Joseph T. Rannazzisi of the Office of Diversion Control, insists there is some confusion as a result of this year's farm bill, which legalized hemp for research purposes in states that set up regulatory regimes, as Kentucky as done. The language was backed by, among others, Kentucky Sen. Mitch McConnell (R) -- placing the DEA squarely in opposition to the Senate minority leader -- and Kentucky Sen. Rand Paul (R).
"Senator McConnell secured a long-awaited federal victory for industrial hemp production in Kentucky as his provision allowing Commissioner Comer to start pilot programs was signed into law," said Robert Steurer, in McConnell's Kentucky office. "Senator McConnell is working directly with Senator Paul, Commissioner Comer and federal officials to ensure that seeds are available so that Kentucky's pilot programs can move forward."
Rep. Earl Blumenauer (D-Ore.), who introduced the hemp amendment to the farm bill along with Rep. Jared Polis (D-Colo.) and McConnell, was incensed by the DEA action.
"I think I have a copy of the Congressional Record lying around my office that shows that Congress just debated this issue and voted overwhelmingly to allow research institutions to grow and study industrial hemp," Blumenauer told HuffPost. "I'd send it over to the DEA, but I'm worried they would classify it as rolling papers and seize it. With every move, the DEA is showing that they are incredibly out of touch with mainstream America. We need serious self-evaluation and shakeup over there if they ever want to be taken seriously."
Polis also criticized the DEA.
"Making sure that farmers have access to a sufficient supply of hemp seed is critical to the success of this burgeoning industry," Polis said to HuffPost. "Many farmers in my state have expressed to me the difficulties they have had in acquiring hemp seed. I would hope that the DEA would have a better use for their resources than impounding seeds that have no narcotic use."
A ceremony to launch Kentucky's hemp-growing pilot project is scheduled for Friday.
This story has been updated to include a link to the lawsuit and comments from the Justice Department and from lawmakers who worked on the hemp amendment to the farm bill.
Before You Go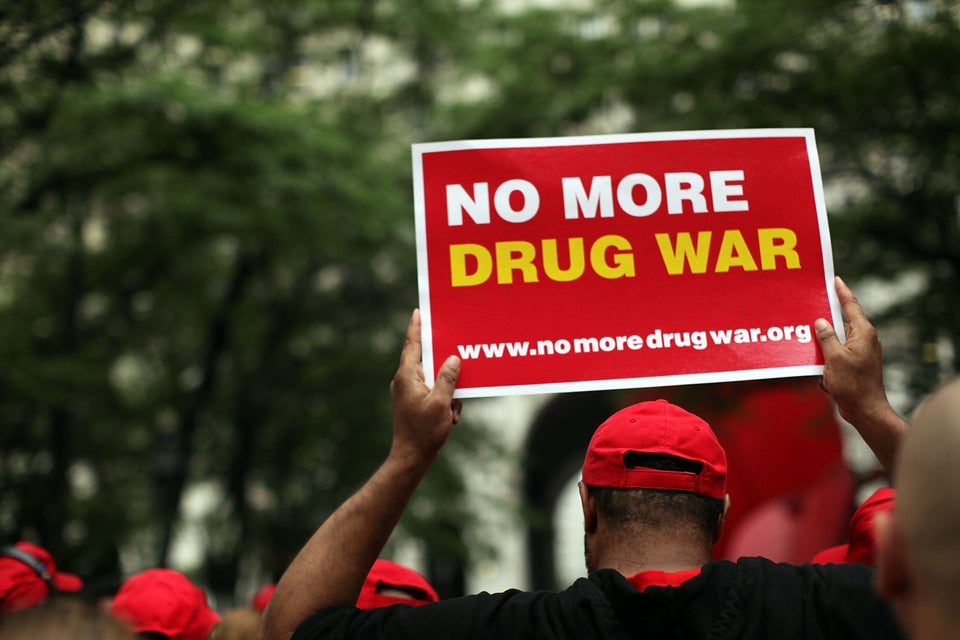 27 Reasons Why The U.S. Shouldn't Lead The War On Drugs
Popular in the Community