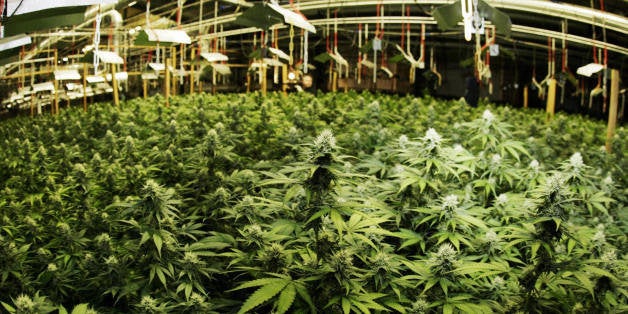 But, as SF Weekly noted, a closer look at the data reveals that the DEA has not become less aggressive. Rather, the agency appears to have been more effective by making fewer raids, but arresting more people and seizing more pot.
While the number of busts has decreased by about 22 percent, the amount of marijuana confiscated and the number of arrests made during raids have increased by about that much. In 2010, authorities pulled 7.4 million plants from 2,272 sites, resulting in 1,591 arrests and 59,928 pounds of pot, according to the DEA. In 2012, authorities confiscated 2.08 million plants from 1,784 sites. But the grand pull during those raids was a whopping 2,045 arrests and 64,920 pounds of pot.
As SF Weekly noted, the shift is likely due in part to the DEA's disbandment of its nearly 30-year-old Campaign Against Marijuana Planting, or CAMP program. Allen St. Pierre, executive director of marijuana policy reform group NORML, told The Huffington Post that he believes technology may be driving the increase in arrests.
"Before, they would get the cannabis, but rarely get any arrests," St. Pierre explained. "But with new technology -- satellites, drones, cameras, etc. -- they have a much better opportunity to get a bit of a body count, so to speak."
A DEA spokesman wasn't immediately available for comment.
St. Pierre, generally an outspoken critic against the DEA, hailed the agency's shift.
"This is positive news, but I think it may have more to do with the pressure for forfeiture, which is always in the background for law enforcement. If authorities find assets, cash, etc., they get to largely keep those items through civil forfeiture process," St. Pierre said. "The real vexation of law enforcement should be drugs like meth. But unfortunately -- perversely -- they are incentivised by the federal government to go after cannabis. But hopefully this trend will continue and we'll start to see a real reprioritization."
Calling all HuffPost superfans!
Sign up for membership to become a founding member and help shape HuffPost's next chapter
BEFORE YOU GO