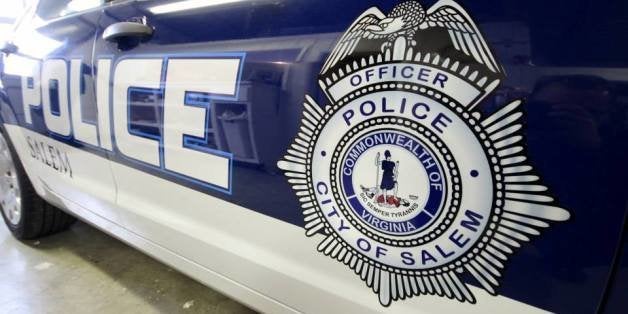 WASHINGTON –- A police officer from Salem, Virginia, on a Drug Enforcement Administration task force out of Roanoke pleaded guilty on Tuesday to soliciting and obtaining a sexual favor from a drug defendant in exchange for recommending a federal prosecutor seek out a lighter sentence for the defendant.
Kevin C. Moore, 42, of the Salem Police Department, appeared before a federal judge in Roanoke on Tuesday and pleaded guilty to one count of bribery. He was arrested in October without incident and was suspended from both the police department and the DEA task force the same day, but his case was not unsealed until Tuesday.
While the charge in the case relates to only one woman, Moore admitted to soliciting oral sex from another defendant and to soliciting both oral sex and sexual intercourse from a third defendant. The earliest incident dates back to 2009.
In the latest case, the officer admitted to exchanging text messages with a woman who was cooperating in an investigation into methamphetamine distribution. The woman in question pleaded guilty as part of a plea agreement in September 2014, and had been scheduled to be sentenced this month.
Moore's text messages with the woman are relayed in court filings and, as an FBI agent investigating the case wrote, "made clear to the [cooperating witness] that a sexual relationship could yield a favorable sentence recommendation to the Assistant United States Attorney."
Moore referred to the defendant as a "wild thang" and wrote in one text message in June that he was "going to take care of you as long as you take care of me." He texted her that she needed to "release some stress," and when she replied that she didn't know how, he said, "Oh I bet... You can figure out something I know. Lol."
Moore and the woman continued exchanging text messages in August, with him repeatedly telling her she owed him. The woman backed out of one meeting on Aug. 15, which apparently upset Moore. "You better make it up to me. Lol," he wrote. "You better make it up big time."
A day later, on Aug. 16, Moore wrote that the defendant owed him "a real good one tho." When the woman wrote that she wasn't quite sure if they were on the same page about what he wanted, and that she was "in the dark," Moore wrote back "U know girl. Everything!!!!!!!!!!!!!!!!!!!!!!!!!!!!!!!!!!!!!!!!!!!!"
Moore and the woman met up at a McDonald's on Aug. 21, then drove to a BP gas station, where the woman performed oral sex on the officer. She later described his demeanor as aggressive, but said he didn't use physical force.
Roughly an hour after the encounter ended, Moore texted the federal prosecutor handling the woman's case and told the prosecutor that the woman was assisting in an investigation of an individual thought to be involved in distributing a large amount of methamphetamine. He later informed the woman that the prosecutor had "knocked a lot of the drug weight off" in her case, which would mean a lesser sentence.
Moore is scheduled to be sentenced on Feb. 2.
Related
Popular in the Community