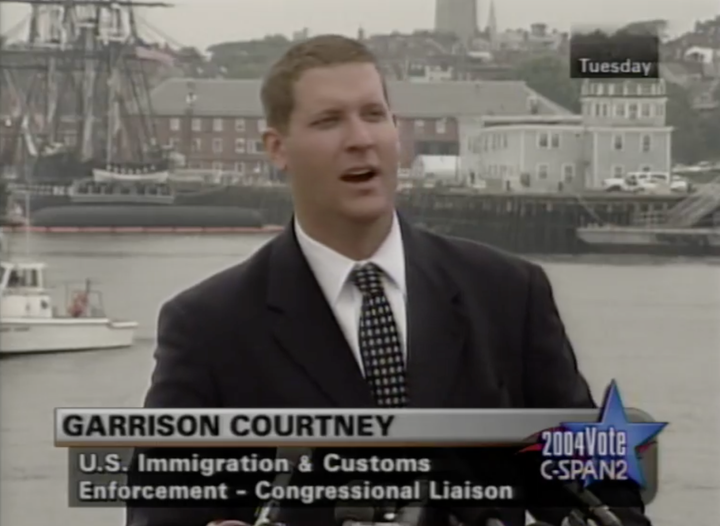 WASHINGTON ― A former spokesman for the Drug Enforcement Administration pleaded guilty on Thursday to wire fraud, admitting that he pretended to be a covert CIA officer and scammed more than a dozen companies out of over $4.4 million.
Garrison Courtney, 44, acknowledged during a federal court hearing in Alexandria, Virginia, that he falsely claimed to be part of a "task force" that involved the CIA, other parts of the intelligence community and the Defense Department that aimed to enhance intelligence-gathering capabilities. He created a "commercial cover" to hide his false affiliation with the CIA, and had companies pay him with the expectation that they'd be reimbursed in the future.
Courtney, the government said, "went to extraordinary lengths to perpetuate the illusion that he was a deep-cover operative" by, among other things, making people sign fake nondisclosure agreements, searching them for electronic devices, telling them they were under foreign surveillance and threatening anyone who questioned him with criminal prosecution or the revocation of their security clearance.
An official with the U.S. attorney's office said that Courtney had "masqueraded" as a covert CIA employee as part of his "ruse," and managed to "dupe" both private companies and real public officials whom he'd use as "unwitting props in his fraudulent schemes."
According to government documents, Courtney was given a conditional offer of employment by the CIA around 2005, but that offer lapsed in 2007. He never worked for the federal government after his departure from the DEA in 2009.
The government indicated that Courtney used a number of aliases, including "Glenn Nelson," "Glenn Nielson," "Gary Pierson" and "Garrison Pierson" in the course of his scheme. He referred to the fake task force he claimed to be on as "Alpha214" and "A214."
As part of his cover, the government said, Courtney falsely claimed to have been involved in the Gulf War and that he "had hundreds of confirmed kills while in combat" and "sustained injuries to his lungs from smoke caused by fires set to Iraq's oil fields."
He also claimed that a "hostile foreign intelligence service attempted to assassinate him by trying to poison him with ricin" when, in fact, he went to the hospital for ordinary health issues. One company bilked by Courtney lost $1,933,500 to his scheme, according to the filings.
Courtney held his DEA position during President George W. Bush's administration and previously worked for Republican Katherine Harris of Florida during part of her 2003-07 stint in the U.S. House. On LinkedIn, Courtney claimed to have worked for TMZ after he left the government.
This is a developing story and will be updated.