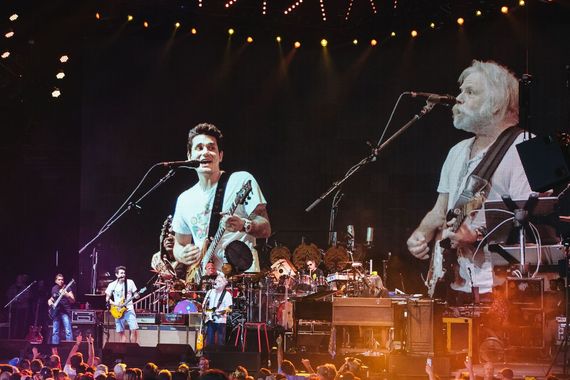 Monday, June 21, 2016 will be remembered by a lucky few not for the once in 50 years alignment of the full moon and summer solstice, but for the epic, almost four-hour Dead and Company concert at BB&T Pavilion in Camden, New Jersey. Dead and Company is the most important music story of 2016 and maybe beyond. In a recent Rolling Stone interview, John Mayer hinted the group is considering going into the studio to make new music together.
Mayer and three of the surviving Grateful Dead band members -- Bob Weir, Mickey Hart and Bill Kreutzmann -- along with Oteil Burbridge, formerly of the Allman Brothers, and keyboardist Jeff Chimenti aren't a touring nostalgia act. They have revitalized and re-interpreted the classic Grateful Dead repertoire for a new generation without losing the original Dead Heads. After Mayer's version of "Standing on the Moon," even veterans of more than 150 of the original Grateful Dead shows were deliriously shouting John's name. He was so good that I have almost forgiven him for dating Taylor Swift.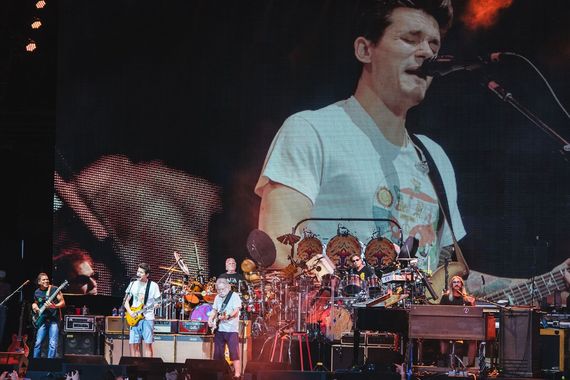 Mayer, dressed in the typical Dead Head attire of tie dye T-shirt and shorts, has jumped through the looking glass. Although he says that he is still planning to release his own album next year, I can't see him content to return to the simple life of a Grammy-winning pop star. His guitar virtuosity was on full display on Monday. With a baseline of rock, he effortlessly slid from acoustic to blues and even sprinkled in some reggae and disco. His phrasing was not quite Jerry Garcia. It's as if he tried on Garcia's coat, found he could have buttoned it, but instead took it to the tailor so he could make it his own. Clearly Weir was feeding off the energy of his younger protégé; one of the highlights of the night was his loosely sung cover of Dylan's "All Along the Watchtower". The only flaw in the perfect night was that Mayer's charismatic stage presence may have overshadowed the other talent on stage such as keyboardist Jeff Chimenti.
The one thing that hasn't changed is the Dead's humanity. One of the most touching moments of the night was when a picture of a man in a wheelchair flashed on the screen during the emotional "I Need a Miracle". Weir later admonished the group, "Be cool, register to vote."
Unlike jazz musicians who constantly improvise, too many musicians when on tour play their music with a strict adherence to the sound of the album made in a sterile studio. That has never been the Dead's way. Back in the 1970s, even before the internet habitually stole musician's work, the Grateful Dead always prioritized conducting a musical conversation with their fans. Last night, Dead and Company continued that grand tradition. Similar to jazz musicians that improvise and play off each other and the crowd, last night's second set, despite the 90 degree weather under the amphitheater, scaled new heights and was far more ambitious and adventurous than the opening.
There's still time to see the musical act of this summer.
Thu Jun 23 Bristow, VA Jiffy Lube Live
Sat Jun 25 Flushing, NY Citi Field
Sun Jun 26 Flushing, NY Citi Field
Tue Jun 28 Hartford, CT Xfinity Theatre
Sat Jul 02 Boulder, CO Folsom Field
Sun Jul 03 Boulder, CO Folsom Field
Thu Jul 07 Detroit, MI DTE Energy Music Theatre
Sat Jul 09 East Troy, WI Alpine Valley Music Theatre
Sun Jul 10 East Troy, WI Alpine Valley Music Theatre
Wed Jul 13 Pittsburgh, PA First Niagara Pavilion
Fri Jul 15 Boston, MA Fenway Park
Sat Jul 16 Boston, MA Fenway Park
Fri Jul 22 Portland, OR Moda Center
Sat Jul 23 George, WA Gorge Amphitheatre
Tue Jul 26 Irvine, CA Irvine Meadows Amphitheatre
Wed Jul 27 Chula Vista, CA Sleep Train Amphitheatre
Fri Jul 29 Wheatland, CA Toyota Amphitheatre
Sat Jul 30 Mountain View, CA Shoreline Amphitheatre

Photos provided courtesy of Steve Garfinkel
Calling all HuffPost superfans!
Sign up for membership to become a founding member and help shape HuffPost's next chapter