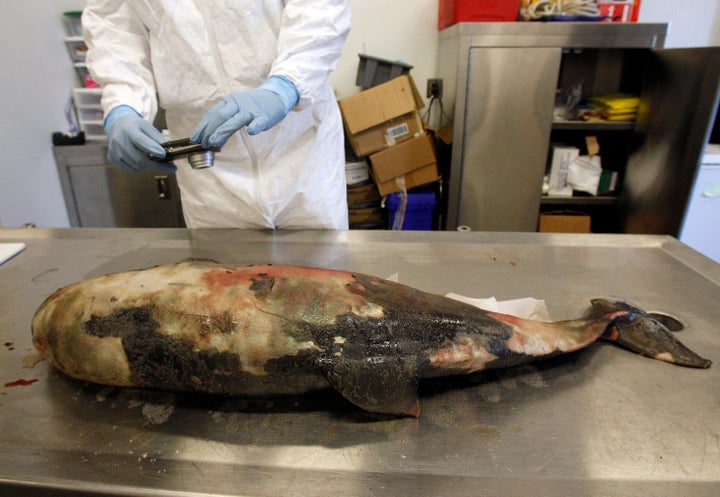 BILOXI, Mississippi (By Leigh Coleman) – Scientists confirmed on Thursday that they have discovered oil on dead dolphins found along the U.S. Gulf Coast, raising fresh concerns about the effects of last year's BP oil spill on sea life.
Fifteen of the 406 dolphins that have washed ashore in the last 14 months had oil on their bodies, National Oceanic and Atmospheric Administration scientists said during a conference call with reporters.
The oil found on eight of those dolphins has been linked to the April 2010 BP oil spill in the Gulf of Mexico, scientists said.
"It is significant that even a year after the oil spill we are finding oil on the dolphins, the latest just two weeks ago," said Blair Mase, southeast marine mammal stranding coordinator for NOAA Fisheries.
Since mid-March, 87 dead sea turtles have also been found, although no visible traces of oil have been discovered on the carcasses, said Barbara Schroeder, NOAA Fisheries national sea turtle coordinator.
"But we do not have very much information about how oil products find their way into turtles," she added.
The Gulf is home to five species of sea turtles, all of which are considered at risk of extinction.
In February, NOAA declared "an unusual mortality event" after a spike in the number of dead dolphins washing up in Louisiana, Mississippi, Alabama and Florida.
There have been 153 deaths this year, 65 of them newly born or stillborn calves, NOAA officials said on Thursday.
Some experts had speculated that oil ingested or inhaled by dolphins at the time of the spill had taken a belated toll on the marine mammals, possibly leading to dolphin miscarriages.
Eleven workers were killed when the BP Deepwater Horizon drilling rig exploded, and an estimated 5 million barrels (206 million gallons) of crude oil spewed into the Gulf over more than three months.
NOAA officials and other experts say they are bracing for the wave of dolphin deaths to grow as the bottlenose calving season -- when some 2,000 to 5,000 dolphins in the region typically bear their young -- reaches full swing in coming weeks.
Samples have been sent for testing to determine whether the oil spill contributed to the dolphins' deaths so far.
The U.S. government is keeping a tight lid on the lab findings due to the ongoing civil and criminal investigation involving BP.
"Because of the seriousness of the legal case, no data or findings may be released, presented or discussed outside the (unusual mortality event) investigative team without prior approval," NOAA stated in a February letter that was obtained by Reuters.
(Editing by Colleen Jenkins and Tim Gaynor)
Support HuffPost
The Stakes Have Never Been Higher
Related
Popular in the Community