The internet revolutionized information sharing, allowing people all over the world to post content and distribute it among networks. But as the internet has grown, surveillance on the web has exploded as well. So one artist is encouraging people to forget the cloud and share information in a totally anonymous way.
In 2010, Berlin-based media artist Aram Bartholl started "Dead Drops," his participatory file-sharing art project, by cementing a USB drive into a brick wall in New York City.
The term "dead drop" is generally used to describe a method of exchanging information in espionage, where one covert intelligence agent leaves information in a secret location for another spy to pick up. The concept holds true for each of the dead drops in Bartholl's project, which allows people to anonymously leave files for anyone else to download onto their own devices. 
"'Dead Drops' is an offline file sharing network," Bartholl told The Huffington Post. To create his drops, he takes a USB key, cements it into a wall, and then invites anyone and everyone to visit the key with a computer or laptop ― to either access the existing files on the USB or leave files of their own. Bartholl, whose project was featured at New York City's Museum of Modern Art in 2011, said the increasing surveillance on the web pushed him to start the project.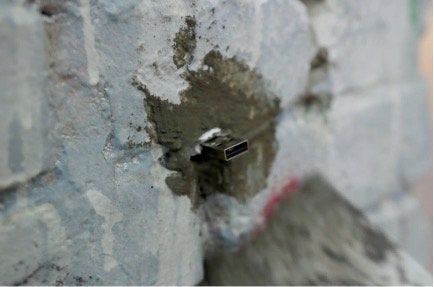 "I think the internet is at a very critical moment where it's very centralized to big commercial services, which are very much controlled," he said, "and then the open part of the internet is kind of getting smaller and smaller."
The completely unregulated nature of Bartholl's dead drops has allowed for the proliferation of innocuous media like photos, but has also created a space for darker things as well. According to The Guardian, a German journalist found plans for a bomb, directions for producing crystal meth, and recipes for poison at one of the dead drops in Cologne in 2015.
The project is still growing. Since its inception, citizens all over the world have added to Bartholl's network of USB devices. Thus far, people have created more than 1,700 dead drops across six continents and exchanged 12,000 GB of data.
"I think the beauty lies in [the idea] that we don't know what's on there and then the data that's on there very much reflects the people who've been there before," he said. "There's a personal connection appearing when you're looking at the contents."
Bartholl said the art project is essentially an "adventure game" that motivates those in the know to hunt for each dead drop location, but it's also about serving a bigger mission and making truly decentralized information accessible to anyone. 
"There's still an open place where you can leave any information and there's no control about what you do," he said. 
This video was produced by Liz Martinez, Ishika Gupta, shot by Jan Rödger and edited by Lee Porcella. 
Calling all HuffPost superfans!
Sign up for membership to become a founding member and help shape HuffPost's next chapter
BEFORE YOU GO
PHOTO GALLERY
Times The Internet Absolutely Blew Your Mind