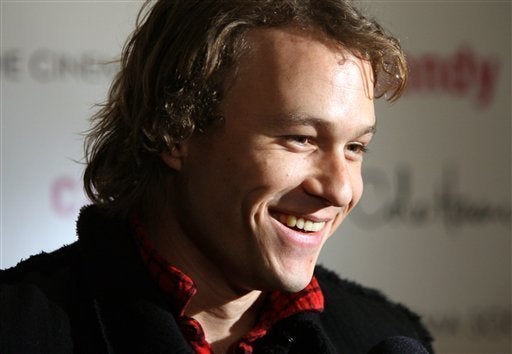 Hello Huffington Post darlings. Your prayers have been answered as I, Tallulah Morehead, The Nearly-Living Legend, have surely heard the cries of my fans in the Internet Wilderness, and have acceded to the pleadings of The Huffington Post to add a little class to their entertainment pages, by bringing along the same kind of wisdom that you have been reading on my flog, The Morehead the Merrier.
It's time to say goodbye to my many fellow celebrities who have foolishly neglected to survive this past year. Once it was announced that I was going to be doing this Dead Celebs column, and the deadline to qualify for inclusion was to make the news obituaries by December 30th, celebrities were cashing it in left and right to make the cut, so I am solely responsible for the high Famous Persons Death Toll this last month.
Let's get The Most Important Announcement out of the way right at the top, so I can put your minds at ease: I am not on the list again this year! Yes you can breathe easier, I am not dead. Now that your fears are calmed, let's get down to the fun parts.
Naturally every year, there is one celebrity death that overshadows all the rest, one loss so great that all others pale by comparison. If I ever die (I am, after all, a Screen Immortal, so it's unlikely.), it will be me that year. And this year, well, there was one Hustler with a Cool Hand, who drank his milk from a Silver Chalice, a Butch Hombre who could loll on a Hot Tin Roof. You know by now just who I mean, the one, the only...
"Engineer Bill" Stulla, the host throughout the 1950s and 60s of Cartoon Express on KHJ-TV in Los Angeles, mentor to a whole generation of native Los Angeles baby boomers, like my amanuensis, the man who is typing this up for me, Little Dougie McEwan, for whom Engineer Bill was the first celebrity he ever met. Bill's trade-mark was playing Red Light/Green Light, in which kids would drink their milk when Freight Train Wayne said "Green Light." and stop drinking when he said "Red Light." Although I don't see the appeal of being trained to stop drinking, I guess when what you're drinking is that swill milk, it's okay. In 16 years of playing Red Light/Green Light five nights a week, Engineer Bill never did win the damn game. Five year olds did, but not Bill. What a lame-o. Unless he was deliberately throwing the game, in which case, what kind of message was that sending the kiddies?
After Engineer Bill, the next biggest death of the year was popcorn and salad dressing maven Paul Newman. Without doubt the hottest purveyor of ranch dressing and snack foods in the world, Paul also dabbled in acting, and was often very good, but only in everything he ever did. And his proudest personal accomplishment was making Richard Nixon's Enemies List.
I spent over 50 years trying to get into Paul's pants, but he kept giving me the brush-off. In fact, at times it was more like a hurl-off-and-flee-away. And what a flimsy, silly excuse he kept giving me. Get this; he kept claiming he was practicing something called "Marital Fidelity." What the hell is that? A bizarre religious cult, like Shakers or Mormons? Paul Newman's bizarre insistence on only having sex with his wife seems to me like being Sexually Amish.
Paul would say to me of Joanne Woodward, while giving me the slip, "Why would I eat a hamburger on the road when I have steak at home?" Frankly, if you're feeling peckish while you're out and dinner is hours away, don't you hit McDonald's for a Big Mac or stop off for some pizza, no matter what is on ice in your freezer at the house? I usually have a fine wine waiting at Morehead Heights, but it's never stopped me from hitting a bar or 12 en route for a vodka martini to sustain me until I get there, even when I'm merely a block away.
Next in importance would be Paul's contemporary exact opposite, Charleton Heston. While Paul was a great actor, Cheston, as I always called him, was a notorious brick of cheese, famous for hammy posturing, and right-wing politics, a pal of Georgie Dubya Bush, our soon-to-be-rid-of President. Cheston, with Cecil's help, turned DeMille's The Greatest Show on Earth into The Most Overdone Mediocre Show on Earth. In the 1950s he was synonymous with grand Biblical cheese, like The Ten Commandments, Ben Hur (Done Him), and El Cid. In the 1970s, he was known for bloated science-fiction cheese, such as Planet of the Apes, Soylent Green, and The Omega Man. In the 1990s, he was famous for being President of The National Gun Nut Association, overcompensating for a deficiency I'd never before suspected he suffered from. Poor Mrs. Heston. I guess all those togas were padded. Or maybe the soldier ants chewed it off in The Naked Jungle.
But that's not to say he never gave a good performance,. In 1973's The Three Musketeers and 1974's The Four Musketeers, Cheston was marvelous as the evil Cardinal Richelieu. Turned out he was miscast as heroes, but perfect as villains. And he was touching as the pathetic old gun nut unable to comprehend the evil he has helped unleash in Bowling for Columbine.
Cheston was also known to be always polite and gracious, and to have a sense of humor about his own image, as he demonstrated hosting Saturday Night Live, and guesting on Dame Edna TV specials. He is survived by his wife, his son, the film director Baby Moses Heston, a daughter, three grandchildren, and the thing that lived on top of his head, pretending to be his hair. He will be missed by Republican film buffs.
But now, let us roll on through the other prominent celebrity departures. One bit of coding. When you see the notation (GRL), Such as, for example: "Gordon B. Hinckley, President of the Mormon church (GRL)" that means that that person is included on my Good Riddance List over on my own flog, where I will be discussing the late unlamented folks on whose graves I will be waltzing. Okay. Grab yourself a vodka martini. Here we go, in no particular order at all:
Sir Edmund Hilary. I know that homosexuality was frowned on more back in the 1950s, but on May 29th (My own birthday!), 1953, Sir Edmund and his Sherpa guide Tenzing Norgay (Now that name is a giveaway!) of Nepal, went to unprecedented lengths to be entirely alone together, by ascending the tallest peak in the Himalayan Mountain range, and I can only wonder who Him-a-layin'. When I asked him about it, he suggested: "Mount Everest." I replied, "Who is Everest?"
Mark West. A terribly attractive gay porn star who died too young, but left his stain on VHS, DVD, and old pair of Dougie's jeans.
Cole Ryder. A remarkably hairy gay porn star who died suddenly and unexpectedly. By all accounts, he was a very sweet, gentle person, who happened to be furrier than King Kong, whom he resembled in one other attribute also.
Freddie Hubbard. A beloved jazz trumpeter. The man could blow, a subject on which I am an expert.
Ann Savage. A wonderful actress we were all glad to go on a Detour with. However, she always insisted on being billed as "Ann Savage," no matter how many times I told her that the grammatical billing would be "A Savage."
Robert Graham. A brilliant sculptor who vastly improved the Los Angeles Coliseum by creating for the 1984 Olympics a beautiful sculpture of a perfect, naked, anatomically-correct, indeed anatomically-graphic, male torso that I have found intensely, magnificently inspiring. He made a female torso too. Pigeons like it.
Dale Wasserman. What do you remember best about the great Broadway musical Man of La Mancha? The Impossible Dream? To Each His Dulcinea? Aldonza singing the lovely lyrics "I was born in a ditch by a mother who left me there, naked and cold and too hungry to cry"? (Aldonza's mother is a saint compared to mine.) Yes, it's the immortal songs. Well Dale Wasserman wrote the book for Man of La Mancha, you know, the stuff you don't remember. He did write one line though that will stand The Wasserman Test of Time. At the end, after Don Quixote has died, Sancho asks Aldonza what she intends to do, and she replies: "My name is not Aldonza! My name is -- Mrs. Norman Maine!"
Harold Pinter. One of the great playwrights of the 20th Century. Talk about memorable dialogue! In his play The Birthday Party, he wrote: "[PAUSE]" Now that is some fine writing!
Eartha Kitt. The greatest Catwoman of them all. Along with being an electrifying performer, I always respected her for telling off Ladybird Johnson at a White House Tea where one was supposed to be polite, and ignore the fact that your host was sending our young men to pointless deaths in Vietnam. Eartha spoke her mind. You go girl!
Page Cavanaugh. Another fine jazz musician, known for The Page Cavanaugh Trio, and a terrific homosexual. Little Dougie once had the honor of singing with him, a joy to hold onto in memory forever.
Robert Mulligan. A first-rate film director; he Killed a Mockingbird, spent a Summer of '42, then, Come September, he went Up The Down Staircase, and took The Other Inside Daisy Clover (How rude!) Because Baby, the Rain Must Fall.
W. Mark "Deep Throat" Felt. A true American hero, the man brought down Richard Nixon; a filthy job, but somebody had to do it. What other famous historical figure was so secretive that he could be played by both Hal Holbrook and Linda Lovelace? Anyway, we now know what Mark Felt. He felt Nixon was a crook. Felt could Frost Nixon years before Ron Howard did. For decades people thought I was "Deep Throat." Close, but no Clinton cigar.
Majel Barrett-Roddenberry. Starting out as Nurse Chapel on the Starship Enterprise, she rose to be the First Lady of Star Trek, and on one memorable evening in April 1974, I made her laugh so hard she almost fell out of her chair. She lived long and prospered.
Sam Bottoms. But not often. A terrific actor, his first movie was The Last Picture Show, which is getting things backwards ass-backwards if you ask me. But what can you expect from a man with "Bottoms" in his name?
Van Johnson. Van Johnson's amiable blandness often made people forget what a really good actor he could be with a strong role, as in The Caine Mutiny, where he holds his own opposite Humphrey Bogart. Yet so blandly opaque could he be that, of all the old stars who died this year, he was the one who most often provoked the comment, "I didn't know he was still alive." Well he isn't now. Although most of his obituaries mentioned his marriage to his best friend's wife, almost none of them mentioned his homosexuality. With his passing, red socks stocks have plummeted.
Bettie Page. A famous pin-up girl inexplicably beloved by men old enough to know three-dimensional women.
Robert Prosky. A grand character actor, lovable despite his penchant for playing villains. On Hill Street Blues his catch-phrase was "Let's do it to them before they do it to us." though I've always believed in doing it to them while they're doing it to me. Much more fun that way.
Beverly Garland. Terrific character actress, the Queen of cut-rate 1950s science fiction movies, though there was nothing cut-rate about her performances. She later owned and operated a nice hotel in Studio city, and I have had sex on her premises many times.
Nina Foch. She fished the Baby Cheston out of the Nile and made him a prince of Egypt in The Ten Commandments. In An American in Paris, she tried to make Gene Kelley her gigolo, or as close to one as you could get in an 1950s MGM movie. She was a legendary acting teacher. But I loved her most because her name forced Louis B. Mayer, in reply to the simple question "Where is Nina Foch?", say "Nina Foch's in her dressing room."
Forrest J Ackerman was considered The Grand Old Man of Science Fiction by 10 year olds everywhere. As the editor, creator, and primary writer for Famous Monsters of Filmland Magazine, his enthusiasm for classic science fiction, fantasy and horror movies fueled the lifelong fandom of thousands of baby boomer film buffs. George Lucas, Steven Spielberg, and Stephen King had been fans as boys. I know because Forry lost no opportunity to remind people of this. He collected a monumental amount of cool stuff, so a visit to his home was always fascinating, far more so than actually talking with him ever was. Forry Ackerman was Borry Ackerman, endlessly repeating the same Forry-centric anecdotes, and never hesitating to blow his own horn. Sadly, while his knowledge of his favorite genres was voluminous, his taste had frozen at the age of ten. He was someone who thought Planet of the Apes was a great movie, and 2001: A Space Odyssey was a bewildering bore. An interesting sidelight to his career not as well known to the kids who read his endless puerile puns, was that he also wrote lesbian porn under a variety of pen names. I guess he liked stories about going where no man has gone before.
Paul Benedict. Big-featured comic actor who never quite got the admiration he deserved. Best remembered for his role on The Jeffersons by folks who could stand to watch it, I like to remember him as the man who wasn't Guffman in the hilarious masterpiece Waiting for Guffman.
George M. Docherty (GRL); A man to whom the principle of the Separation of Church and State in the First Amendment was a custom more honored in the violation thereof. He led the push to include 'under God' in Pledge of Allegiance in direct violation of the Bill of Rights, doing irreparable harm to true religious freedom in the process.
William Gibson. This Broadway playwright's best known work was The Miracle Worker, about Helen Keller and Annie Sullivan. He must have been kind of sloppy and forgetful, because in The Miracle Worker, he completely forgot to write any dialogue for Helen! She only got to speak two syllables: "wah-wah."
John Michael Hayes. This terrific screenwriter wrote several of Alfred Hitchcock's best movies: Rear Window (Originally titled Butt with a View.), To Catch a Thief, The Trouble With Harry, and The Man who Knew Too Much. However, even the best writers have their off-days, and Hayes also wrote Peyton Place, The Carpetbaggers, Harlow, and the really hysterically unintentionally funny Butterfield 8. You can't win them all.
Clive Barnes. You know, the death of a renowned critic like legendary Broadway scribe Clive Barnes, really tests the talents of even the finest actors, because they really have to work hard to convincingly pretend to be sad.
Irving Brecher. This great comedy writer wrote two Marx Brothers movies, At The Circus and Go West, by himself. No one else ever did that. He also contributed jokes to a little, no-one-saw-it, obscure movie titled The Wizard of Oz. He was nominated for an Oscar for co-writing Meet Me in St. Louis, the movie which during the making of Judy Garland fell in love with Vincente Minnelli, and Minnelli convinced himself he was in love with her as well. (But then, what gay man didn't love Judy?) So a case could be made that Brecher is partially to blame for Liza Minnelli. His autobiography, The Wicked Wit of the West, comes out next week. Recommended reading.
George Putnam. (GRL) This bombastic, over-dramatic, right-wing demagogic Los Angeles TV "news reporter" was 50% of the inspiration for The Mary Tyler Moore Show's Ted Baxter which, though true, is nonetheless a terrible thing to say about Ted. He hosted the notorious, unintentionally campy anti-pornography short film screed Perversion For Profit, and there's nothing quite so hilariously hypocritical as being lectured on morals by a man who lived for half a century with a woman he wasn't married to, while the wife he never divorced lived elsewhere. He was well-known to love horses, so it was a glass ranch from which he threw his stones.
Michael Crichton. When he strained his Andromeda, he could go to his own ER. His TV series ER now outlives him. He wrote a lot of awfully fun books, many made into awfully fun movies, and a few into some terrible movies.
Isaac Hayes. When he won the Oscar for the title "song" for Shaft, he established a new precedent: "Best Song" winners without lyrics, that can not be sung, setting in motion the events which led to an Oscar for It's Hard Out Here For a Pimp. Thanks Isaac. Now he is best remembered as Chef on South Park, a fitting punishment.
Alexander Solzhenitsyn. A great writer, a Nobel Prize winner, an artist of the highest quality. In other words; I've never read a single word he's written. Have you? Be honest. If only he'd written The Shining. Or Harry Potter and the Askaban Gulog.
Jesse Helms. (GRL) A blot on American history. Few men are quite so extremely proud of their bigotry and ignorance. If he hadn't already died, Obama's election would have killed him. I'd have liked to have seen that.
George Carlin. A great comedian, a first-rate humorist, a terrific social critic, a major atheist, and a lousy judge of how to wear his hair in a becoming style. George took on the Stand-Up Comedy Provocateur mantle when Lenny Bruce fell off his toilet with a needle in his arm, and wore it with honor for forty years. We need more George Carlins and fewer Jesse Helmses.
Cyd Charisse. Long legs, stylish grace, striking beauty, Cyd was everything wonderful in a movie star dancer. Her reward? She got to dance with both Fred and Gene. Who could ask for anything more?
Bo Diddley. Although his name sounds like something a teenage boy tries under the bedclothes late at night, Bo was pure musical heaven.
Tim Russert. Tim was the gold standard for political commentators and interviewers. He left just when we needed him most. Just think what he could have done with Sarah Palin. Tim believed in follow-up questions, and knew how to tell substance from crap.
Yves Saint Laurent. He designed some of the finest outfits I've ever left lying stained on my bedroom floor. A great frock must have two qualities: 1.) It must flatter the appearance of the lady wearing it, and 2.) It must be able to be shed in a shrug. He really should have written an autobiography, just so he could have titled it All about Yves.
Sydney Pollack. Toot, toot, Tootsie, goodbye!
Arthur C. Clarke. Forry Ackerman thought his movie 2001: A Space Odyssey was silly, meaningless crap. I think it is one of the great masterpieces of film, but then, I'm just a drunken old hornbag, so what do I know? Artie wrote a few good books. Okay, more than a few, but I'm still waiting for that earth-sized starchild to show up. It's 8 years late and counting.
William F. Buckley Jr. (GRL) Well, he gave Gore Vidal someone to spar with entertainingly, and compared with what passes for conservative talking heads now (Bush, Cheney), Buckley seems almost reasonable. But with that tongue, those eyes, and his weird speech mannerisms, he was still very creepy.
Maharishi Mahesh Yogi. The Beatles' guru. Just because you loved their music didn't mean you had to take up Transcendental Meditation. Frankly, I wouldn't accept sage advice from someone groomed like that. No fashion sense often means no sense at all.
Heath Ledger. The great show business tragedy of the year was the shocking, pointless death of this fine young actor. He'd already touched our hearts up on Brokeback Mountain, and he was shortly to take the role of The Joker, made into silly camp by Cesar Romero, and into creepy camp by Jack Nicholson, and turn it into a terrifying glimpse of nihilistic madness. What other great future work did his death rob us of? We will never know. A shoe-in for a posthumous Oscar nomination this year, though whether he'll win the golden nudist is another matter. Had he lived, I think it would definitely have been his.
Suzanne Pleshette. A voice so smoky, they say it gave her lung cancer, but I know the truth. This wonderful actress died of a delayed reaction to a 35 year old seagull attack in Bodega Bay. Who wouldn't want to wake up in bed next to Suzanne and learn it was all a dream? And then perhaps suggest she try wearing more sweaters? But I had a bone to pick with her, because she came between me and that dreamboat sex god she had been married to, Tom Poston. Suzie dear, all is forgiven; just come back.
Bobby Fischer. (GRL) He could play chess well, but that's no excuse for the rest of it. Bobby was a swine. A smart swine.
Studs Turkel. This beloved Chicago writer was famous for supposedly making ordinary people "Interesting". Pull the other one. If he could write interestingly about boring people, think how much better he'd be writing about interesting people. Well it's too late now. Speaking of Studs (A truly great first name!) and boring people, he and Little Dougie spent a pleasant morning together once, back in 1974, but even Studs couldn't make Dougie interesting.
Larry "Bozo the Clown" Harmon. I'm sorry; clowns are creepy. They're all really The Joker inside. So Goodbye Bozo. (That's the same thing I'll be saying on January 20th, to Dubya!)
Brad Renfro. Young Brad had a lot of talent, but sometimes talent is not enough. There are always a few young actors who just have to crash and burn, and Brad was this year's train wreck. Sad Brad, sad.
Maila Nurmi. Somewhat odd little Maila was still milking some fame from her TV stint as horror hostess Vampira, despite the fact that she did that role for less than two years over fifty years ago. Her performance in Plan 9 From Outer Space is the single greatest acting performance any woman besides myself has ever given on film. This year she went from undead to just plain dead.
Johnny Grant. The Honorary Mayor of Hollywood. He officiated over the Walk of Fame Star ceremonies, boosted Hollywood tourism, guided the Hollywood restoration, and guarded Hollywood's history. By those who love the myth and the reality of Hollywood, he will be missed
Stan Winston. The late Michael Crichton thought up the dinosaurs of Jurassic Park. Stan Winston made them live. Stan was the opposite of vodka. I use vodka to make my reality into fantasy. Stan made fantasy into reality.
Christian Brando. A nice young man, if you like murderers.
Don Herbert. He was Mister Wizard, who invited neighborhood kids into his home, to "experiment." In the 1950s, he got his own TV show. Nowadays, he'd be run out of town.
George MacDonald Fraser. He created Flashman who, it turned out, wasn't a raincoat-clad exhibitionist, unfortunately. He wrote the 1973 Three & Four Musketeers movies with Christopher Lee and Cheston.
Paul Sills. The guru of improvisational theater, a man who felt playwrights were unnecessary. People always think the actors make up what they say and do anyway. Under Sills, they did.
Alan Melvin. A fine comedy actor. I know many remember him from The Brady Bunch [Shudders with revulsion], but I prefer to remember him with Sergeant Bilko, in the greatest sitcom of the 1950s.
Roy Sheider. We all saw him sing and dance his death back in All That Jazz. The real thing wasn't as much fun. He will be always remembered in Jaws, saying "We need a bigger boat." If only he'd done a musical fish movie: All That Jaws.
Ben Chapman. This Tahitian actor played The Creature From the Black Lagoon, but only out of the water. In the water, it was played by a smaller diver named Ricou Browning. Ricou is still alive, so if you're ever swimming in a black lagoon (And why would you be?) and The Creature comes swimming after you, just get out of the water. Now that Ben's dead, it can't come out after you. As for the rest of Ben's acting career, well that was pretty much it, aside from such stuff as Pagan Love Song, Jungle Moon Men (The Citizen Kane of moon men movies), and Ma & Pa Kettle at Waikiki. I'm afraid we never got to see his Hamlet, although there's still hope to see Ricou Browning's Hamlet From the Black Lagoon. Can't be worse than Mel Gibson's.
Ivan Dixon. He played "The Black Guy" on Hogan's Heroes. Hogan's Heroes was a fairly lame show, as sitcoms about Nazi death camps go, but it was better than Heroes was this season.
Paul Scofield. One of those great British actors who wasted their talent doing all that old Shakespeare crap. This Man For All Seasons has played his last season.
Richard Widmark. A popular American actor best known for playing vicious thugs. Everyone remembers him pushing an old lady in a wheelchair down a staircase while giggling. No merit badge for him! I was feeling those bruises for days!

Hazel Court. A stunningly beautiful British actress who, while she made all kinds of films, is best remembered and beloved for being a major Scream Queen opposite Boris Karloff, Vincent Price, Peter Lorre, Peter Cushing and Christopher Lee, in such films as The Curse of Frankenstein, Masque of the Red Death and The Premature Burial. Good as virginal heroines, she was even better as cruel villainesses, and was better still sending them up as the comic villainess of The Raven. I adored her. Her autobiography, Hazel Court: Horror Queen, was published just weeks after her death, and is highly recommended reading, if you're into reading.
John Phillip Law. In Ray Harryhausen's The Golden Voyage of Sinbad, he played Sinbad the Sailor as a blonde Arab, an unusual casting choice. In Barbarella he played an angel. Now he is one.
Dick Martin. The funny half of Rowan & Martin, Dick was a sublimely silly, wonderful comedian. In his later career as a sitcom director, anyone who worked with him was lucky, for he'd forgotten more about comedy than most young whipper-snappers ever knew. He was also kind and approachable, and I revered him. Say "Goodnight Dick."
Harvey Korman. Another funnyman everyone loved. Unlike Dick Martin, I never knew him personally, but he still made me roar with laughter every week for 10 years.
Dody Goodman. A dithery delight. Dody was naturally funny at all times, and just a joy to be in the vicinity of. And she played a role in Patrick Dennis's classic comic novel Little Me. You had to love Dody. There was no other option available.
Evelyn Keyes. Scarlett O'Hara's jealous sister is now Gone with the Wind.
Estelle Getty. We weren't happy about this Golden Girl's demise, but her final years, and the cruel dementia she suffered, made her passing a mercy. I saw her on stage in Torch Song Trilogy, and she was magnificent.
Bernie Mac. A beloved comic, taken from us just as he was hitting his full strength.
George Furth. Mostly known as an actor, Sondheim fans know him for writing the words in between the songs in Sondheim's Company, and Sondheim would only work with The Best.
Fred Crane. He was the other Tarleton Twin, Scarlett O'Hara's identical suitors in Gone with the Wind, along with George "Superman" Reeves, yet he looked nothing like Superman, more's the pity.
Edie Adams. Ernie Kovac's charming widow, she took to doing cigar commercials to pay off Ernie's IRS debt, refusing ever to even consider bankruptcy. She first made a splash as Daisy Mae on Broadway in Li'l Abner. She became an adored comedienne, and charmed all as Sid Caesar's wife in It's a Mad, Mad, Mad, Mad World. She is missed.
Estelle Reiner. Wife of Carl, mother of Rob, an artist of cabaret.
Ollie Johnston. One of Walt Disney's legendary Nine Old Men, which doesn't sound like a fun orgy to me. Let's hope they kept the room dark! His wonderful work graced all the classic Disney animated features, including the one I did a voice for, the little-seen Snow White sequel 7 Brides for 7 Dwarfs.
Will Elder. Will was the cartoonist who created The Spirit. It's probably just as well he passed on this year, because if he'd lived to see the movie Frank Miller has made of The Spirit which came out last week, it would have killed him.
Anthony Minghella. This wonderful director made the Matt Damon thriller The Talented Mr. Ripped Abs. Other hands will have to film other Ripped Abs books.
Abby Mann. Abby won an Oscar for writing Judgement at Nuremberg, an awfully butch script for a guy with a girl's name. And just to show he wasn't a Quality Snob, he also created Kojak. Was his last name chosen to ward off the girliness of his first?
Jules Dassin. He directed Never on Sunday, but now he's just never at all. He was married to Melina Mercouri, so you can't feel too sorry for him. She could have turned me Lez in a snap! Jules also said one of the funniest things anyone in Hollywood ever said: "Louis B. Mayer's arm around your shoulders meant his hand was closer to your throat."
Bebe Barron. With her husband Luis, they composed the "Electronic Tonalities" which comprised the musical score for the 1956 MGM science fiction classic Forbidden Planet. Another, more accurate term for their score than "Electronic tonalities" would be "Ghastly cacophony." Or better still, "Forbidden Music!" Possibly the worst "Musical" score in movie history. Here is this wonderful movie, forever maimed by her wretched excuse for music befouling the soundtrack.
Alexander Courage. He composed the famous Star Trek theme music. You listening Bebe? This is how Science fiction music should sound!
Joesph Pevney. Joe directed a number of classic Star Trek episodes.
Robert H. Justman. Bob Justman was a producer on Star Trek. Tossing in Majel Barrett-Roddenberry, this was a bad year to be someone from the original Star Trek.
Don LaFontaine. The famous voice of movie previews; who knew he had a body and a face? I thought he was just a disembodied voice. For that matter, now he is.
Gerard Damiano. Speaking of Deep Throat, he directed it, not to mention such other classics as Let My Puppets Come, Future Sodom, The Devil in Miss Jones, and Splendor in the Ass. When the great directors are named, they will say, Alfred Hitchcock, Buster Keaton, Orson Welles, Billy Wilder, William Wyler, Howard Hawks, John Ford, Kurasawa, Fellini, Ed Wood, and Gerard Damiano. When you say of Damiano's most famous movie, "It sucks." You are complimenting it. That is, after all, the whole point of it.
Charles "Chucko the Birthday Clown" Runyon. After Bozo and Engineer Bill, this was a bad year for 1950s kid's TV show hosts. Chucko opened his show every day with a song that included the lyric: "Christmas comes but once a year, but I come every day." Lucky Chucko, but hardly an appropriate thing to brag to little kids about.
Lloyd Thaxton. If John Waters had grown up in Los Angeles instead of Baltimore, Hairspray would be about The Lloyd Thaxton Show instead of Buddy Deane. Lloyd's teenage dance party show was far more creative than most. Dick Clark was a stick in a suit next to the zany and creative Lloyd Thaxton, the Ernie Kovacs of dance party shows.
Jack Narz. Once the dean of Quiz Show hosts, his program Dotto launched the Quiz Show Scandals, though he was not personally tarred by it.
Neal Hefti. Neal wrote the Batman TV show theme music. Now he is dead, but that "Music" lives on, proof that there is no God.
Tad Mosel. Playwright who won the Pulitzer Prize for All The Way Home, based on James Agee's A Death in the Family, a nicely depressing evening in the theater. Well Tad's gone all the way home himself now.
Tony Snow. (GRL) For a while Dubya's press secretary, then a talking head on Fox News. In short, a professional liar, who told America fibs about why they were sending your kids to die in Iraq.
Margaret Truman Daniels. President Truman's daughter. After writing an acclaimed literary biography of her father, she wrote a long series of politically-themed, usually Washington DC-set murder mysteries of little merit, but long success. As writing goes, nothing to brag about, but still a better way to spend your life than dropping atomic bombs on civilians in Japan.
Thomas Disch. Acclaimed gay science fiction novelist who committed suicide in the grips of economic despair. His is a sadder story than any he wrote.
Dave Freeman. Dave co-wrote 100 Things to Do Before You Die. Let's hope he completed his list, because he's all done now.
As am I. Bear in mind as you read this not-always-cheerful list that, at least you're still alive to read it, and better still, I'm still alive to write it. Look for me here the day after the Golden Globs Awards weekend after next, as I'll be reviewing them here for you.
Until then, pour yourself a vodka tonic, heavy on the vodka, just the slightest whisper of tonic, and cheers darlings.
Popular in the Community